---
RE: Super's Mod's, Customs & Layout - Super - 02-26-2014

Thanks Toys_Trains-Things

One of the reasons I like playing with these Tomy type trains is that they don't take themselves seriously and by that I mean scale is not all that important. Take for instance the Tomy Town, Hypercity kids/people, really not to scale with the trains and building nor are the trains with the accessories. Add the ease of use and the ability to change and rework the layout easily amounts to much fun. Plus these things are durable and hard to damage. Certainly a lot different that the serious HO or other scale builders. Don't think they would be setting up crash em ups with their expensive trains and beautiful scenery.

Thanks for the info on your soldering iron. I had a cheap one that didn't last a couple months. They don't make things like they use too. I just picked up a dual wattage soldering station from Radio Shack and I hope it works easier for me and is a better unit.


---
RE: Super's Mod's, Customs & Layout - Super - 04-12-2014



We have been upgrading the layout the past few weeks and there are some minor changes and a big one that should be very noticeable...can you see it? I have been waiting to make these changes before doing the videos so there is no excuse now....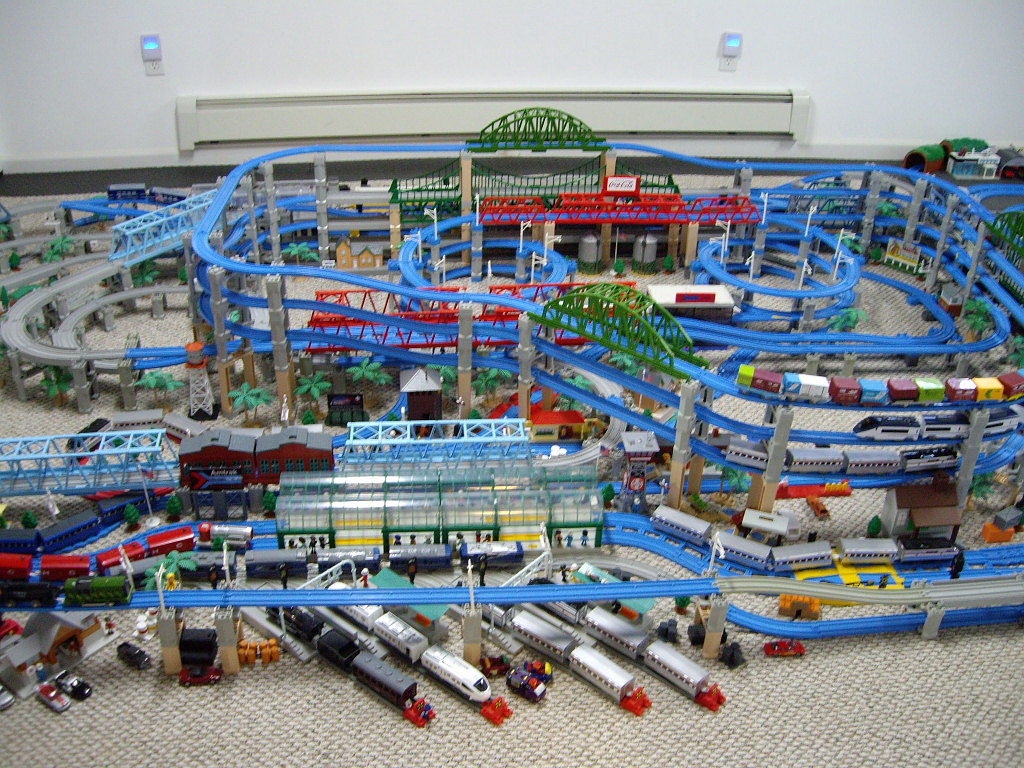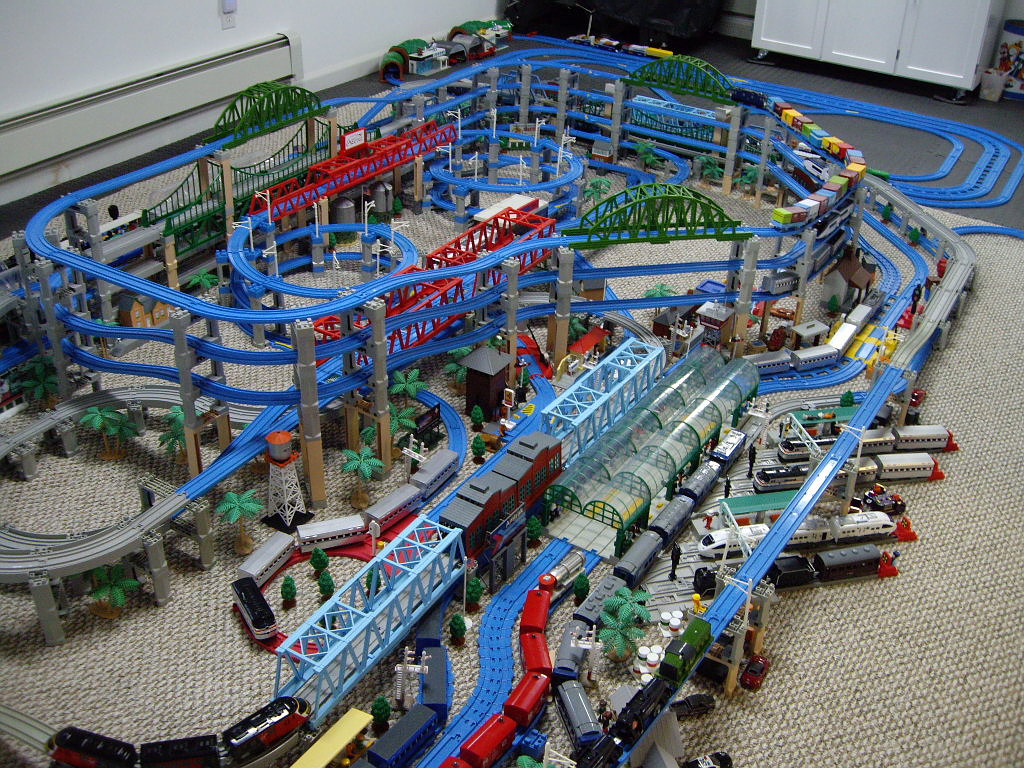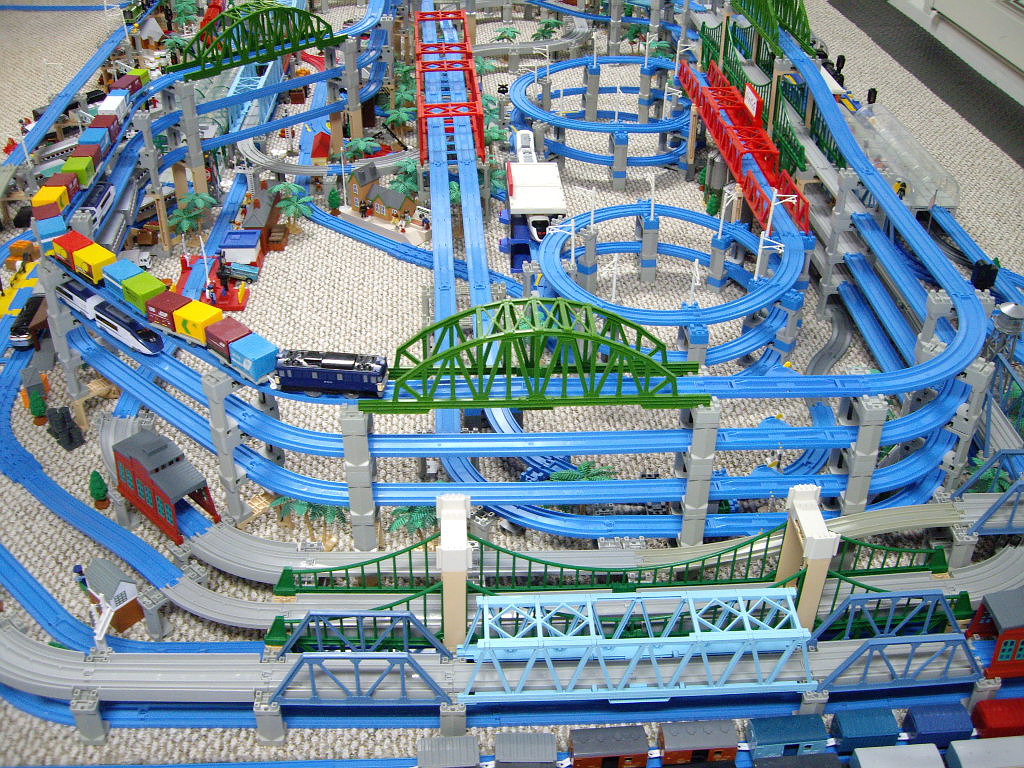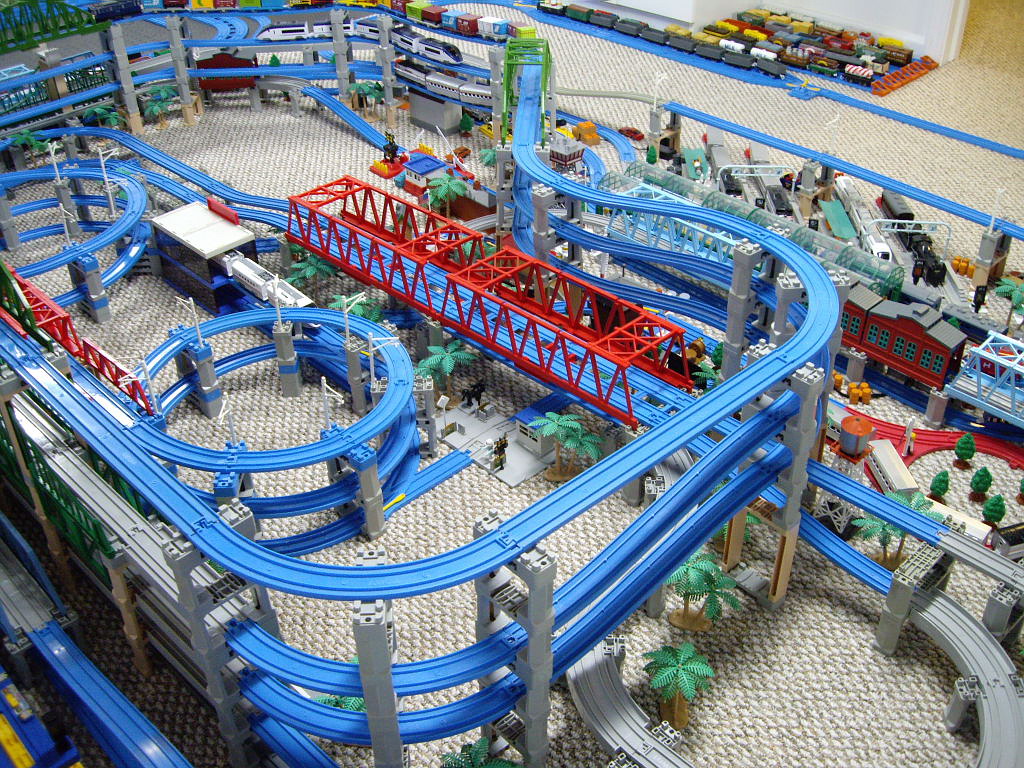 ---
RE: Super's Mod's, Customs & Layout - Tramp - 04-12-2014

What a great layout! Fantastic! If I had to describe it, I'd call it Hyper-City! This is what TOMY was thinking of!

As for new things? There are appear to be a number if changes, have you always had grey risers? And do you have some grey elevated sections now too? Anyway it really is great, unfortunately all my layouts are dismantle-able it would be great to have a dedicated room!


---
RE: Super's Mod's, Customs & Layout - Super - 04-12-2014

Bingo...you got it Tramp

Besides a few design changes to fix some engineering flaws, replacing some red bridges with blue and using a lot of gray track, we have replaced all the yellow risers with light gray ones. From a visual standpoint I thought the yellow was way to dominate in the layout as there were so many. I wanted the risers to disappear and not take the eye away from the trains. I think we achieved that with the use of all gray. What do you all think. Here are some before and after pictures. None of this could have been accomplished without the help I received here about Yahoo Japan. None of these additions are ever found on Ebay, at least here in the States.




BEFORE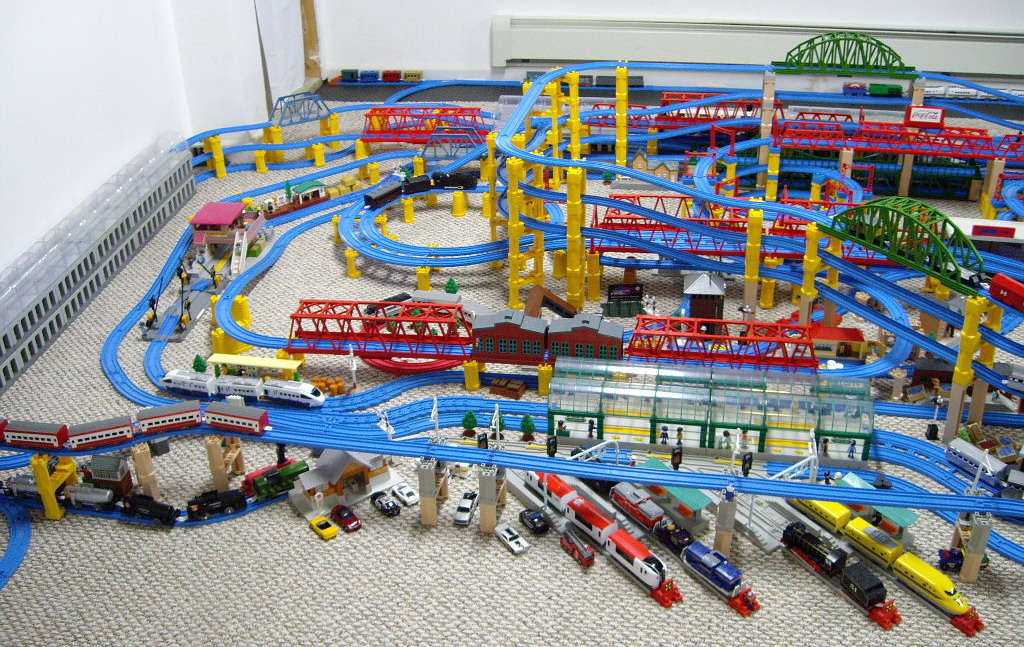 AFTER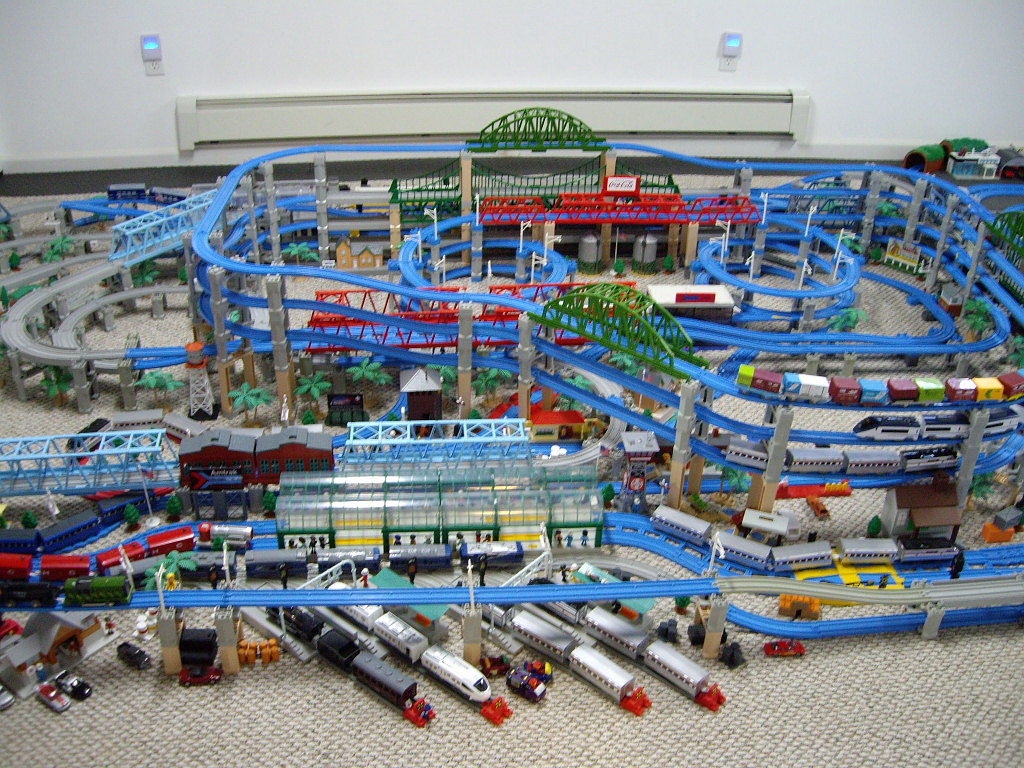 ---
RE: Super's Mod's, Customs & Layout - Tramp - 04-12-2014

Yeah I agree, so much better with grey risers, it makes it all about the track, the yellow never really matched with the colour scheme, it just sort of contrasted but the grey just blends in so well it does make it all about the track!


---
RE: Super's Mod's, Customs & Layout - Super - 05-16-2014

Working on a custom train station for the layout with signage and lighting. Stay tuned for pictures. Also coming are some pictures of a few moderately modded engines that I finally got around to finishing.

---
RE: Super's Mod's, Customs & Layout - Penybontshed - 05-17-2014

You mentioned yahoo japan. Can you tell me more?


---
RE: Super's Mod's, Customs & Layout - Super - 05-17-2014


(05-17-2014, 04:18 AM)

Penybontshed Wrote: You mentioned yahoo japan. Can you tell me more?

I was enlightened about Yahoo Japan from some of our members here. There is no Ebay in Japan anymore only the Yahoo Auctions. However they don't necessarily ship to the rest of the world and the site is in Japanese. I have found tons of stuff that I only had heard of or dreamed about there. There are a couple of Auction Agent sites that you can check out that work for you in the auctions and they cover most languages. You can browse the Yahoo Auctions in your language much like you do with Ebay and place bids through their site. Of course they charge commission and fees. They will have the item shipped to their warehouse and when you are ready they will then ship to you. You do end up paying double for shipping as you pay for the seller shipping to the warehouse and then from there to you. But the extra fees don't mean much if you have found something you have always wanted but never available in you part of the world. I love them and have spent way too much LOL.

I don't know if there are more agents but these are the two I was told about...

http://www.jauce.com/index.php
http://japamart.com/index.php


---
RE: Super's Mod's, Customs & Layout - Super - 05-18-2014

Finally completed all these mods that have been sitting around in various stages of completion.

The first three are related: Starting with "The Polar Express" which started out as "Not A Hero" This Trackmaster Hiro was bought new and the engine was the loudest I have even heard. I swapped out the motor with a Power Dash and greased up the gears in this Flat Drive hoping that it would help...NOT! It was even louder. So loud that even my Grandson had to turn it off because it annoyed him. So loud that it could be heard above 10 other trains running at the same time. When Ucwepn reviewed the new Paxton and Luke he said that their new Flat Drives were very quite so I found 2 Paxtons and a Luke really cheap on Ebay to rob them of their drives. I had to modify the new Flat Drives framework to fit in the Hiro, installed a Power Dash motor and the new Polar Express runs quietly and swiftly on the way to the North Pole. The final modification will come when I receive the 2 Polar Express Coaches which are on their way. You will notice the numbers 1225 on the engine and tender, this is in reference to the Pere Marquette 1225 that was used as the model and sound for the movie. We have rode this behemoth a couple of times as it is still running about 45 miles from us.

Normally I have a big box of engines that came with various purchased lots on Ebay that are either being salvaged for parts or waiting for resale on Ebay. When my Grandson saw the Paxton and Luke in the box he said no way. He wanted them defaced and put into service. To my surprise he didn't want me to remove the Luke letters so all that was done to "Fluke Luke" was to replace the face with a smoke box door and to upgrade the motor to a Power Dash.

The "Union Pax-ific" Diesel (Paxton) is quite handsome, we love the original color and stripe. Replaced the face with a grille to keep the fast & quiet Power Dashed flat drive diesel cool. Decals added for some detail.

Last we have something that has been in the works for a long time. "Too Black" the rapper was originally my first attempt at a 3 volt powered duo with a AA two pack mounted in the trailing engine and wired to the motored first engine. We weren't impressed at all with the speed so the batteries were removed and its back to "C" size 1.5 volt but with a Power Dash motor. Speed is about the same but I think that in this type of drive the gearing is geared slower. Faces were removed and replaced with some embossed hobby plastic. Not that happy with the looks but it was my first.

Sorry, that was a bit long winded...on to the pictures.




The Polar Express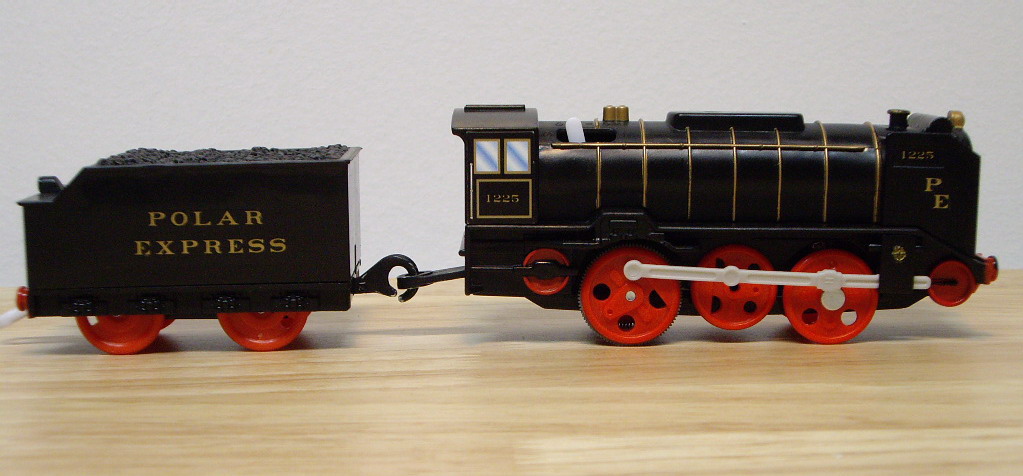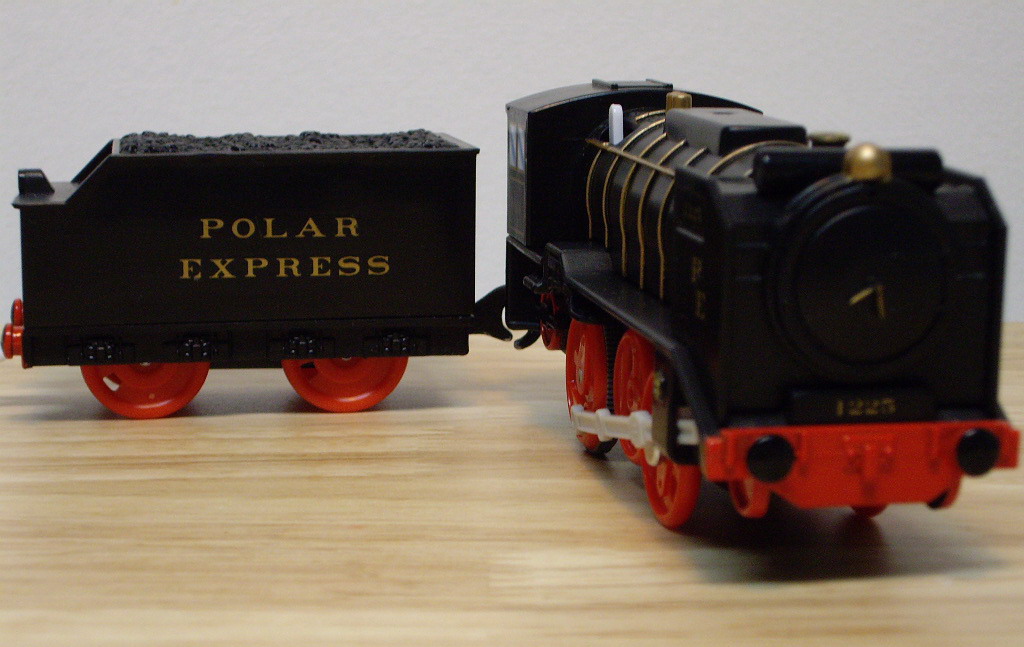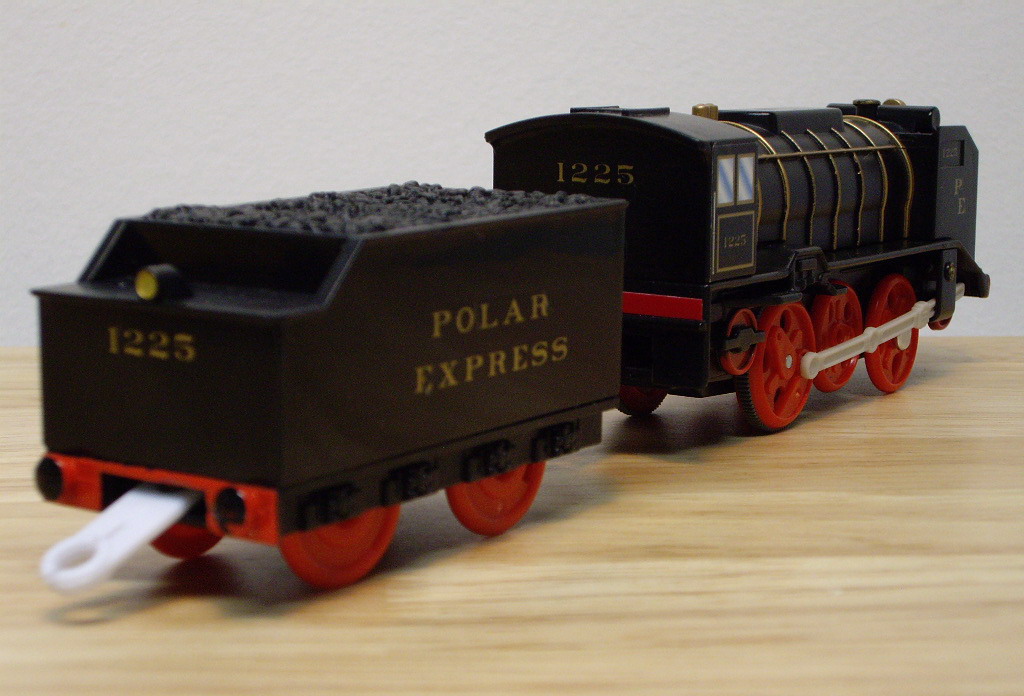 Fluke Luke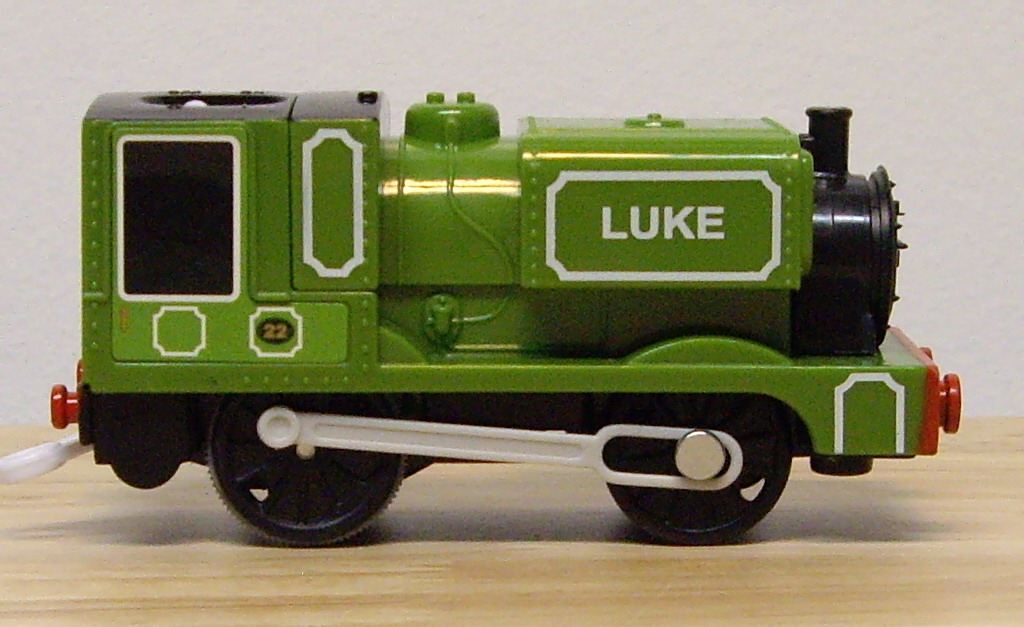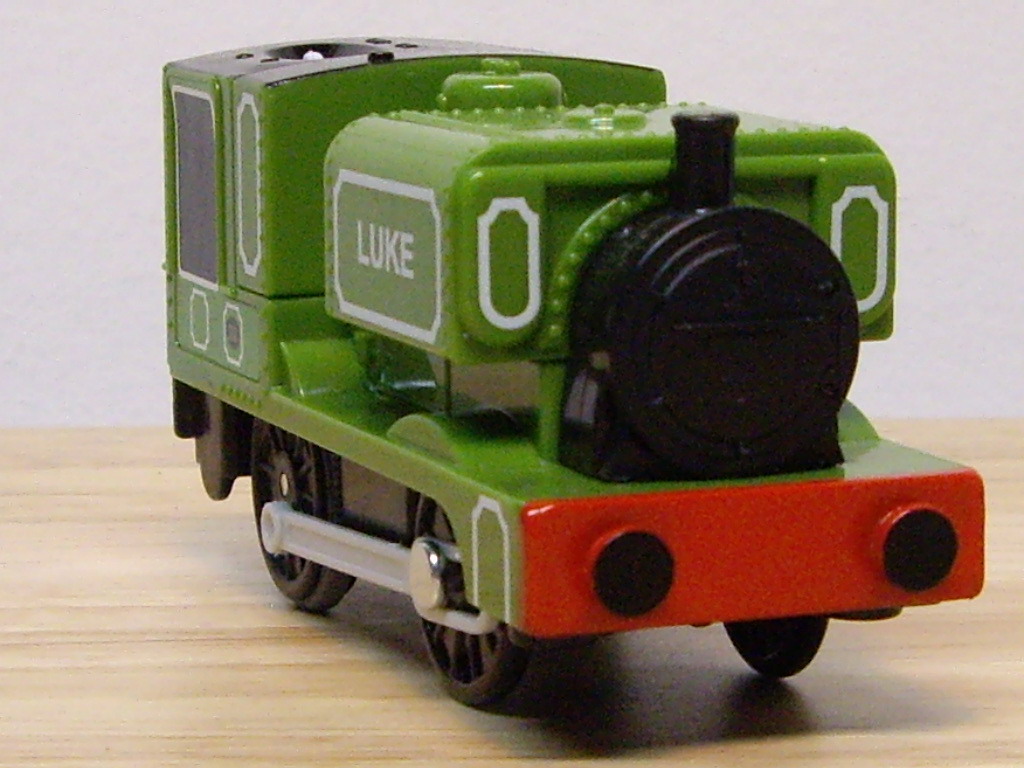 Union Pax-ific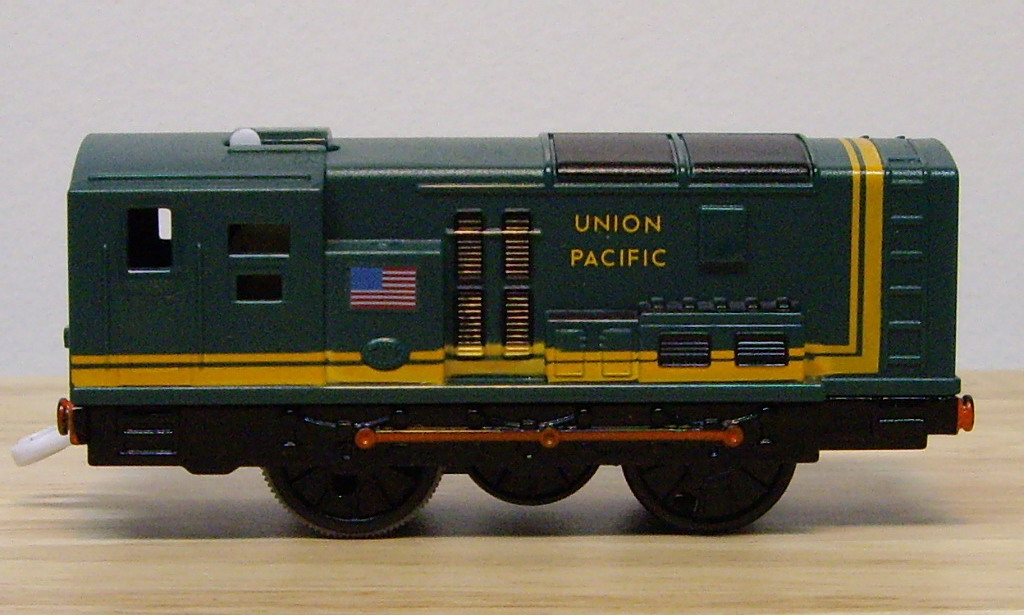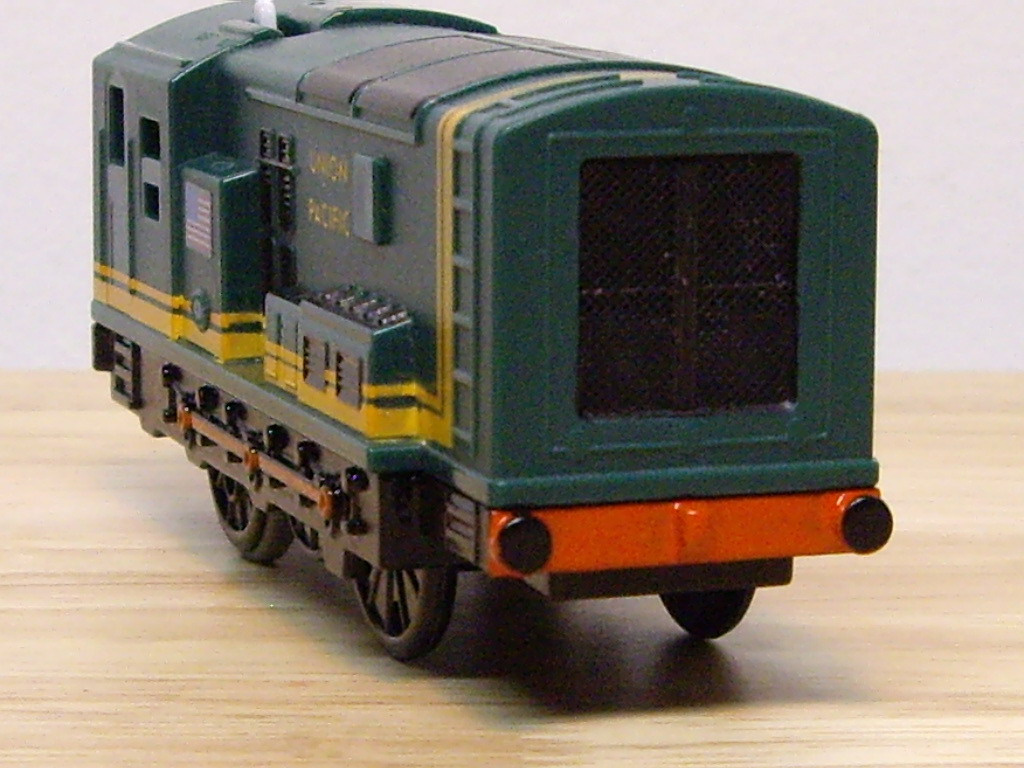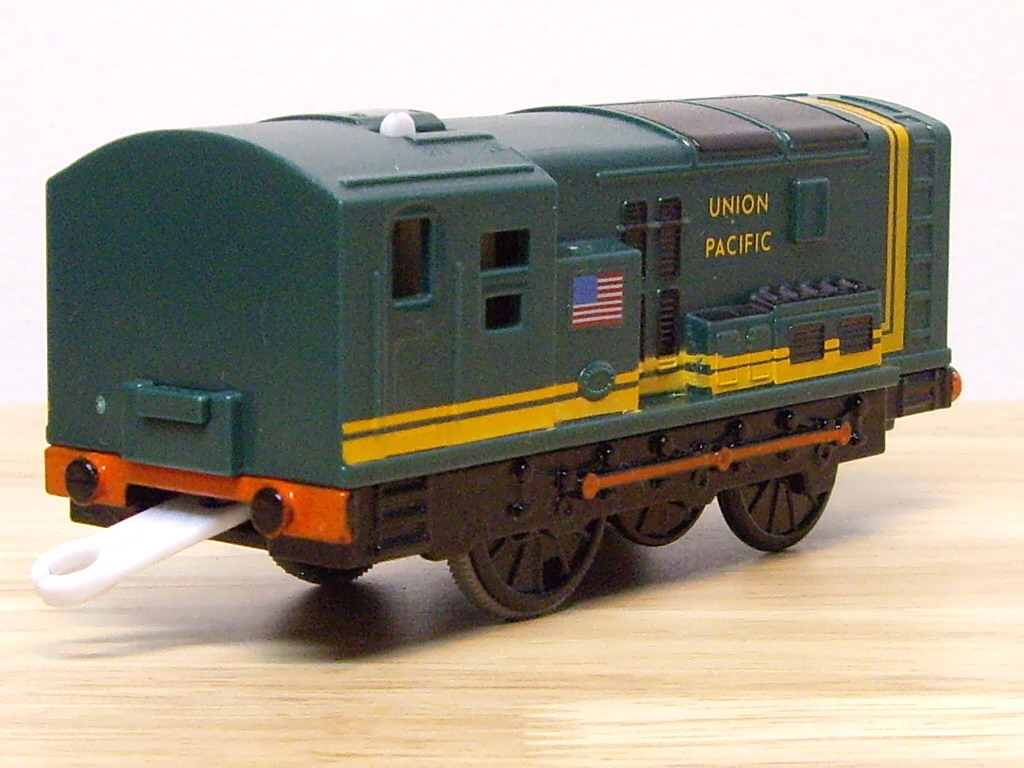 Too Black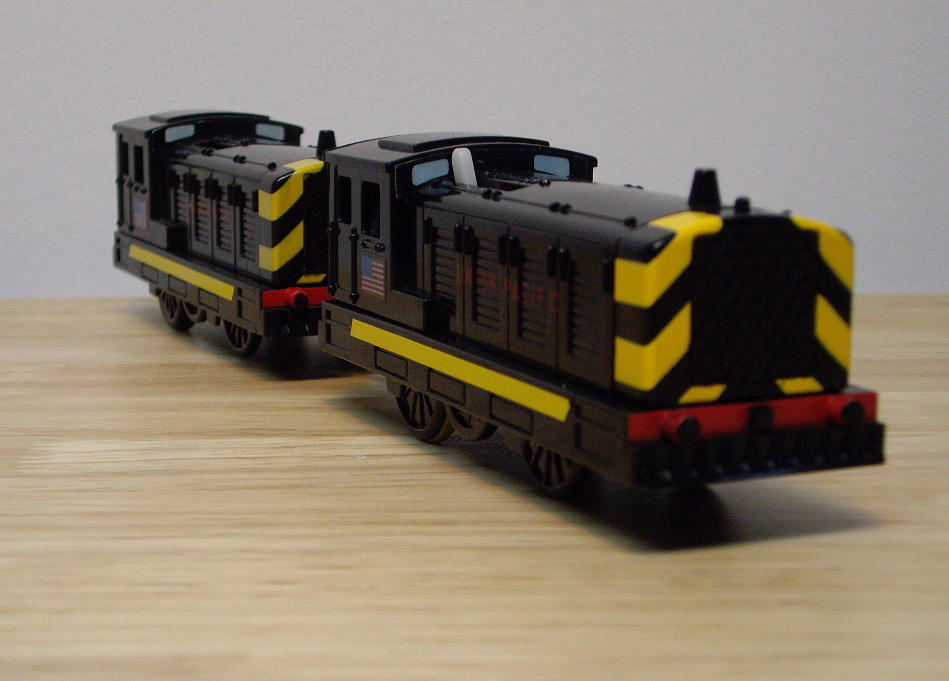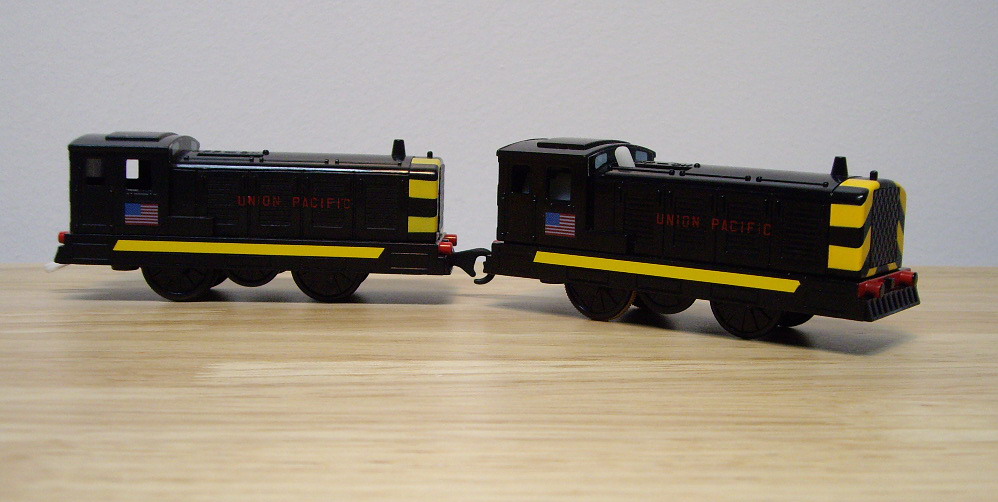 ---
RE: Super's Mod's, Customs & Layout - sunhuntin - 05-18-2014

awesome!! love the polar express, looking forward to seeing it with the coaches. diesels look good too, especially union pax. keep up the awesome work.


---
RE: Super's Mod's, Customs & Layout - Super - 05-26-2014



I want to repost pictures of all Super's Customs from the old sites that didn't make it to our permanent site so they are in one place. So lets start with...






---
---
RE: Super's Mod's, Customs & Layout - Trackmaster-Rail-Yard - 05-26-2014

love it!!!!


---
RE: Super's Mod's, Customs & Layout - Super - 05-26-2014

Thanks Trackmaster-Rail-Yard








---
First Responders Tribute Train...
---
---
RE: Super's Mod's, Customs & Layout - Trackmaster-Rail-Yard - 05-26-2014

What a fantastic layout! Love those trains!


---
RE: Super's Mod's, Customs & Layout - Super - 05-27-2014



Finished a fun project I have been working on for the last few weeks. A customized Train Station. I really like this type of station better than the typical Thomas ones (Ffarquhar, Tidmouth, Wellsworth, Maithewaite) as it is two sided and a bit more scaled to the Plakids. I am only aware of two of these released with each its own color scheme. One was released with the seldom seen Stanley playset (see last 2 pictures) and the other was released by itself with signage in Japanese.

This custom Amtrak stop is named Caiden Town Station. As at most small towns in rural USA the town is served by a water tower with the towns logo on it. The tower also has a blinking red light on top to warn off those low flying crop dusters. Onto the station...Those looking to purchase tickets are always greeted with a smile from the ticket agent and those requiring help on the platform will gladly be assisted by an Amtrak Attendant. As with a lot of businesses in this world wide economy, low profiting amenities are leased out to third party's. In this case the Amtrak Cafe was taken over by the Silver Star Diner who have the best coffee in town. Also with all train stations, the platforms have couples saying their goodbys or welcoming loved ones with a hug. And of course the station is open 24 hours so there must be lighting on the inside and out.

I really enjoyed taking my time working on this but I have a big problem...I really don't have any where to place the station on the layout.





---