---
RE: Super's Mod's, Customs & Layout - Ucwepn - 09-10-2014

I am in awe Super, that is fantastic!


---
RE: Super's Mod's, Customs & Layout - Super - 09-11-2014

Thanks Fellas!
---
RE: Super's Mod's, Customs & Layout - ActionChugger - 09-11-2014

Neat!


---
RE: Super's Mod's, Customs & Layout - Tramp - 09-11-2014

Fantastic work super, your really are doing great with all these LED projects! Really creative, and always impressive!


---
RE: Super's Mod's, Customs & Layout - Super - 09-12-2014

Thanks Tramp

Of course none of this would be possible without without your knowledge and the help I get from the members at BluePlasticTracks.com. I do hope that these will give others ideas and see that it isn't very difficult when you have a supportive crew like we have here.


---
RE: Super's Mod's, Customs & Layout - Super - 10-26-2014




Third in the series. Technically some of these trains might not be exactly considered bullets but then again... Hope you like it.












---
RE: Super's Mod's, Customs & Layout - HankAmericanEngine - 10-27-2014

Another amazing installment from Super and Caiden Town! It's amazing to see just how vast your collection truly is! Your cinematography seems to continuously improve with each video! Very well done!


---
RE: Super's Mod's, Customs & Layout - Super - 10-27-2014

Many thanks Hank. I have learned so much from you and all the other video makers that have helped me along the way. I already have the next 4 video themes in my head but I am thinking of making some tweaks to the layout to change it up but not sure if they will work without a complete overhaul which I don't want to do. Glad you enjoy it.
---
RE: Super's Mod's, Customs & Layout - Super - 11-03-2014



Introducing..." Don't Call me Dennis Because I Am The Menace"




It was hard to figure out how to do anything with the oddly shaped front end once the face was removed so I just installed some extra Diesel vents from my parts box. Dual headlights are 1.5 volts and work with the motors switch.

The station was much sought after by me and is the hard to get for less than a ridiculous amount. Don't know which sets this was part of but I like the looks of the extra long platform. I managed to get this one for $4 which I considered myself very lucky considering all the other ones I gave up on since the price went sky high. However when I received the station it was very dirty which didn't show up in the pictures. There was no damage so that was good. For all used purchases I make from the various Online places I always clean everything thoroughly before using. I don't do this with items that I am going to turn around and sell though. I start by soaking everything in a tub of hot soapy water for half hour and scrub with a softer bristle brush before rinsing. I disassemble most things link engines from their motors and parts with stickers. I go over those things with disinfecting wipes and dry immediately. You wouldn't believe how much dirt was on the bottom of the tube from this station. I went ahead and soaked the stickered parts and removed all. I then created my own stickers and used decals to detail the station. I wanted to install lights for it but due to the Vee shape of the roof I couldn't come up with an idea of how to hide them. Of course several Plakids and luggage gave it the finishing touch.. I like the way it turned out.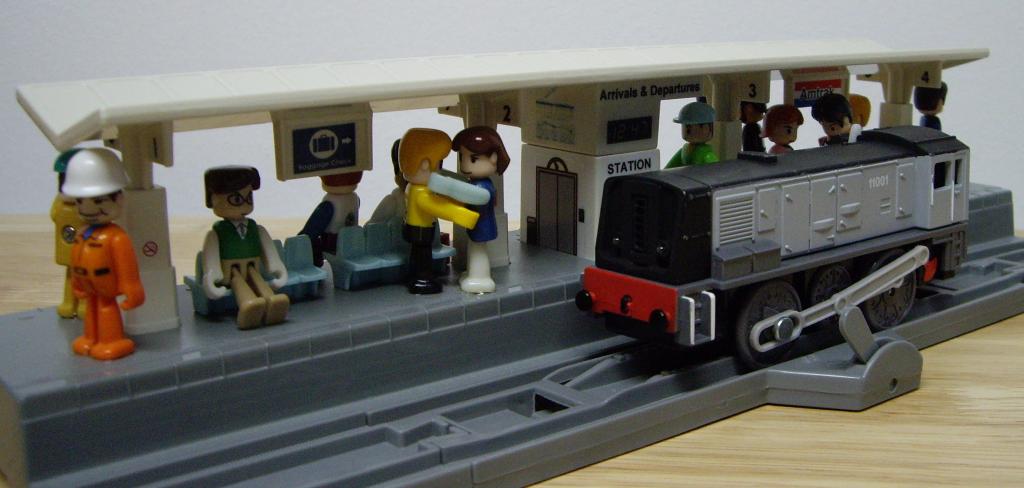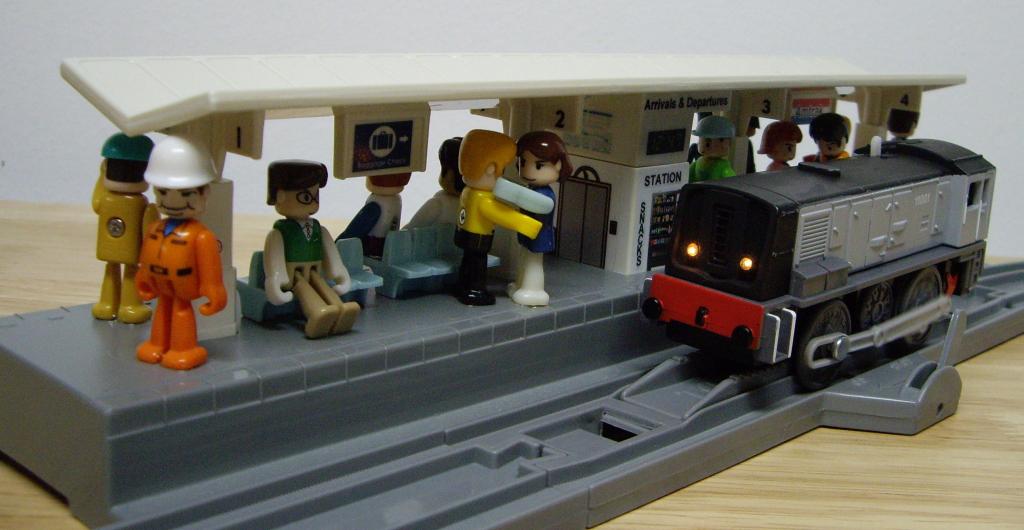 ---
RE: Super's Mod's, Customs & Layout - Tramp - 11-03-2014

Very neat, I'm not sure what Dennis is supposed to look like but that looks great,


---
RE: Super's Mod's, Customs & Layout - Super - 11-28-2014

Have been wanting to replace a station like this one in our layout that had a yellow roof and blue stop&go track with a hard to find one that has a dark blue roof and gray stop&go track. Once I received it I had to do some customizing with added lights, decals & people. The round, lighted, Amtrak sign in the middle looks better in real life than the picture shows with its light on. Its actually a drumhead for an electric train. All lights are LED's that use 9 volts.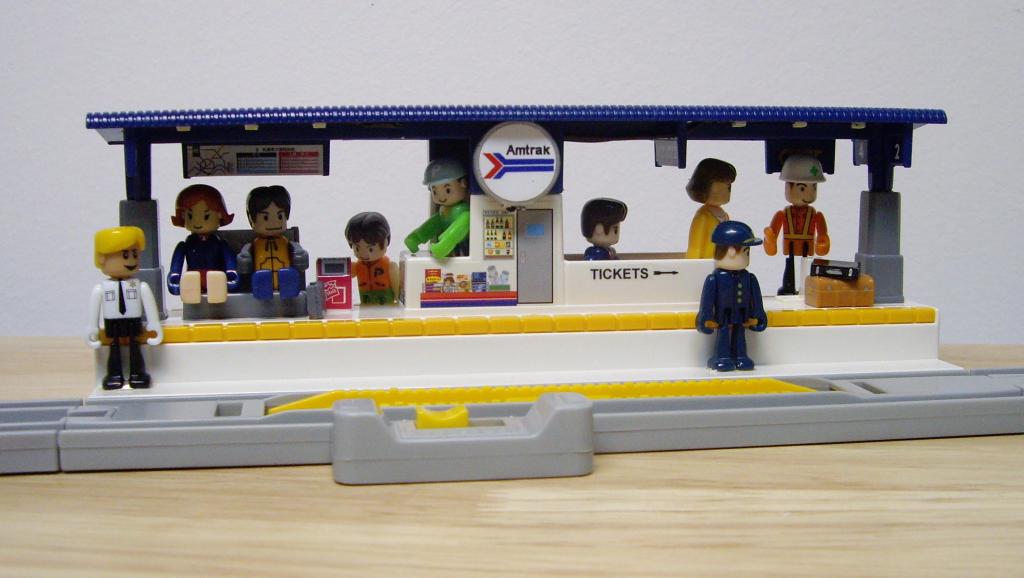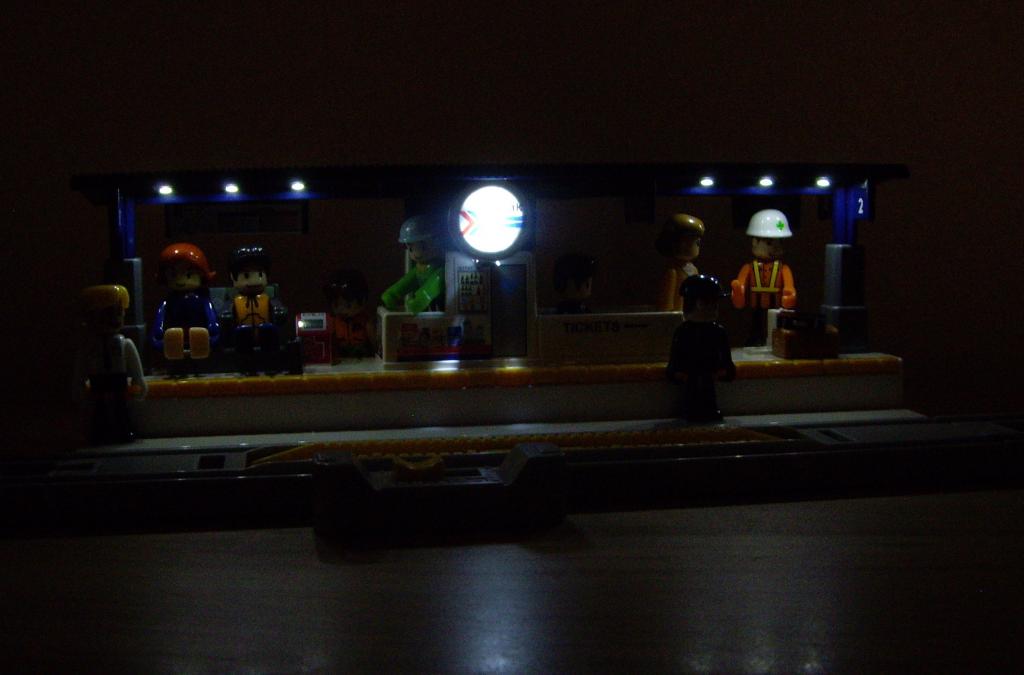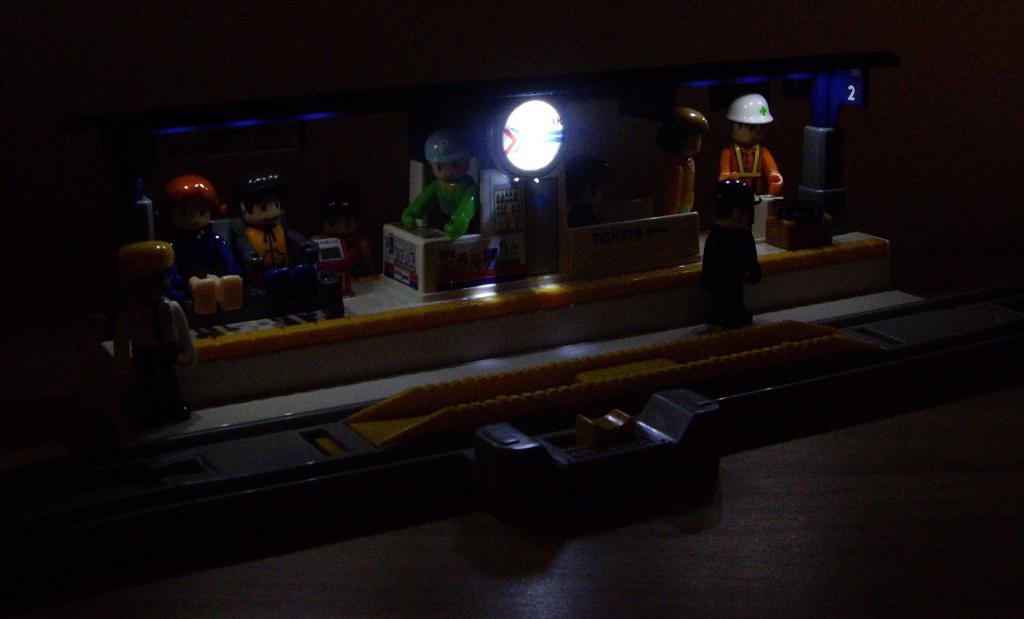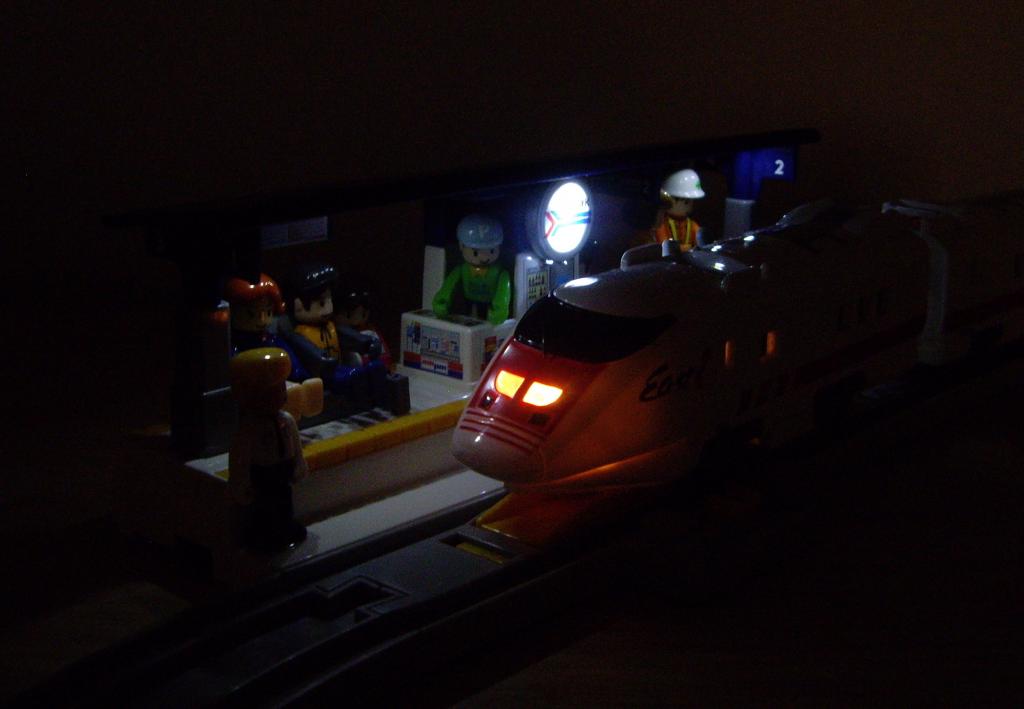 ---
RE: Super's Mod's, Customs & Layout - Super - 12-15-2014




Just something different I came up with, constructed and added to the layout. This was originally an O scale Lionel iron bridge that I removed the sides from. The easy construction consisted only in removing the outside, 2 posts on both side of each riser and flattening the underside of the panels to fit flush in the risers. Super glue holds the sides permanently down but the track is not. Here I am using a section of gray elevated rail because the color looks good with the black and the rails are wide to fill in the gap. I have another 2 sets of blue Polar Express bridges which are the same. I am going to try to make a double length bridge with no middle riser with those..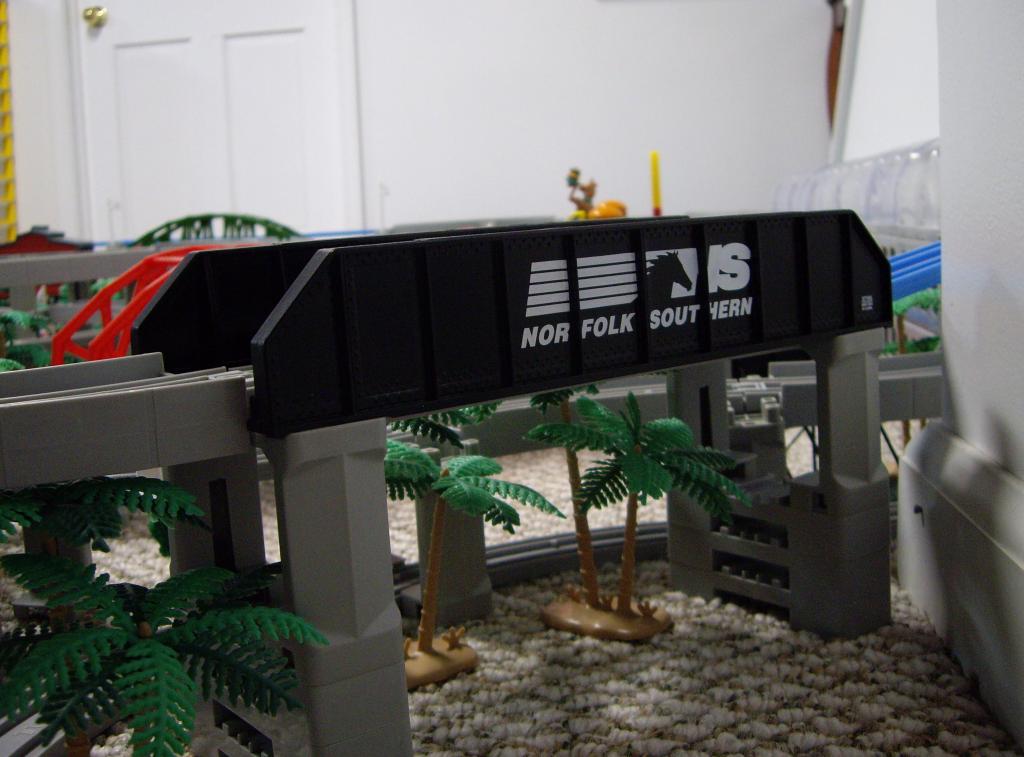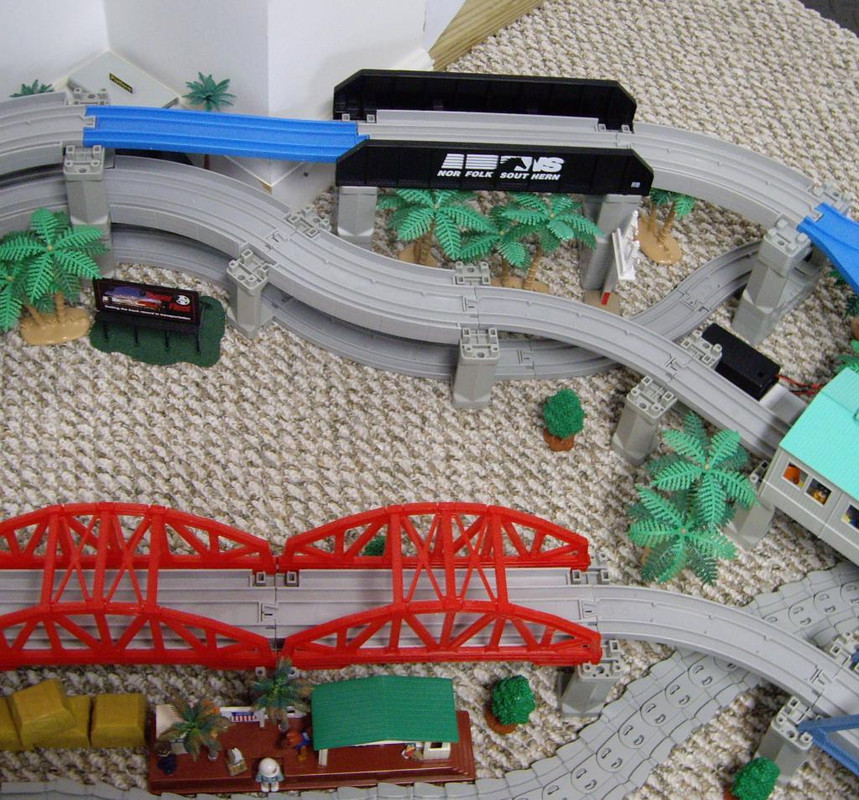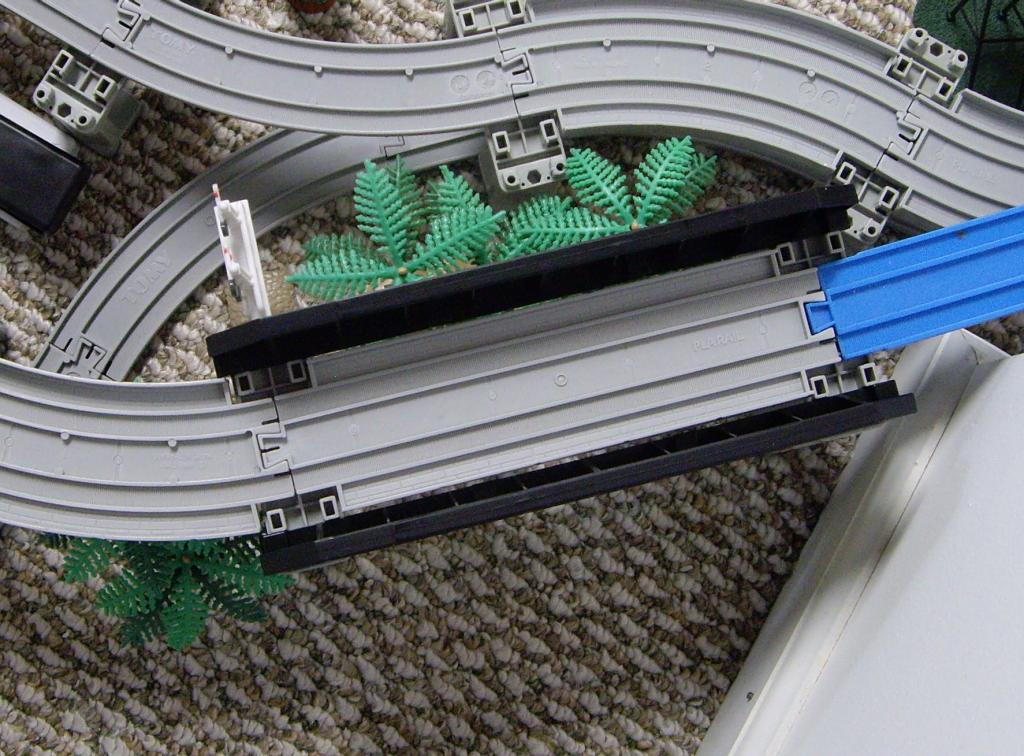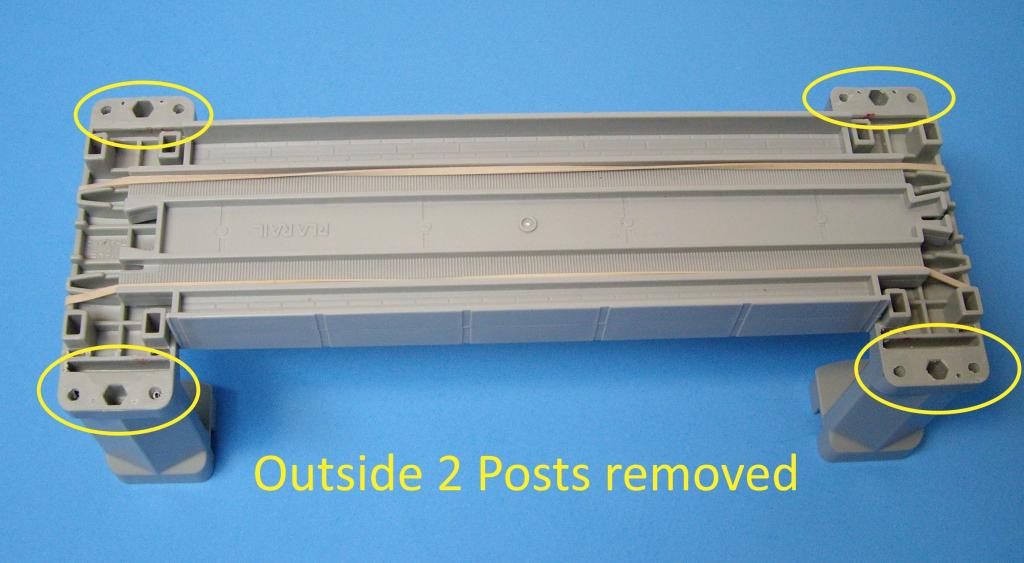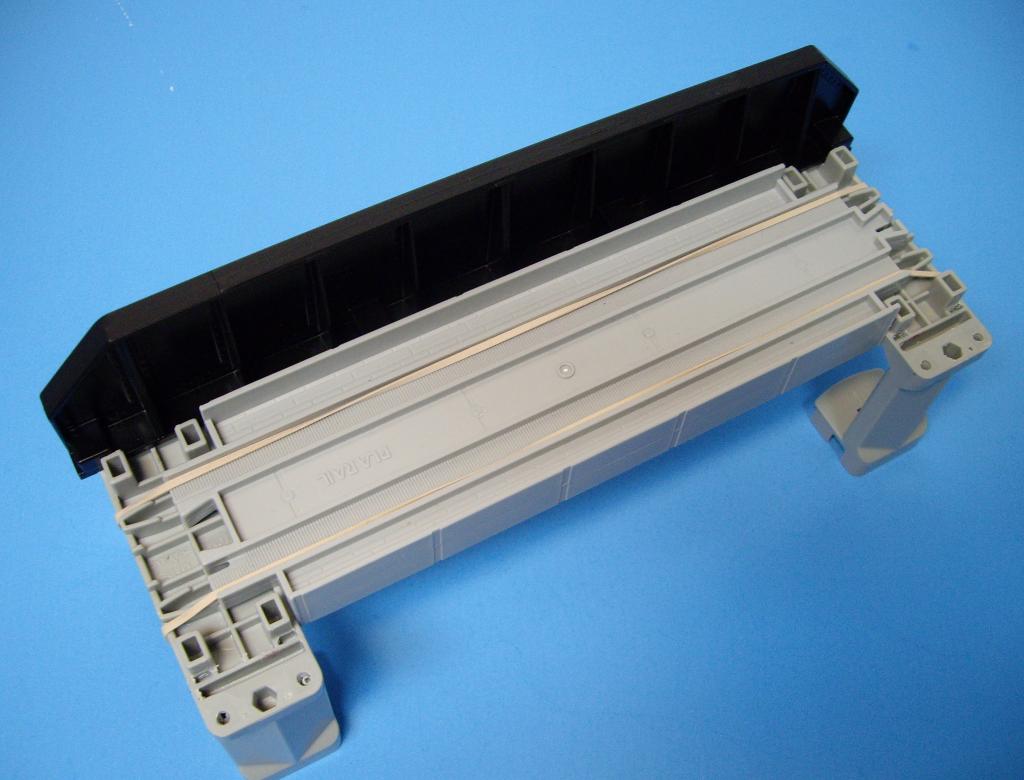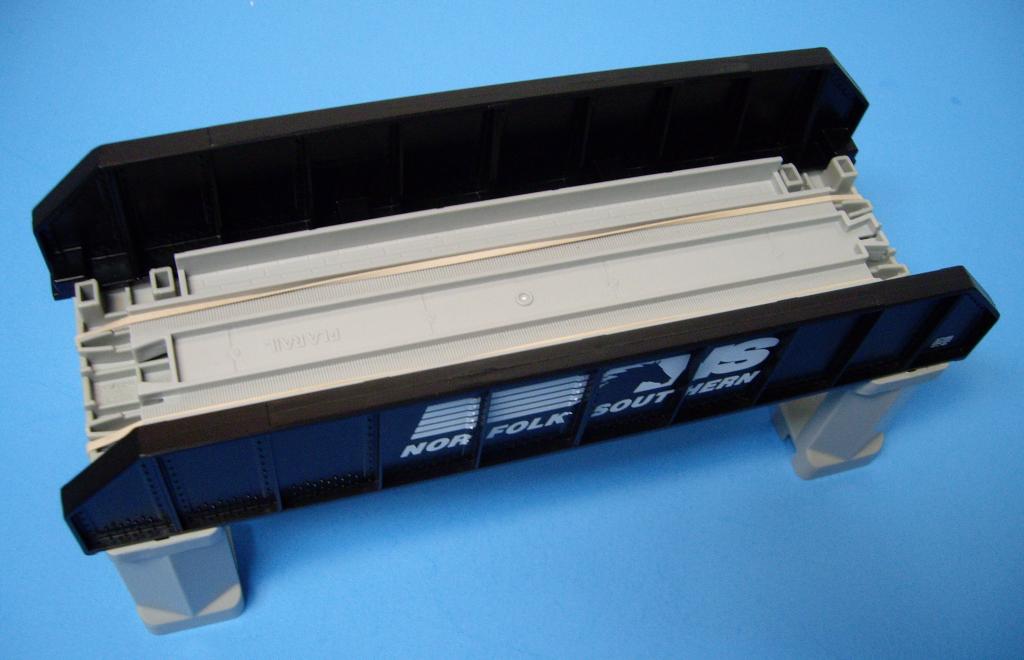 ---
RE: Super's Mod's, Customs & Layout - ROCKINATOR - 12-15-2014

Very nice, never would've thought of that myself.


---
RE: Super's Mod's, Customs & Layout - Super - 03-07-2015

Didn't realize it has been so long since I last posted here.

Today we are introducing the

Purple People Eater

A modified double Cargo Liner that are coupled together and have an LED lamp in each cab. LED's are powered from the second engine with a 9 volt battery. I took a spare motor and removed everything from the inside (motor & gears) I then wired the 9 volt battery in to the empty motor housing and connected it and the LED's to the motor switch. The lights are now turned on and off using the motor switch on the second engine. As you can see, the

Purple People Eater

carrys a lot of PlaKids for something to nibble on.

Also, something new for the layout. I have been wanting a Space Needle or CN Tower that either was lighted or one I could modify to light. Wasn't having much luck as everything I had seen was some kind of 3D puzzle or Lego/Nano blocks which I didn't want. Stumbled across this perfect model of the Tokyo Sky Tree from Bandai. No glue is needed for assembly and it
is either lit by a blue LED through the center of the Tower or a purplish LED from outside the Tower (I prefer the center light).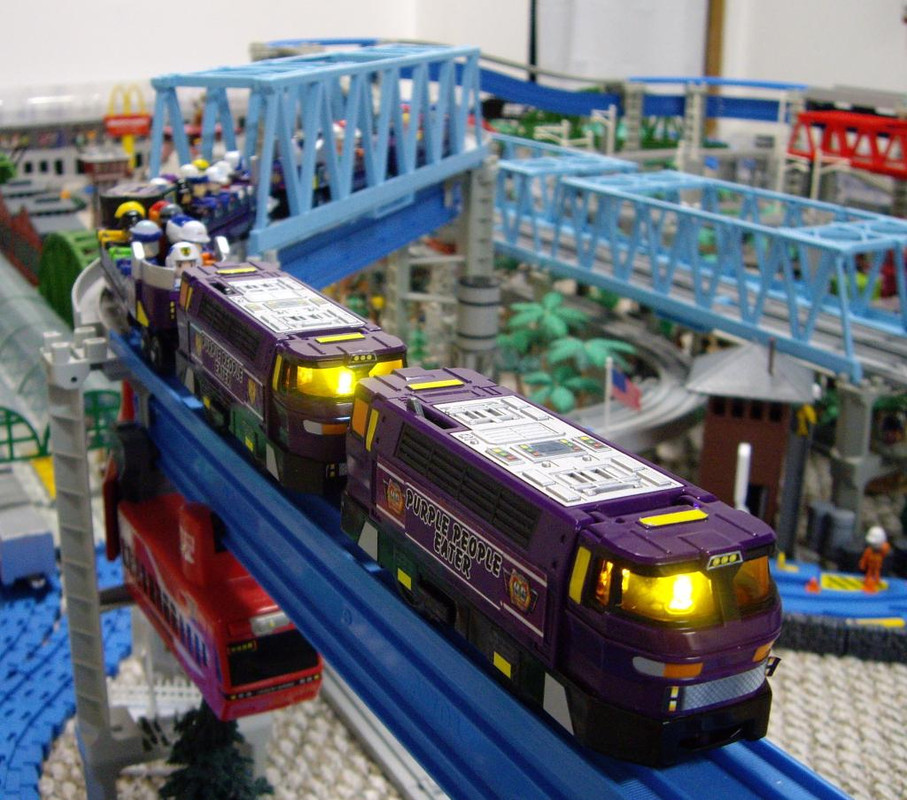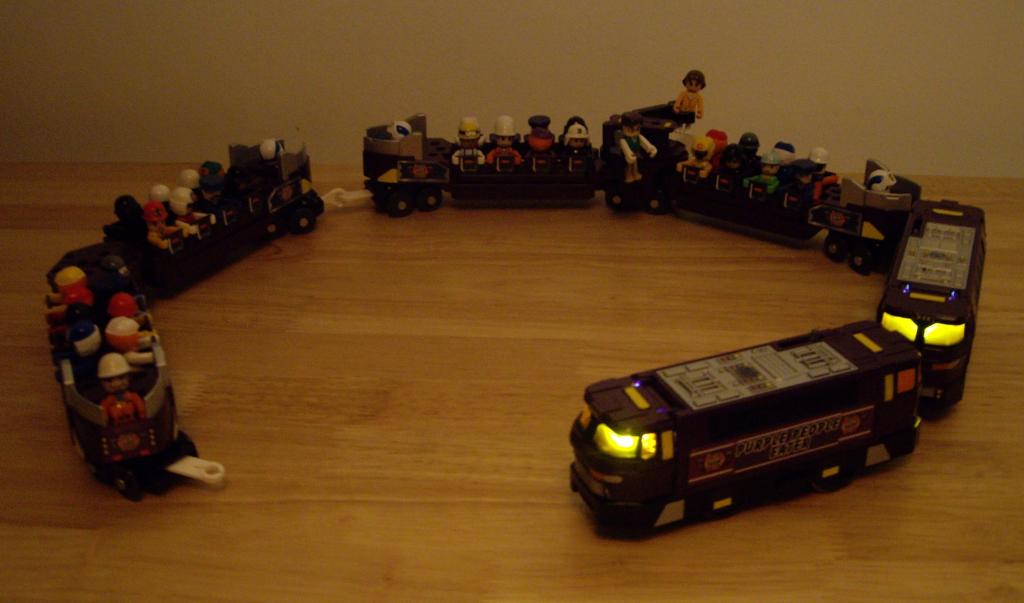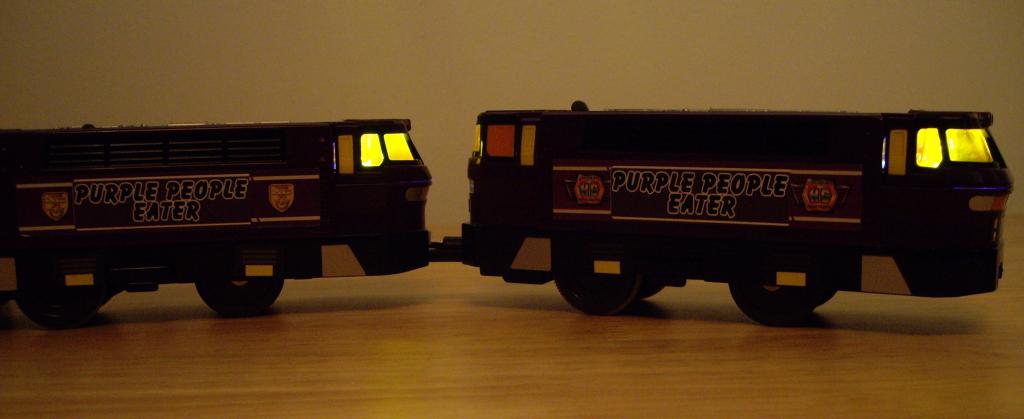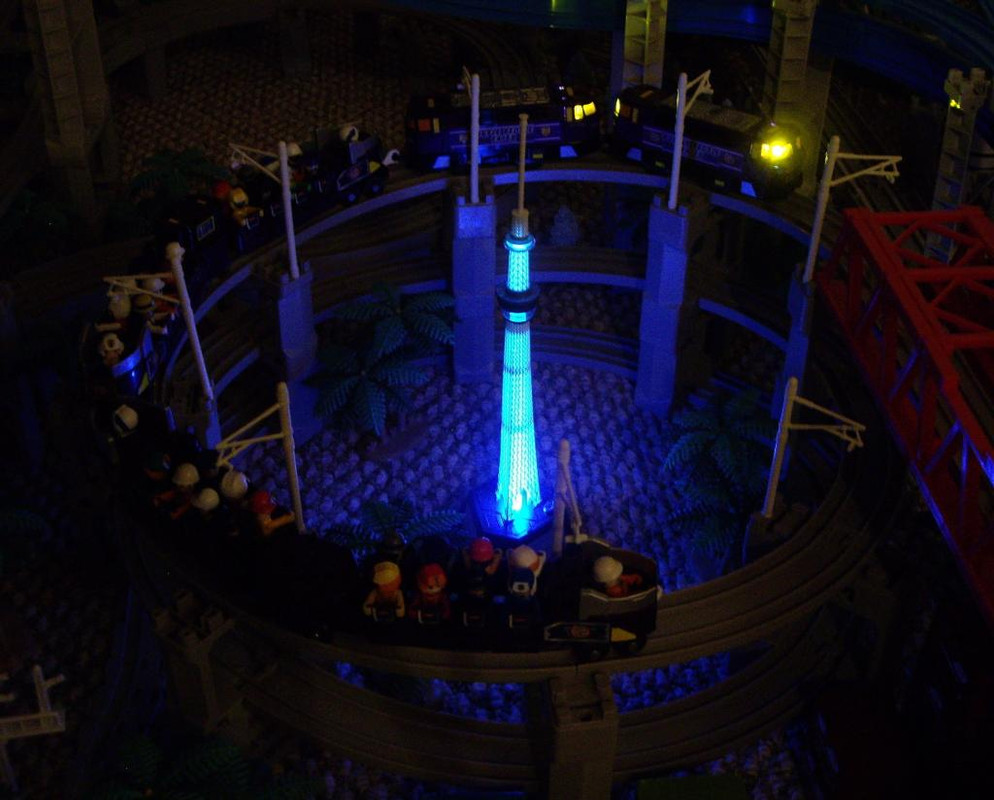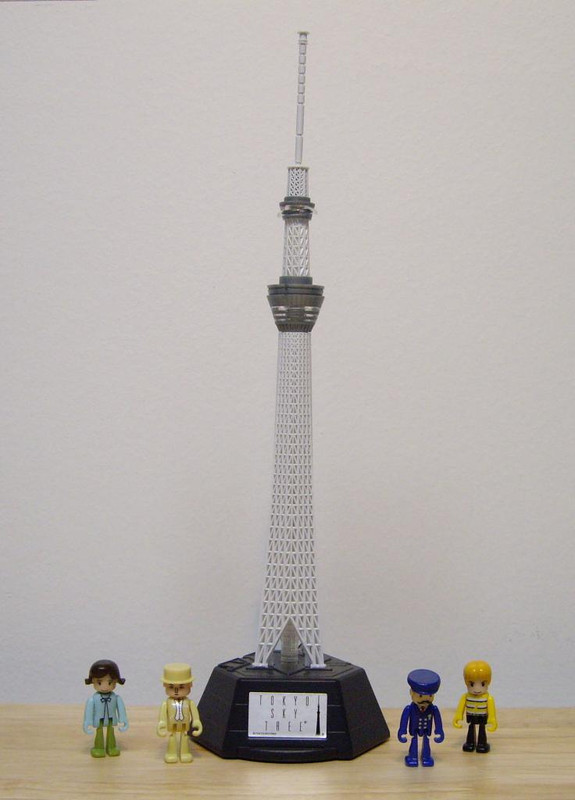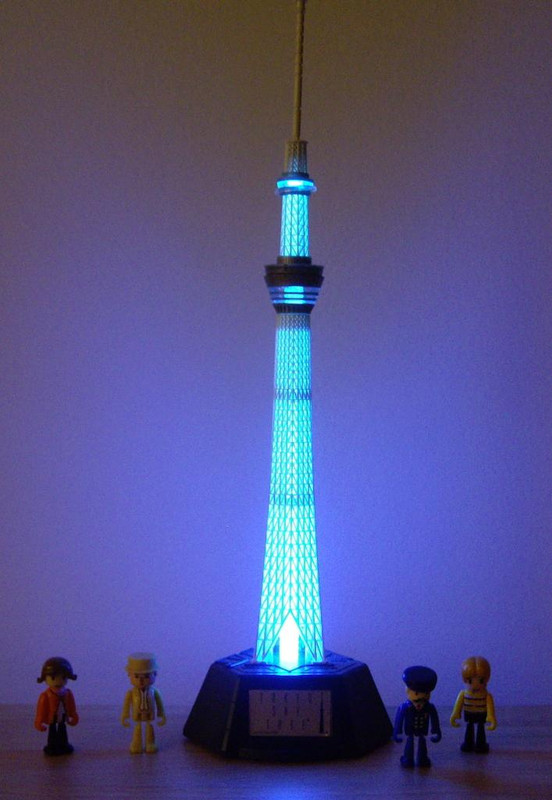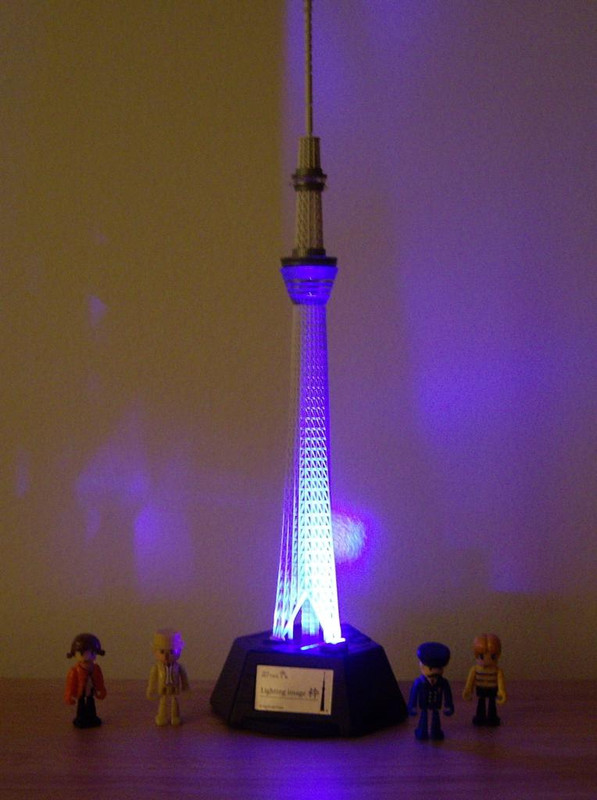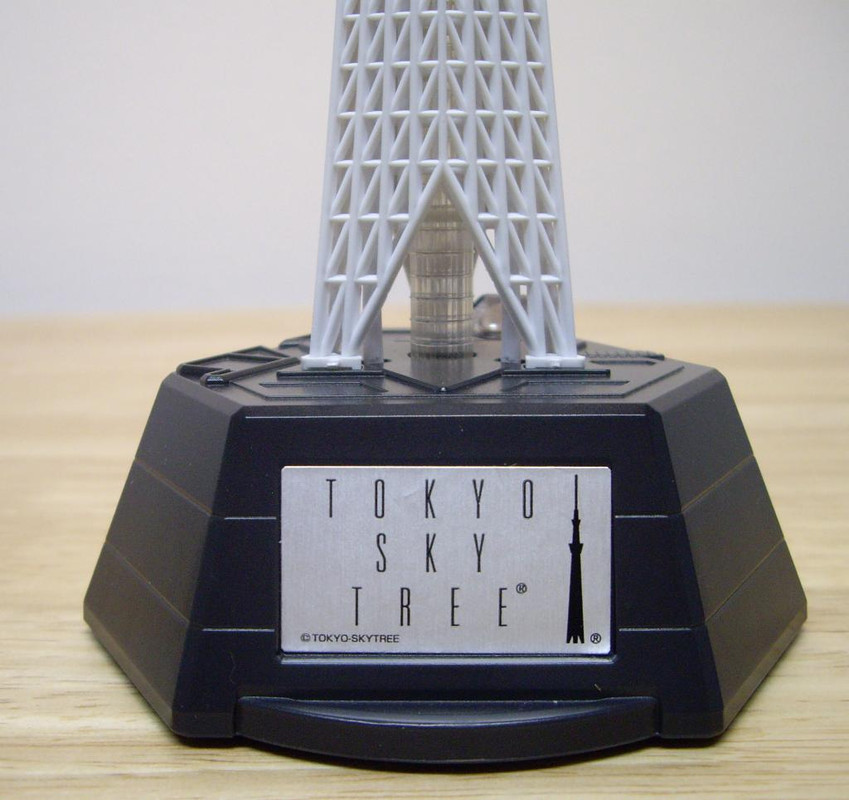 ---
RE: Super's Mod's, Customs & Layout - ROCKINATOR - 03-07-2015

That Tokyo sky tree looks amazing! And fantastic job on the purple people eater!


---