---
Tramps N Gauge - Tramp - 06-26-2014

So, instead of ruining Ucwepns thread on his Narrow gauge layout I thought I'd open up one for myself, I've always liked N gauge trains as my father had some from when he was younger, he had a fair sized incomplete layout that I used to run his locos on.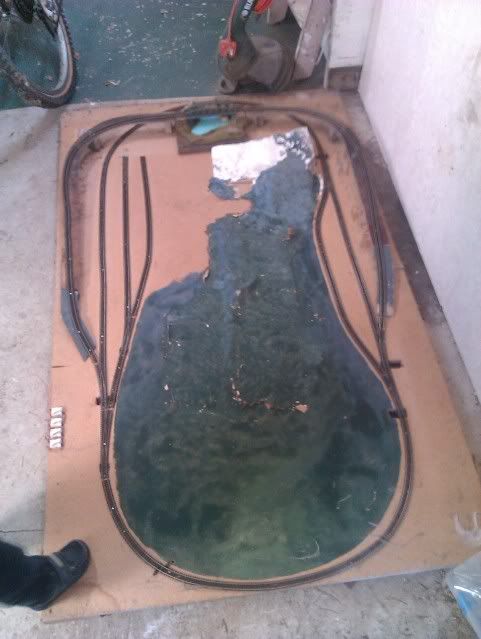 This was my dads that I used to use, it's in need of some serious work,

Fast forward until I'm an adult, a few years ago I decided to make my own layout so I started buying bits here and there to get me started,

This is where I am at the moment, I'm aiming at 60/70's era coal mine layout,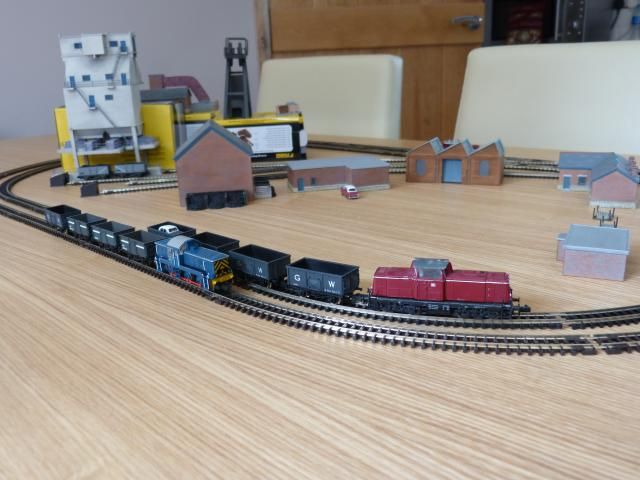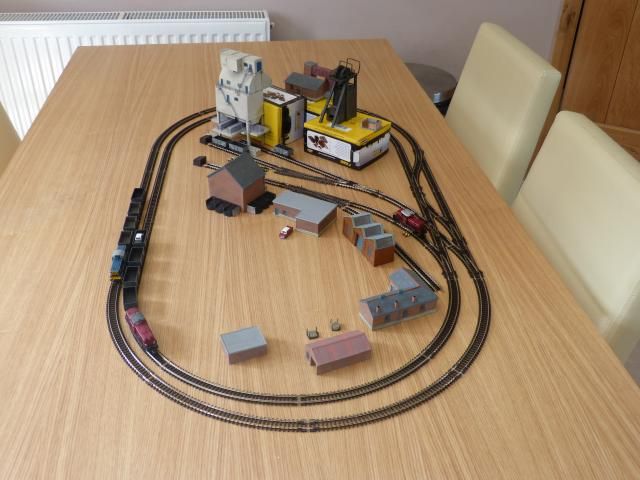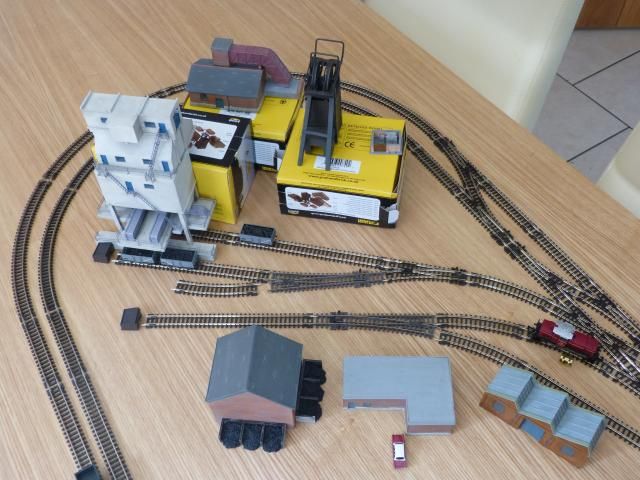 I've got most of the buildings I want I just need to make a start on getting it put together,

As you know from ucwepns thread, this was on of my dad's old engines, he said I could have it ( it had been sitting in the kitchen drawer for years)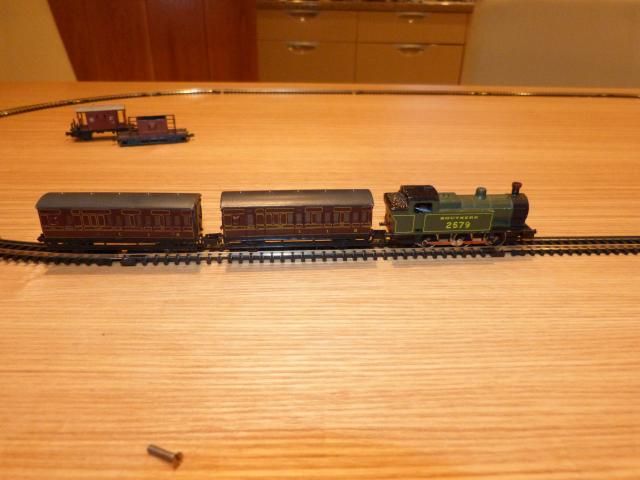 I can remember playing with it as a child, I tried running it but the centre brass worm gear looked to have lost it's threads ( most likely me playing heavy handedly with it when I was younger) luckily it's a graham farish so there is a big stock of spares for the older engines. I've sent it away to a company that specialises in spares to get it repaired, they also told me it was a 1982 model, I was a bit disappointed as I thought it would be earlier!

Today I made a start with making a baseboard for the layout,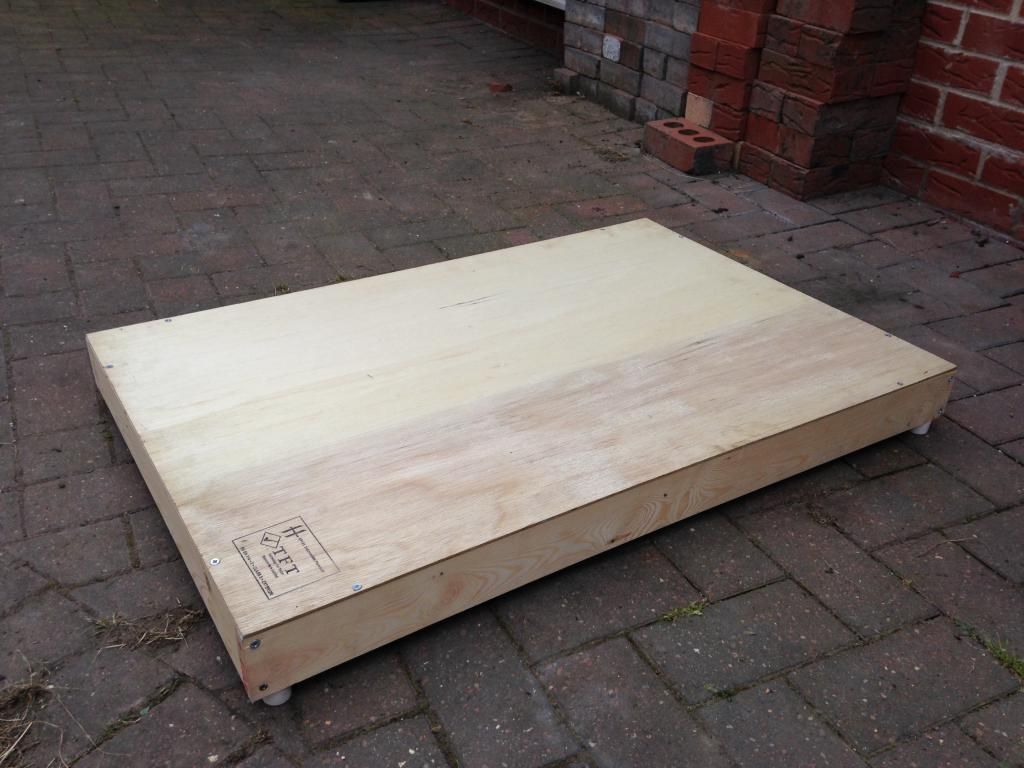 I need to lay some tracks now and decide where the point motor mounting/operating slots want to go!


---
RE: Tramps N Gauge - Super - 06-26-2014

Thats a great platform and I like how you have the sides on it to hide any wiring that will be run under the surface. Whats the measurements and will it be on the floor or can legs be screwed into those corners?


---
RE: Tramps N Gauge - Tramp - 06-26-2014

I've just used doorstops in each corner for now, I hadn't thought about putting legs on it! Yeah I wanted a nice thick cover for the wires as it can spoil it when they are all loose and visible, it's 1meter by 0.6meters so it will fit nicely on the kitchen table, the tops 2mm plywood so it's nice and light to move around and is easy to drill through, the frame makes it good and strong, I'm looking forward to doing more on it, but I'm not looking forward to ballasting the track!

My sons looking forward to it too, at the moment he's just bored with the woodwork side of things, he likes the trains running - usually at full speed!


---
RE: Tramps N Gauge - Ucwepn - 06-26-2014

Thats a very nice baseboard! Can't wait to see what you have planned.


---
RE: Tramps N Gauge - Super - 06-26-2014

Sounds like the perfect "N" size layout and your son is going to remember this just like you remember your Dads layout. Great memories. Speaking of memories, please take photos along your construction way to sort of give us a time-lapse of your experience and with your lighting expertise I can imagine lots of lights around the coal mining structures.



---
RE: Tramps N Gauge - sunhuntin - 06-28-2014

looks good! the other advantage to having the frame is you dont have to worry too much about drilling into the table or anything, lol.

as super said, photos as it comes along would be great!


---
RE: Tramps N Gauge - Tramp - 07-09-2014

Well I've been concentrating on this layout so the plarail has been a little neglected, so far I've made the baseboard (as above) layed out the track, soldered the track into manageable sections, fitted droppers for the electric power and drilled the baseboard to accept point motors, I also made a short video of my son driving the trains he likes the 'little trains'




http://www.youtube.com/watch?v=zXIji5Jmgb8#ws


Here's my picture from today




This track is pinned in place and good to go,

I also had a parcel arrive today, it was a present to me from me!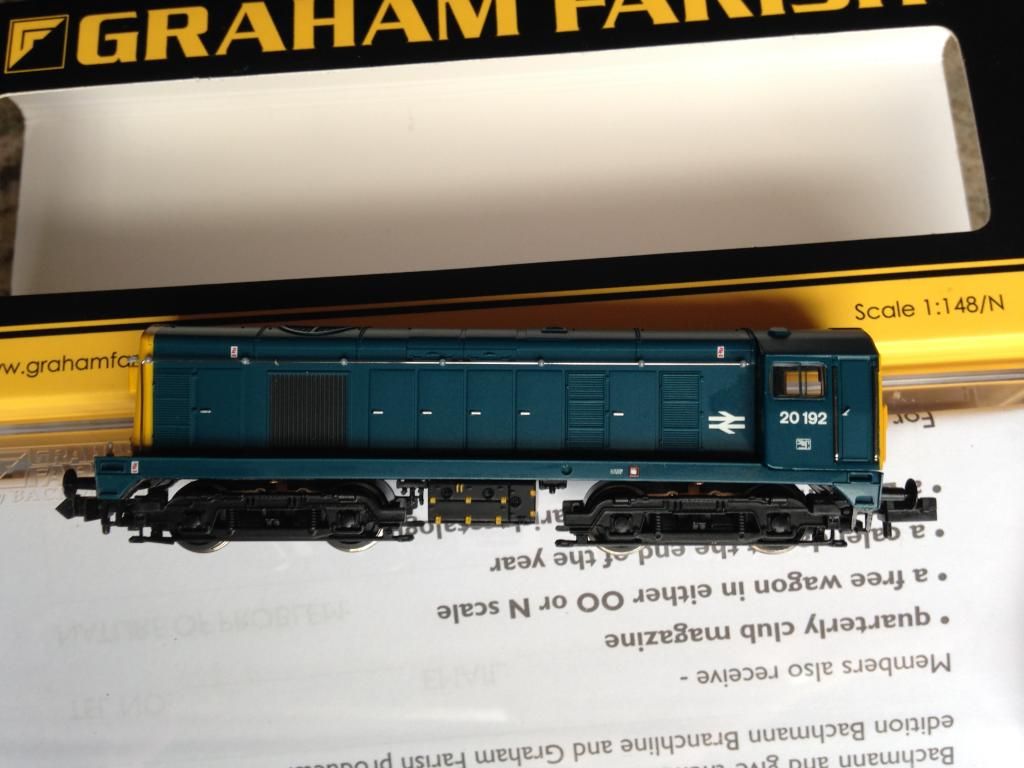 A BR Class 20 locomotive
---
RE: Tramps N Gauge - Super - 07-09-2014

Wow...that BR Class 20 locomotive is beautiful and very nicely detailed for N Gauge. And I had no idea of how fast N Gauge could go, pretty darn fast in the video. What do you use to pin the tracks down and what is up next, landscaping? I would be interested in seeing a pic of the underside with all the wiring runs too.

Thanks for keeping us informed with the progress Tramp things are looking good.


---
RE: Tramps N Gauge - Tramp - 07-12-2014

It's no problem I like to share, those locos were full speed, I think some of the dmu's and passenger trains go much faster! Here's the wiring as of today......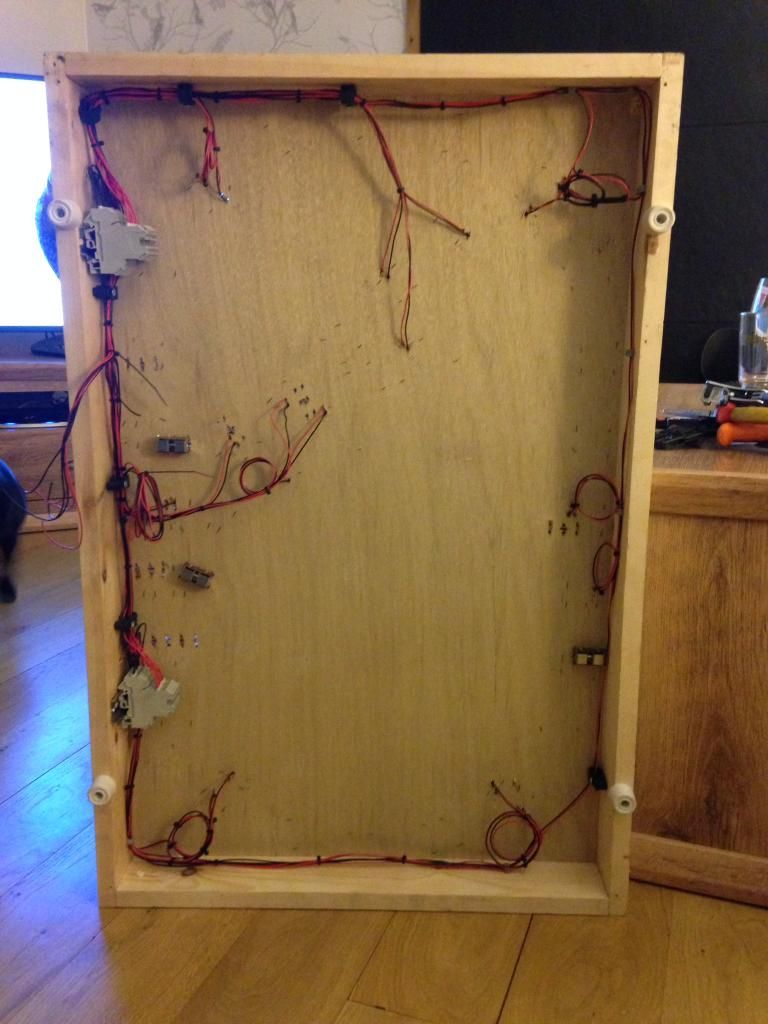 I need to do points wiring, siding wiring, some 'indication' wiring and some testing! Then the ballasting (I'm not looking forward to it) then more scenery work, I'm looking forward to running the class 20!


---
RE: Tramps N Gauge - Super - 07-12-2014



I Knew It!!!!!!



I knew that your wiring would be a work of art. Just perfect and neatly done. I love it. Great job Tramp.


---
RE: Tramps N Gauge - Tramp - 07-17-2014

I'll be honest my wiring isn't fantastic on this, I fitted power leads to each section of track to make sure that even if the fishplates joiner gets old and starts making a bad connection the train will still run smoothly, I haven't started on the switched power sidings yet, and that is my next job, along with some overall landscape shapeing, and points motor wiring, but now the main power loops are done, I can start running some trains





http://youtu.be/EhHoKSplksY

The *testing* highlighted a few track problems, one was a track joiner not fitted correctly, and the second was the cross over track section, when soldering the track lengths together I had melted a few plastic sleeper clips (which hold the track in place) thus had made the track lift and made the train wobble as it passed over it, I fixed it by heating the track back up, placing a weight on it to keep it level and applying some epoxy resin, good as new now!


---
RE: Tramps N Gauge - Super - 07-17-2014

Looking good Tramp. About your wiring, spoken like a true perfectionist. I think you may be too modest. Trains are running so smooth, how does your son like it so far?


---
RE: Tramps N Gauge - Super - 09-11-2014

Tramp...How is the N Scale layout coming?


---
RE: Tramps N Gauge - Tramp - 09-11-2014

Yeah, it's coming along....... Slowly! I get a little time some evenings to do a bit so I've been trying to get the track ballasted,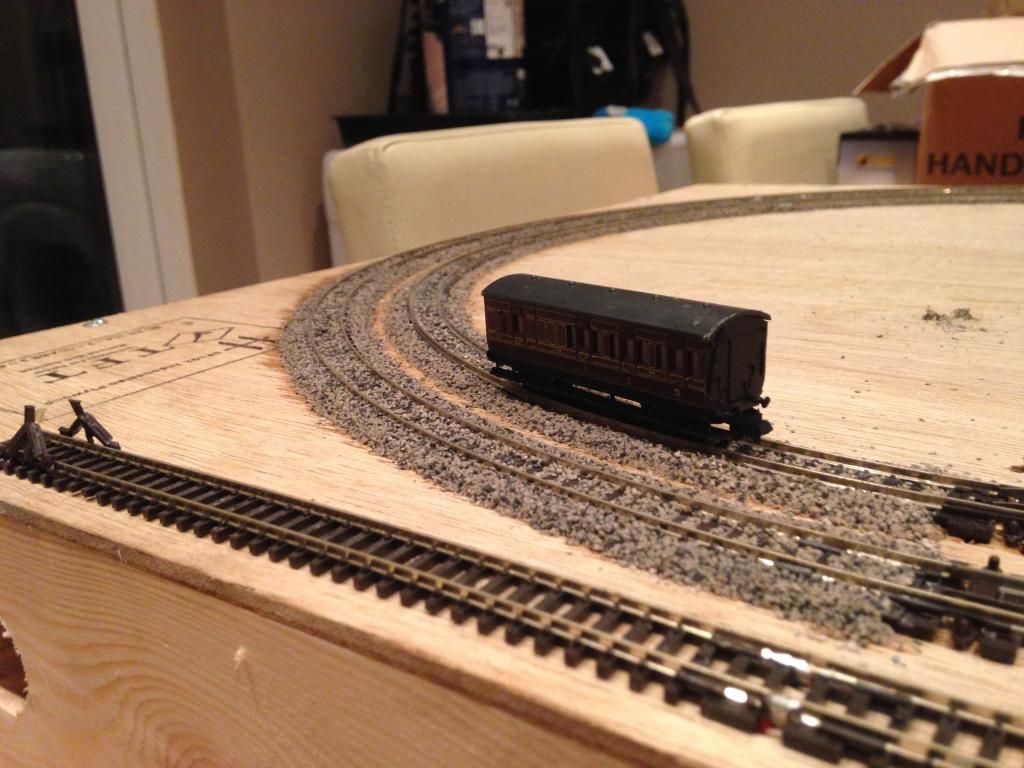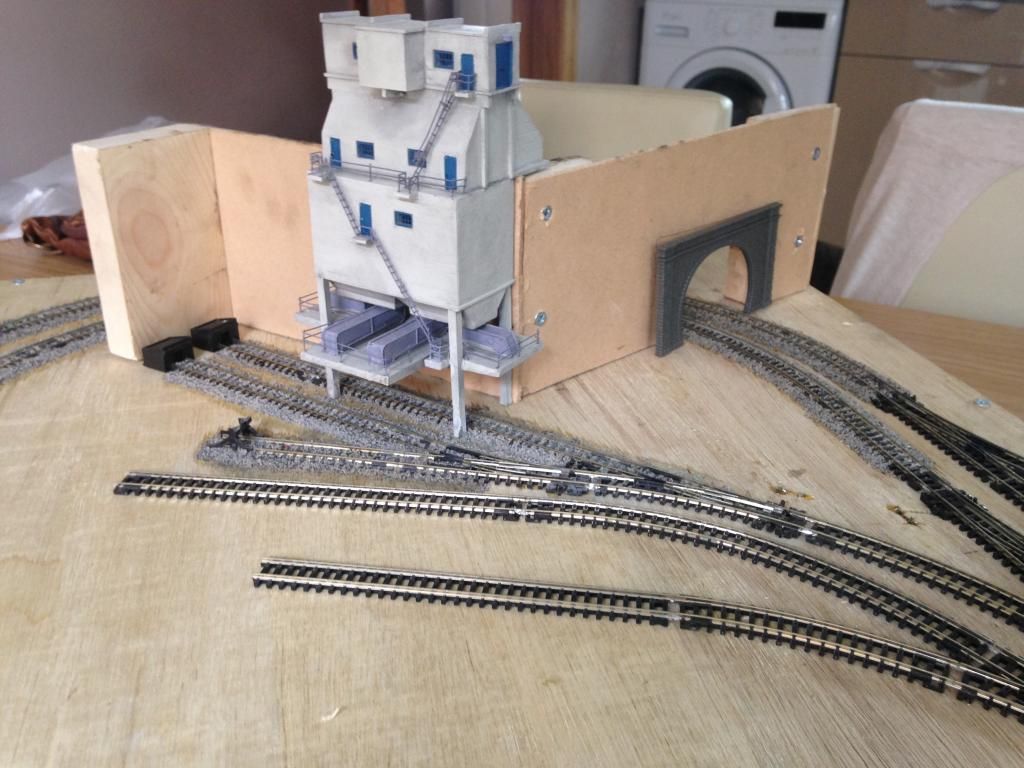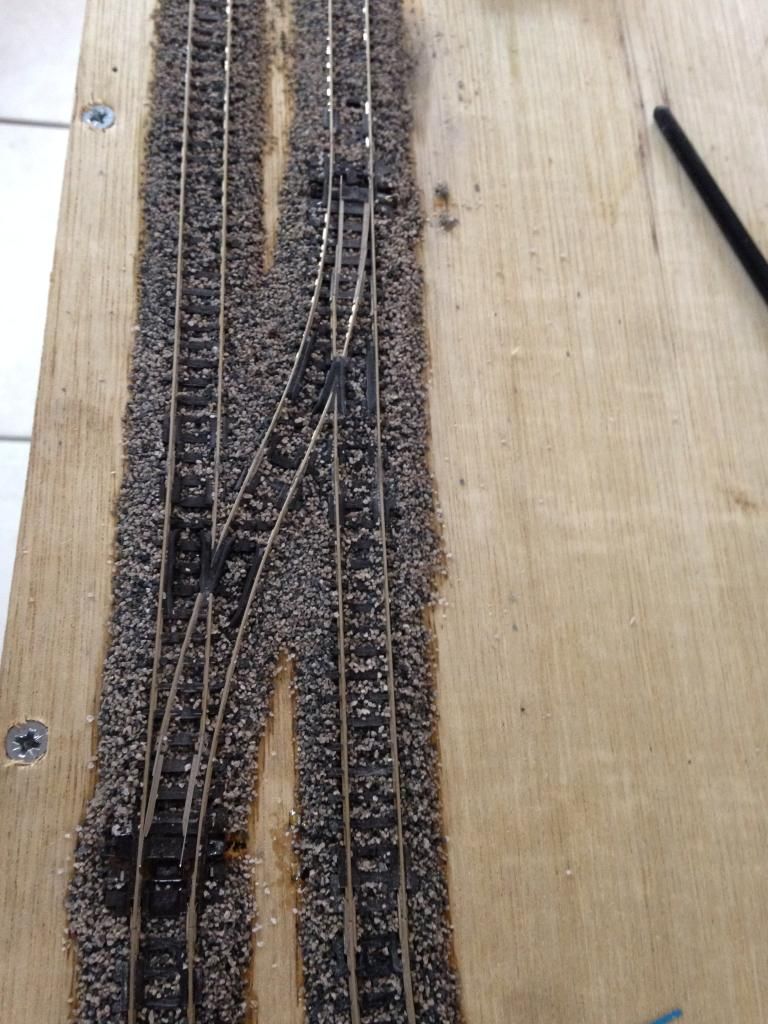 I still have a lot more to do! There's some more ballasting to do, some points motors to fit, lots of wiring and the the scenic sections! At this rate I'll still be doing it next year!


---
RE: Tramps N Gauge - Ucwepn - 09-11-2014

looking great! and running great!


---