---
a big mini idea... display - sunhuntin - 02-18-2019

so, i have been between work contracts for a week or so, and have been organising my masses of track in the attic.

today, while sorting, i was pulling out loads of knock off track. you know the stuff... it fits, its the right color but lacks the all important tomy logo. i had planned on donating it somewhere well out of town so i wouldnt run the risk of re-buying it from our local thrift shops. however, while comparing two pieces, i had an idea...

TA-DAAA!
[attachment=2654]

now, my plan is to use the two side sections on the girder where bridge railings slot in, which will require some trimming of the plastic. it would be nice to cut a notch in them to better support the bottom of the I. [the girders are also knock off to the best of my knowledge]
i would also like to use L brackets to secure the track to the girder. if anyone has a better idea, please let me know?
the reason for using the side pieces rather than the middle is it will double my capacity. in the middle, i can stack the risers, but the upper rows cant fit any on the underside of the track due to no space.

[attachment=2655]

i also need to figure out if straight track can be heated and bent to allow me to go around corners, as the only track bent that way is the monorail stuff, and thats too rare and expensive.

keen on comments and friendly critique/suggestions on improving the idea.
---
RE: a big mini idea... display - Super - 02-19-2019

You could also double - double the display area by using the double length straigh rails but those are probably only original Tomy's. Or you could simply Super glue 2 knockoff straight rails together thus saving on the yellow risers. Those minis don't weigh very much do they?


---
RE: a big mini idea... display - Nigels - 02-19-2019

Not a bad idea Sun, I had been thinking of making a custom Mini display like I already have for my StarLink models;

Starlink Pilot Display

Starlink Weapon Display

Incidentally I found a complete set of 3D models of 'Tomy/Brio style' track designed specifically for the mini's on thingiverse the other day;

Thomas Mini Brio Style Track


Looks interesting I've already downloaded it and may well print up some samples to see what its like
---
RE: a big mini idea... display - sunhuntin - 02-19-2019

those displays are a neat idea. they will look great when all filled up


i would love to see what you come up with for a mini display. i did use nail polish bottle shelves a few years ago, but the collection has well outgrown that solution, though they did fit nicely. my main concern is being able to display them sideways to show off the decals.

heres a photo. theres a glare because i covered them in sandwich wrap to prevent any chance of theft.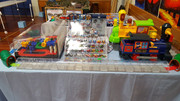 ---
RE: a big mini idea... display - Nigels - 02-20-2019

Sun, I'll have to have a play and see what I can come up with
---
RE: a big mini idea... display - Nigels - 02-22-2019

Hi Sun,

Well having had a think about the display idea and combining this with the logistics of shipping something to you (a one piece stand would be easy to design, but bulky) I've come up with an idea.

The pictures below are a prototype print of part of the design, in that it is the shelf that you would display the models on, the ultimate display stand would support 10 of these 'shelfs' (I should add this one is not full length as it was for test printing - the imagined ones will hold several more mini's).  The shelf includes grooves for the wheels as well as a raised rail that fits into the chassis of the mini's thus stopping them being simply lifted off - instead they have to be slid off the ends and I may come up with a way of securing that as well yet, still thinking about it.

Anyway here's the idea;

Shelf with 4 mini's on it...




Same held upside down showing the raised rail in effect




Shelf on its own showing the configuration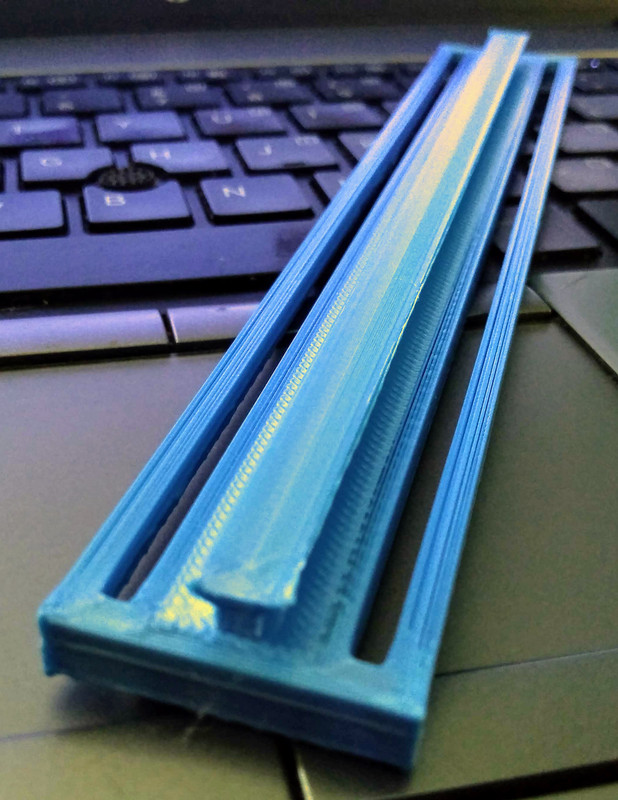 The bottom of the shelf where you can see the sockets that the upright supports will fit in once all the parts are printed




Here's a screen dump from the CAD package of the complete set of components (although there will be 10 needed of the shelf shown in the foreground)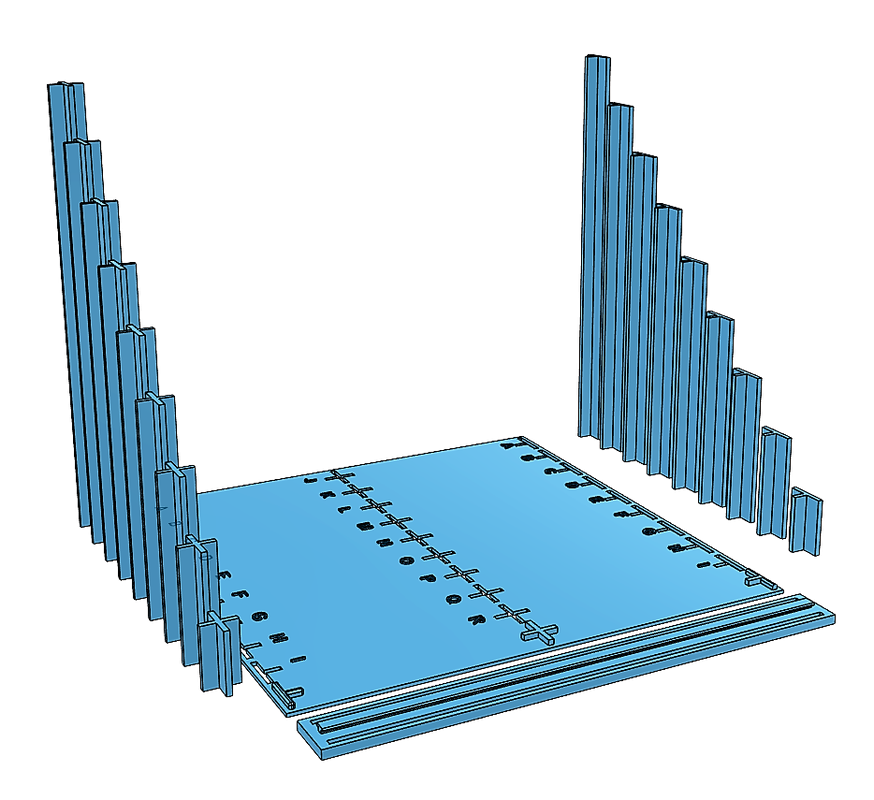 Let me know what you think
---
RE: a big mini idea... display - Super - 02-22-2019

That is just fantastic work Sir Nigel, what a great constructive mind you have.


---
RE: a big mini idea... display - sunhuntin - 02-22-2019

nigel, that looks great! i love the whole design. i think a grey or similar color [not black] would help the minis pop, but the blue looks great and matches the tomy tracks.

most of the different schemes seem to have between 5 and 6 minis. not counting the DC which is larger. i would estimate one whole unit just for the DC, and the other licensed could fit on a unit together.

thanks for your hard work, sir.


---
RE: a big mini idea... display - Nigels - 02-23-2019

Hey Sun,

You are welcome, the shelves still need little tweak or two then I'll decide on colour. The silk filament I used for the prototype while attractive isn't the strongest type I've got. I just got hold of some Blue HIPS, I may try that and see how good it works etc... In theory it is stronger than PLA, just it has its own challenges when it comes to printing


The sort of things I want to do is put a few cross-braces on the shelves and try to strengthen the bar where it meets the top surface of the shelf as that looks a bit too thin to me and it could cause some issues. But I'll have a play with them in the coming days to finalise the design, test the filament types I have then put something together see how it all holds together
---
RE: a big mini idea... display - Reivax - 02-25-2019

This is really awesome. Lots of interesting and smart ideas in here. I've always thought of a way to display all the trains, but as the collection grows to an absurd number, ideas become less and less. The tiered back stadium seating idea there is awesome. If that could support around 100 trains, you'd need 5 of them to keep up with the ever-growing series.


---
RE: a big mini idea... display - Nigels - 02-25-2019

There might be a possibility of having a different design with shelves with diaganol 'ports' which would allow more trains per shelf which could get you more trains per stand. But the downside is that you wouldn't necessarily be able to view the sides as well which is generally the best part of the model
---
RE: a big mini idea... display - sunhuntin - 02-25-2019

i think having less per shelf/stand is fine if the sides can be seen. but then, i dont know what your new design would look like, i cant picture what you mean about diagonal ports.


do you have an idea of pricing, nigel?


---
RE: a big mini idea... display - Nigels - 02-25-2019

Hi Sun,

What I mean by diagonal ports is similar to the stand for the starlink pilots, but with the face of the mini at a 45 degree angle to the front. So imagine them facing directly forwards, then turn them in the horizontal 45 degrees. This way you could get a few more per shelf, although for the same footprint you may get less shelfs per level because the width of the shelves may well change also. So it would be swings and roundabouts. Thing is you wouldn't get a clear view of the sides from head-on so I think it would be a backward step for a display setting


I've not calculated the cost yet, it would depend on which filament I decide to use and amount. Postage will depend on size and weight as you know - hence one of the reasons I thought a flat pack approach would be better


I'll let you know once I've figured out the filament and amount needed. Do you have a preferred colour as that can affect the price of the filament also...


---
RE: a big mini idea... display - Super - 02-25-2019

Please use the PM system for price negotiations and not in the public Forums.


---
RE: a big mini idea... display - Nigels - 02-25-2019

I usually do Super, if you notice I didn't put any price in there
---