---
Recent FB purchase - bijomaru78 - 06-03-2020

Found this on offer for £5 on local Facebook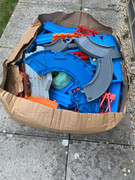 Didn't look like there was much in it, but once sorted and cleaned a lot of goodness was revealed.

Plarail tracks: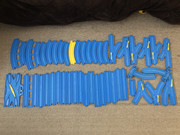 Rail accessories:



And some road system pieces: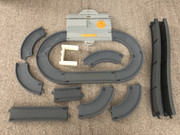 James' tender was missing the battery cover/coal piece, so built him something from our spare 'fake-lego' bricks to serve as a cover for the compartment.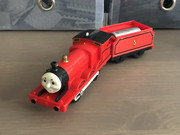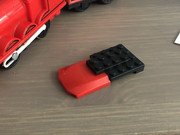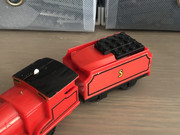 Overall, well happy with all of this for £5.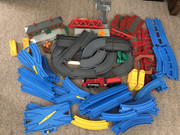 =========================

Some additional pieces were also in the stash, but it's not the system we use or just random incomplete bits. If anyone can tell me what these are I'd be grateful.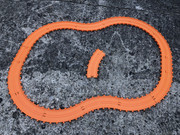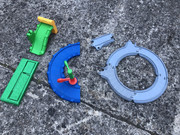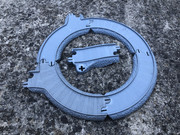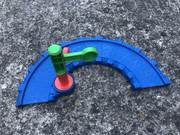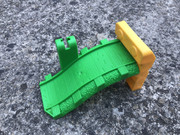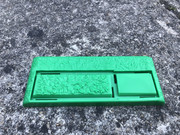 ---
RE: Recent FB purchase - chrisjo - 06-03-2020

Good job with the coal!


---
RE: Recent FB purchase - bijomaru78 - 06-03-2020


(06-03-2020, 11:08 PM)

chrisjo Wrote: Good job with the coal!

Looking at the photos now, I'm surprised how well the colours match!


---
RE: Recent FB purchase - Super - 06-03-2020

I love your creative imagination Bijo, I also love your luck in acquiring that box full of train accessory's for only 5 pounds...amazing deal for all that.


---
RE: Recent FB purchase - bijomaru78 - 06-03-2020

Haha thanks
Tbh there are loads of blue tracks on FB but deals like those are quite rare. So when I see them at a price like that, I just offer to collect immediately.


---
RE: Recent FB purchase - DalaGStanator - 06-04-2020

Nice lot! Quite an interesting assortment for such a great price. Seeing the road parts got me excited because I told you to start adding them along with the motorized non rail traffic. Ffarquhar has to be one of the nicest

Thomas

buildings and can still look great on non Sodor layouts (or even as totally different buildings). I've definitely considered trying to build a scratch built replica since I never had the TOMY one, and it was one of my most wanted items until I grew up and realized custom solutions can turn out good (if not excellent). Not to mention, look what happened when Chrisjo cut up two of them and fused them into one. Nothing short of incredible.

I know James is obviously not your first

Thomas

rolling stock, but he is the first one you've shown here so far. Ever since Edward, Henry and James were remade with detachable tenders in 2012 (and Gordon in 2015), I've started to think less of the original battery tender versions (even though they look better). Likening the battery to coal and water was a clever idea, but it made things cumbersome by having a flimsy permanent coupling with wires that could easily fail. Either way, good thinking with the LEGO solution for the battery cover (though 45677 should've been black instead of red).

The old TOMY shed walls also work well for other buildings when you find a way to make them stand up. If you don't need more sheds, you could repurpose them as some sort of set dressing.
 

---
I've just found out that the orange track is from Learning Curve's

Dinosaur Train

range. This actually makes sense because it's the same track as

Thomas

Take Along (second version)/Take 'n Play, but the more realistic sleepers were replaced with strange (but better proportioned) knobs. Here's one of the sets it came from:




The elevated grey track is the first version of Take Along. The redesign was likely because it looked more like road despite having moulded sleepers and ballast. The blue and green parts are My First Thomas & Friends (Fisher Price, not Golden Bear).


---
RE: Recent FB purchase - bijomaru78 - 06-04-2020


(06-04-2020, 04:18 AM)

DalaGStanator Wrote: Nice lot!

We had some road parts before and one motorised track only, so will make use of it for the next video. I was planning to make it Thomas theme based anyway so this will be a nice addition. Sadly we only have Thomas train working, and now James (the tender idea indeed looks much better, apart from the visible wires). We have another train but that will need a motor transplant at some point to get it running.

Ffarquhar indeed is a nice piece. We had the bottom part of it before from another bulk purchase, but this time we got both parts so will definitely get used as well.

The shed walls come without the roof (we have a few with the roof already) but being from Swindon, my instant thought was to replicate the railworks that we still have here (although converted into a shopping centre) as it would be a perfect fit. Just need to find a way to hold them upright together (will probably end up using lego for that
)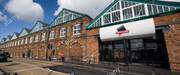 As for the colour choice for the tender cover, I agree ideally it would be black. We have a rather large collection of Lego (sets and bulk) as well, but I'd rather not take away from the original pieces that are parts of sets we;re trying to build slowly. So in the bulk purchase, we're finding a small amount of non-genuine bricks. I ended up picking a few bricks from those to see how they will fit. Need to have a better look tomorrow to make it all black as it should be.

Thanks for pointing out what the other sets are. I'll probably end up getting rid of there. I see there's a marketplace on the forum so may just list them there cheap if there's any use for them.


---
RE: Recent FB purchase - leylandvictory2 - 06-04-2020

the grey road pieces may be trackmaster or ertl.


---
RE: Recent FB purchase - DalaGStanator - 06-05-2020

Neither; TrackMaster road does look very similar to the first Take Along track, but it's much wider with thinner connectors and has curbs and asphalt with simulated cracks. Here's the Take Along Work & Play Roundhouse:


---
RE: Recent FB purchase - WaltWiz1901 - 06-05-2020

Just seeing that image brought back quite a few (circa) childhood memories! This set was one of the few Take-Along sets I had (I know for sure I also had at least the Morgan's Mine set and the Waterfall Tunnel).


---
RE: Recent FB purchase - bijomaru78 - 06-14-2020

New FB purchase ? sorting and cleaning tomorrow.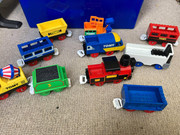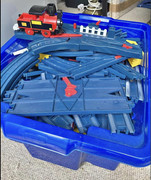 ---
RE: Recent FB purchase - DalaGStanator - 06-14-2020

Oh, more Vintage TOMY (a.k.a. Tomytrain)! Honestly, the dark blue track had a better colour than the current style (though it still doesn't top the grey ones like Supes has). I didn't remember them having what looks to be automatic points (unless that's the direction tab). Among other things, I see an InterCity 125 shell and a Henry tender. It shall be nice to see how you'd use your LEGO to take advantage of the studs and alter some of the rolling stock in design and appearance. Now that you have all this, would you consider building vintage layouts like the Plarail ones? I wonder what your son thinks of that era and if he'd be interested enough. Personally, you should build roofs for the trains to avoid using the figures (which could easily be replaced with minifigs). Hopefully the engines will last long enough.


---
RE: Recent FB purchase - bijomaru78 - 06-14-2020

The current layout we're building is Thomas-themed, although we only have 2 working trains from that range. I guess the next one will be Vintage trains but need to get them tested first. At the moment he does really care as long as they are trains. He recognises some (like Thomas, James, Dr Yellow - which we don't have).

That is an automated 3 way junction which I was surprised to see, but it's exactly like the light-blue one we have. Not sure what else is in there, but the lego compatible pieces will be interesting for sure. We definitely tend to mix up our toys a bit, so you'll see some Plarail / Lego / Hotwheels action soon.


---
RE: Recent FB purchase - Super - 06-14-2020

Very nice load Bijo. I am curious about one wagon circled below. Sunhuntin has a new in box set with the work wagons but I can't see what that orange wagon is.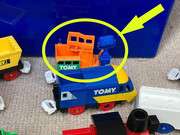 https://sunstomyandfriends.weebly.com/vintage-tomy-boxed-sets.html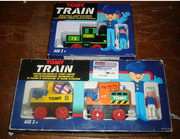 ---
RE: Recent FB purchase - chrisjo - 06-14-2020


(06-14-2020, 07:35 AM)

Super Wrote:  Sunhuntin has a new in box set with the work wagons but I can't see what that orange wagon is.

They are the same thing, parts of it lift up / swivel around.


---