---
vintage tomy camera - sunhuntin - 10-18-2020

snagged this little beauty on a local auction site yesterday. comes with the box and all 6 slides. according to the listing, the images on the cards appear when wet and it seems the slot the photos come out of has a sponge inside to wet. will put up more photos when it arrives over the next week or so.

more research to do to see how many variations there are. i have found one which has "photo-matique" on the door where the pictures come out from.

[attachment=2694]


---
RE: vintage tomy camera - Finno - 10-18-2020

Awesome find with the box!


---
RE: vintage tomy camera - Super - 10-19-2020

That is so cool Sun. Tomy really did have a lot of imagination in their creations. Any date on it? From the old Tomy Logo I am assuming its between 1963 and 1980.

Thanks for sharing.


---
RE: vintage tomy camera - chrisjo - 10-19-2020

This is from a listing on eBay UK that says it's 1984..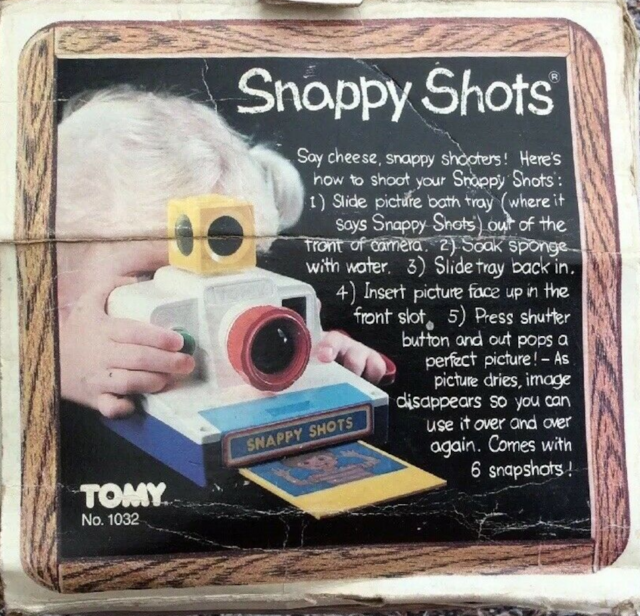 ---
RE: vintage tomy camera - sunhuntin - 10-20-2020

the underside of the camera is dated 1979. google has only shown me one variation that is identical except it has "photo-matique" on the sticker where the slides out.

it arrived today, and is in great shape. it has been well looked after, which is great to see. the picture slides still work perfectly and dont have much damage. i saw one video on youtube where the slides had been scribbled over by a previous owner.

the slides as they normally are. you can see the slides have a series of notches in the bottom corner. i dont know what the purpose is except an additional educational aspect. i bet a lot of kids would have got a kick about lining them up correctly. would have been even better if the pictures told a story.
[attachment=2695]

just add a little water and presto!
[attachment=2696]

the camera itself with sponge door removed. the door has a slight gap underneath where the slides fit. pressing the green button spins the flash and ejects the slides and the images start to appear.
[attachment=2697]


---
RE: vintage tomy camera - Super - 10-20-2020

I love it.

Hey Sun...Has your Huge, Massive, Enormous  toy collection moved too?


---
RE: vintage tomy camera - sunhuntin - 10-20-2020

not yet, super. my partner also has a huge, massive, enormous toy collection, so until theres a bit more room, my collection is staying at my parents place, and any new additions get relocated down there when we visit.


---
RE: vintage tomy camera - Super - 10-20-2020

Wow...2 Massive Collections in one space...the two of you may need to move into a warehouse space
---
RE: vintage tomy camera - sunhuntin - 10-22-2020

thats the one!!

i figured out what the notches in the pictures are for, too. when the slides were being assembled, chances are the pictures were the blank grey they are when dry. the notches would have been for the assembly team and the final packaging dept to make sure each set had one of each and no duplicates.

i have noticed tomy was notorious for using the different colors for different parts of their sets, for example the record players. i have seen many times where, say the yellow record played "this old man", and then in another set it was the red one etc. this meant the dies used for molding were filled with any color they liked from the 4 used. they did the same the with "play, stop, eject" buttons on top as well.
i am curious to find out if the same is true for the picture slides. will be hard, as the few images i found mostly showed them all blank, and i dont think people know how they are activated. i myself would never have known but for the box being included.


---