---
As if I need more trains... - MagicRail - 10-24-2020

Hello. This is my introductory post to BPT. I've been debating joining for a while, but now that I actually have some interesting things to show, I figured it was a good time to register.

Last night on a whim I decided to purchase a lot that showed up on eBay, with a (presumably Thailand made) Henry and a (presumably US) TNA Percy. Both are items I've been wanting to add to my collection for a while, so it was very exciting to see them both together! Henry is the painted face version, which I prefer, and has his battery cover, which is a rare sight. I've never seen a US Percy show up for sale. It's my favourite of the 3 languages so I'm very happy to have gotten it. Well, at least I FIGURE it's the US one. The lot is coming from California.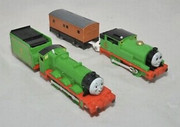 Neither work, but that's fine by me. Judging by the pictures all that's wrong with Percy is a separated wire, and I suspect that goes for Henry too. An easy 20 minute fix. Considering the lot came to about $30 CAD, I couldn't be happier. Now to find some Magic Rails for Percy! -MagicRail


---
RE: As if I need more trains... - Finno - 10-24-2020

Good pickup at a thrifty price which is always nice. Thanks for sharing and welcome!


---
RE: As if I need more trains... - Mister No - 10-25-2020

Hello MagicRail! Welcome! 

Of course you need more trains!
We all need more trains!
---
RE: As if I need more trains... - Super - 10-25-2020





Of course you need more trains, we all need more trains, the World needs more trains
---