---
RE: My Tomica World - Introductions - Plarail Man UK - 01-04-2021


(01-04-2021, 04:43 AM)

bijomaru78 Wrote: Hey Futa. Well jealous of that train collection you had delivered from Japan. I'm a collector of the Japanese trains mainly myself (we also collect Thomas and vintage Tomy Train as well, but more by chance). I'm currently assembling a parcel on Jauce with a few more trains and accessories so looking forward to receiving that, but nothing compared to the quantity on your order

Looking forward to seeing all that in action!

Hey there!

Thanks, gonna admit, this was a project of mine to try and keep the spirits up with all the stuff that's been going on, both in general and personally, and it's worked a treat
  It's been a long ambition of mine [probably goes back to being a kid and seeing an ad for the Tomica World system on my old Thomas and The Magic Railroad VHS] to make a proper, big display layout with the Plarail system, and yeah, it's certainly coming together lol 


I counted, and yeah, combining my collection of almost all the export units released under Tomica World, and my imports from HobbyLink Japan, I got around 40-45 trains now? That's partly why I bought the giant 300 Series, 9 lanes of storage where I can park some of the bullet trains that I got, my 300 series included, naturally 
 

In terms of the export range of Japanese trains [per the 2000-2001 Tomica World catalogue], all i'm missing now is a Boso View Express and the train that came in the Super Spiral [not the Amtrak variant], if I can get those some time, that'd be grand.
I don't think i'll take it any further than that though, unless there's any special trains that turn up; i've basically got all the ones I liked, or wanted specially. Same goes for track and sets, got more than enough going on now, just gonna stick to the occasional accessory from here on out lol 


I guess this project was the equivalent of several years of collecting done in the space of a few months; I would have been collecting way before this given the chance, but my own situation [and finances] got in the way haha 


Anyway, thanks for dropping by, do stick around as I'll defo update on what happens with the Pico system when it's all connected up
---
RE: My Tomica World - Introductions - Plarail Man UK - 01-04-2021

Since I don't know how to fully delete posts, imma just remove the [now unnessecary] text and replace it with a smiley






Thanks again to everyone who helped get the username things sorted, much obliged. I'm looking forward to getting the Pico system here to good ol' London so I can see exactly what i'm dealing with, and hopefully get a demo on here for all of you great people at BPT forums!

That, and a nice clean transfer of one version of the Japanese Tomica World VHS, which as far as I know still doesn't have a clean transfer [correct me if i'm wrong], since i'm fairly sure that might be of interest to you guys - I have VHS digitising equipment that I use for archiving my significant VHS collection, so i'm well equipped for that [just hope the laptop can cope lol 


Thanks again guys 
---
RE: My Tomica World - Introductions - Plarail Man UK - 01-04-2021


(01-04-2021, 12:05 AM)

chrisjo Wrote:

(01-03-2021, 07:56 PM)

DalaGStanator Wrote: Are there any dates or other info anywhere on the 300 Series so we could get an idea what time it was from?

This? New in 1994 catalogue, this pic from 1995 catalogue. 未来特急のぞみ号コントロールセンタ. Future Limited Express Nozomi Control Center.
 

For the Plarail Pico device, google this: プラレール・ピコ

That's the one 
 

Yeah, I got my one of these because I found it in the 'junk' category of Plarail on Jauce, cost the princely sum of 70 Yen 

The only issue appears to be the box, which is rather heavily sun-faded, otherwise it appears to be in remarkably good condition, even comes with little figures that sit in the various control seats on the unit, which often seem to be missing.




True reason for buying it was actually as storage space, gonna hook it to the layout and use it as a storage yard for, fittingly enough, the bullet trains I have that don't fit on my 10-layer track tower that i've got off to one side of the layout as a storage space for my trains 
 I thought that 9 lanes of storage built into a 300 Series was way cooler than adding 2 or 3 more tower layers, and actually worked out cheaper as well hehe 
---
RE: My Tomica World - Introductions - Plarail Man UK - 01-04-2021


(01-04-2021, 02:34 AM)

DalaGStanator Wrote: Diolch yn fawr, Chris! That's exactly it. Not only does it predate the Thomas version (as I thought), but it even looks to have more play value and doesn't look awful in station mode. I unironically like how the cab turns into a control tower and the orange tracks become the roof. They even made platforms in addition to the stop/go bars! It might even be passable as a central station (or maybe a railway museum entrance) in one of those large urban themed layouts. Again, thanks for the info.



So, the device makes more sense than what I imagined. It does have track connectors at both ends, but it uses a turntable and stop/go bar (along with levers and buttons) to detect what the engine is doing. I couldn't seem to find gameplay of the actual game, so I'm still holding out for Futaba's video. I even found a similar device for Tomica cars, (which must mean there was also another game for them.

Yeah, that's what I've got, although mine is missing the red section that sits in front of the turntable; I'm looking to get a 3D printer at some point [mainly for modelling purposes, Hornby and TOMY alike] so maybe could make a replacement?






Honestly, got no idea how this functions in practice, i'm stoked to get this running for real. Mine also comes with a 500 Series front car; I'd assumed this was a random Plarail piece thrown in by the seller, but that pic you've uploaded seems to indicate that was a part of the set from the get-go? Gotta wonder if that means it's got some kind of special function for this unit specifically, although it just looks like the unpowered end of a standard Plarail 500 Series so who knows 


Obviously got a Pico to run this thing on too, and I'm definitely going to test out the Plarail unit's compatibility with other games; I bought a hot pink Pico [which I honestly think looks way better than any of the regular Pico units] that came with a bunch of software, including one of the two 'Sailor Moon' games for Pico, good for me of course, being a massive Sailor Moon fanboy lol 


And yeah, not that I need to confirm it, but there is indeed a Tomica version, I was sorely tempted to pick it up as well, but when I saw what the shipping bill would be, I decided to go for the more interesting of the two [to me at least] which was naturally the Plarail version, not least since I still think there may be some means whereby the rollers on the turntable might act as an input, allowing there to be some kind of control driven by a train? As can probably be seen, this really does just connect straight in via regular tracks, apparently it would have come with some special ramps for rolling a train up to the unit from the floor, but I think my one comes with one of the manuals that literally demonstrates how to use regular Plarail supports and track to connect one of these into either an existing layout, or one built around the unit itself, which is kinda neat.

I think somehow the unit itself and the cartridge have to be connected, as there is a connector present on the cartridge, but then again, i've seen similar add-ons where the add-on connects via the pen input [since the Pico has a touch-panel with a wired stylus pen], so again, we'll see, i'll defo make a thread about it here on BPT you can be sure of that
---
RE: My Tomica World - Introductions - chrisjo - 01-04-2021


(01-04-2021, 10:55 AM)

FutabaSakura/ThePlarailManUK Wrote: Honestly, got no idea how this functions in practice....
And here was me thinking you must be named after the Futabasaurus, a Cretaceous Pleisiosaur. Oh well...

https://game.watch.impress.co.jp/docs/20020207/toy52.htm

Machine translation: "Plarail Pico is a set where you can learn how to drive a train using Plarail. The package includes a cartridge, a station building type controller, and a Plarail vehicle (Shinkansen) and rails. Place the station building type controller on the tablet of the PICO main unit, fix both firmly with the guide, and you are ready to go. I am thrilled by the boldness of the mechanism that the controller and the main body just "merge".

 Among the various modes, "Play with Plarail" is the centerpiece of this kit. Combine the rails with the station building type controller, build a course, and actually run the Plarail. As the controller moves, the train runs on the rails, accelerates, and stops. An animation linked to the operation is displayed on the TV screen. When the train departing from the station building type controller goes around the rail and returns to the controller again, stop it. Then, the screen switches to the image of the platform of the station, and new customers board. Then, we depart again and continue our journey on the Tokaido Line from Tokyo to Nagoya, Kyoto, and finally Hakata.

 Plarail alone goes around the same course, but by adding an element to stop at the station and carry passengers, it will power up the play on the Tokaido line. "

The 500 srs unit included has a hook on it so it's front car, no doubt powered, and controlled by the game.


---
RE: My Tomica World - Introductions - Super - 01-04-2021

New name for member FutabaSakura is ... Plarail Man UK ... so it will never be misconstrued. Thank You Plarail Man


---
RE: My Tomica World - Introductions - Plarail Man UK - 01-04-2021

Since I never got to add pics of the rest of my recent JAuce Plarail haul [mixed in with a load of, mostly Sailor Moon, anime merch], here we go


First up [I know not the most interesting, but still] - Yellow drive wheels





These are to fix my Tomica World 'Silver Streak'; aka the JR Kyushu 883 Series 'Sonic'. This came to me from Ebay as 'working', and actually was in very good physical condition, but when I powered it on, it could barely power itself around the layout; turns out the main drive gear on the axle was cracked; I swapped it for a spare set of grey drive wheels that I had, but it doesn't look right when the other wheels are yellow - At least now it'll look right 



Secondly,  Mk1 [original livery] 400 Series ['Bullet Train' in the Tomica World catalogue].






This is one of the last trains of the Tomica World export range that I don't already have, which I want to complete if I can. I had to go with a Japanese import since I couldn't find a Mk1 400 Series in decent enough condition around here, at least not for a decent price. The listing says it's not working, but knowing me, I'll be able to get it working; I got some spare gearboxes stripped from other dead or damaged units that definitely work, so it'll probably be a case of using one of those.  

Thirdly; [this is still on-going, so not sure if i've got this yet, but hopefully], a 'Ambitious Japan' 700 Series rear car.




This is just a special livery variant of the 700 Series, the significance being this was used in several adverts for JR Tokai's Shinkansen service as part of an on-going campaign called 'Ambitious Japan!' [AMBITIOUS JAPAN! - Wikipedia], which heavily featured the 700 Series, and an accompanying pop song by the group 'Tokio' [TOKIO AMBITIOUS JAPAN! MUSIC VIDEO - YouTube] which seems to have become an unofficial theme song for the Shinkansen system [at least, the vast amount of music videos made up of nothing but Shinkansen clips seems to indicate this 
]


Next, the previously mentioned VHS - I didn't send a picture before now, but here it is.




This, at least from the pictures on my 300 Series track set's box, appears to be the same tape that should have been included with that [the picture has a green label on the tape, but I think, from what i've found, it's the same film on either tape, as this one's label has the same text and logos as the one on the box picture].

I'm kind of hoping this is going to be the same film as is already on YouTube [in poor quality, created by someone filming a TV screen], as that has video demonstrations of several rare and unusual accessories, including the much-discussed Motor Tomica 'McDonalds', so to have a high-quality transfer would, I am sure, be of interest to many of us here at BPT.

Anyway, that's all the Plarail bits I've bought, no point sending pics of the rest of my purchases, as it's basically just a mix of anime merch, of the anime I like xD That is, unless you guys want to see a large mix of Sailor Moon merchandise, among other things 
---
RE: My Tomica World - Introductions - chrisjo - 01-05-2021


(01-04-2021, 10:55 PM)

Plarail Man UK Wrote: ....Thirdly, a 'Ambitious Japan' 700 Series rear car....
This yellow-wheeled version is from a 2004 limited release for

Nissha YUME-KOBO

(sunshine dream workshop?), which was a railway model marketing brand of Nippon Sharyo the rolling-stock manufacturer.

JR Tokai 700 Series Ambitious Japan! / JR東海700系 アンビシャスジャパン!




There is a grey-wheeled version in the Tokaido Shinkansen 40th Anniversary Special Set, also 2004.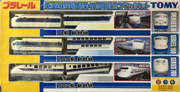 Pictures from the Plarail Museum


---
RE: My Tomica World - Introductions - Plarail Man UK - 01-05-2021

Well well, the more you know. Figures that there's complete versions of the train, I kind of expected that, although I imagine being limited editions that they'd be kinda expensive as complete trains, especially now on the secondary collector markets. 

This coach is 10 yen [presently] on it's own, and since I already have a 700 Series, I figured I'd just use it as an alternate rear coach for that, although now I know it's limited edition I guess there might be more demand closer to the auction close for someone looking to maybe complete an incomplete Ambitious Japan unit, who knows I guess?

I gotta say, the song [Ambitious Japan by Tokio] that went with the units & the ads is seriously catchy, gotta kinda love how the Shinkansen literally got their own full-length theme song - One wonders what the result might have been if British Rail had the idea to extend their 1970's 'Age of the Train' music out to album length and released it as an official single, would have been interesting for sure 
---
RE: My Tomica World - Introductions - Super - 01-05-2021

I am not sure I have seen that 'Ambitious' train before. When I first saw the photo above I would have guessed that the wheels had been swapped to yellow because you just don't see that many 700 Series Shinkansen models with anything other than gray wheels.


---
RE: My Tomica World - Introductions - Plarail Man UK - 01-06-2021

UPDATE - Rolling Stock list

Well, while I was originally intending for my layout to be solely dedicated to Japanese trains only, this has kinda changed; Before I only counted Japanese units in my stock, now i've added my Thomas units to the list.

I kind of blame my mum [in a nice way lol] for the change of heart; [I live with her at the moment during my studies] who reminded me that the origins of my Plarail journey were A] her doing entirely, since she bought me my first ever Plarail [or rather, Thomas Motor Road & Rail] set [pictured below] & B] almost completely Thomas-related until I decided to jump back into Plarail to build my new layout, so therefore I should at least have Thomas on there too 

[Not my picture; the box is long lost to time 
 Still got all the components, however, and the level crossing [sans it's signpost] is a part of every layout i've ever built, without fail]

Funnily enough, she thought that she'd also bought me the Plarail James as a kid [for reasons I can't really publish, lest I break my online anonymity
] but actually got me Diesel 10 [my choice IIRC since I liked, and for now-different reasons still like Thomas & the Magic Railroad]; so she attempted to rectify that this Christmas, apparently as a nostalgic counterbalance to the mostly Japanese rolling stock [Christmas for me this year was unsurprisingly Plarail-heavy; made my gift shopping list for this year easier apparently though, so she tells me haha  
]  

A Plarail James was ordered with the intent of arriving for Christmas, but according to Amazon was never sent [although much to our surprise, one turned up on 8th Jan; see latest post on this thread], instead I got a new 2020 Plarail Thomas [ordered in place of the supposedly cancelled James], which now runs alongside the original [circa 2001] Thomas that started this whole trip in the first place lol 
 

Interestingly, unlike the mainline Plarail range that has swapped to the new 'generic' [as I call it] chassis design that can be swapped between most units, the Thomas range, or at least, Thomas himself, still uses the exact same 1992-era chassis and internal design from all previous Plarail models - I was expecting that they'd somehow have incorporated the generic chassis system so there you go I guess. 

Anyway, to the real purpose of this post


My stock of Plarail units numbers about 50-52 functioning units [that is to say, could run immediately], 4 in part or non-functional condition that could be repaired, and 2 that are beyond all hope [so basically will be condemned to scrap for spare parts, which I have not listed]

My fleet therefore includes;



Thomas and Freinds



Thomas the Tank Engine [x4, 2x TOMY [Tomica World/ Motor Road & Rail era], 1x v1 Trackmaster that uses the TOMY design; and 1x TOMY 2020 [Plarail/CGI era]

One of the Tomica World units [from a spares & repair Ebay lot] has a severely damaged, beyond repair gearbox, which functions but very poorly, sounds and perfoms like it has broken or damaged gears]

Diesel 10 [Tomica World era]
Percy [Tomica World era]
James [Tomica World era 'battery in tender' type, Non-functional and missing battery cover/tender coal, from the same lot as the damaged Thomas; suspect burnt-out motor, may use the damaged Thomas motor, which appears to still be good as a donor]
James [2020 Plarail, 'battery in engine' type, tender is now a non-functioning carriage piece]
Splatter [Thomas Motor Road & Rail]



Tomica World [Plarail Export range 1]



[English names from the Tomica World line, where provided, noted in quote marks]

'Bullet Train' [400 Series Shinkansen]
'Tomy Express' [485 Series 'Kamome Express']
'Super City' [300X Shinkansen]
'Lightning/Lightening Express' [Furano Express]
'Fun Express' [Meitetsu Blue Liner, sometimes erroneously referred to as the 'Animal Express' due to it's animal-centric designs, not to be confused with the 'Zoo Train' that also sometimes has the 'Animal Express' name attached]
'Zoo Train' [JNR C12 tank engine, in red, also seems to be referred to as the 'Animal Express' in some areas, based on the name printed on the carriage stickers]
'Virgin Train' [B.R InterCity 125 HST, mould used is of Kintetsu 21000 Series, train number printed on model corresponds to the BR Class 82 DVT]
'Eurostar' [B.R Class 373]
'TGV' [x2 - Orange 'Sud-Est' and Silver 'Atlantique']
'Silver Streak' [JR Kyushu 883 Series 'Sonic']
JNR EF65 [x2, although the other one I believe is supposed to be an EF81, since it has a red livery with a shooting star, and the two types of engine are similar looking]
Kintetsu 21000 Series
E3 Series Shinkansen [Yellow wheels]



Tomica Hypercity



E3 Series Shinkansen [Grey wheels]
E3 Series 'East I / Dr Yellow'



Plarail [Japanese imports, not featured in Tomica World]



300 Series Shinkansen
Red EF65/81 [See above]
Izukyu Royal Express
Pokemon With You 'Pikachu Train'
JR Shikoku 'Tetsudo Hobby Train'
Seibu 001 Series 'Laview'
L0 Series Shinkansen [Speed Change]
Cassiopeia Renewal
700 Series Shinkansen [with working headlights]
Nankai Rap:it
E4 Series Shinkansen [x2; coupling gimmick ver.]
E2 Series Shinkansen [x2; coupling gimmick ver.]
Narita Express [x2; coupling gimmick ver.]
Alfa-X Shinkansen [6-car special variant]
JR Freight EH500 'Kintaro' [special set including large selection of freight wagons]
JR 683 Series 'Thunderbird'
JR 500 Series Shinkansen [with working headlights]
JR 500 Series 'Hello Kitty' Shinkansen
JNR/JR EF66 
E5 Series Shinkansen [Special 'connecting' set with E6 Series]
E6 Series Shinkansen [Special 'connecting' set with E5 Series]
JR E233 Series 'Shonan' [with double-deck centre coach]
Odakyu Romancecar GSE70000 [with exclusive Pla-Kid and openable rear coach]
Tobu Revaty [x2, coupling gimmick ver.]
0 Series Shinkansen 'Dr Yellow' [with working headlights]
JR Shikoku 8600 Series
N700 Series Shinkansen 'Mizuho: Sakura'

There, bit wordy I know, but i've been compiling a list for personal reference anyway, so I figured i'd stick it here too hehe 
---
RE: My Tomica World - Introductions - Super - 01-06-2021

A very impressive collection P-Man

Could the train your are referring to as

" 'Zoo Train' [JNR tank engine, possibly D51 in red] " 

Be the Animal Express Train featured in this Ucwepn video? If so then it would be a C-12 Steam engine. If its not this train I wonder what it could be.






---
RE: My Tomica World - Introductions - Plarail Man UK - 01-06-2021

That's it 


I knew it was a JNR steam type, I guess I must have just got the type numbers mixed up 
 It's an oddity in the Tomica World range for sure, since as far as I know, it only ever got released around maybe a year, if that, before Tomica World was discontinued?

My one was about £15 on Ebay, came to me in good condition, except the 'monkey wagon' as I call it wasn't working - The monkey's supposed to beat his chest as the carriage rolls along - I had to remove one of the stickers to dismantle the wagon and access the mechanism, and after a little grease and re-engaging the cogs [which had worked loose], it went back to normal.

Oddly enough, the monkey wagon was one of the reasons [aside from Tomica World range completion] that I bought this, as the monkey figure, especially with his action feature, reminded me a bit of Donkey Kong [guess that's what you get for combining Plarail with a video game addiction lol 
]  




Interestingly, the animal coaches have also now re-surfaced in the Plarail line, this time as 'Animal Park' wagons for the Thomas line, sold as part of a set including a Plarail Percy. Only difference appears to be a slightly different face on the monkey now, and the birds [who have a 'pecking' action] appear to now be playing a piano? The original had them pecking at seed, which makes more sense in my mind, but hey, who am I to decide what birds spend their free time doing 
---
RE: My Tomica World - Introductions - chrisjo - 01-06-2021

The Tomica World set with the red C12 and the Animal Express wagons was item number 7560, and was indeed sold as "

Zoo Train

".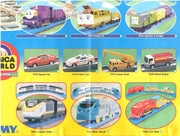 ---
RE: My Tomica World - Introductions - chrisjo - 01-06-2021


(01-06-2021, 12:04 AM)

Plarail Man UK Wrote: 'Lightning/Lightening Express' [Furano Express]
'Animal Express' [Meitetsu Blue Liner]

Do you have an authoritative source that refers to the Tomica World release of the Meitetsu Blue Liner as  '

Animal Express

'? If so it wouldn't be the first example of Tomica World products having more than one name (take the motorised vehicles for example). The only Tomica World release of this train was in Super Deluxe Set No.7423, where on the back of the box it says:

"The trains are - the

Lightening Express

, with its sleek modern carriages, and the

Fun Train

with its wacky pictures on the carriages."

To further refine your list, the Kintetsu 21000 in the Tomica World Large Set No.7421 is referred to on the box as the '

Hi-Speed Express

".


---