---
1992 Thomas - AOF04 - 07-31-2021

I was just sorting through my Thomas collection I have that include Annie and Clarabel.
I noticed I had 2 different versions of the 1992 release Thomas.
One with only 4 wheels.
and one with 6 wheels.
Both have the frame as 1992 and front wheel holder says 1992.
I hope you can see that in the pictures.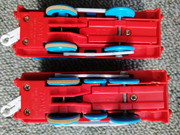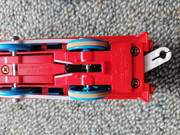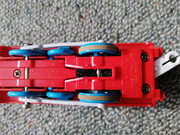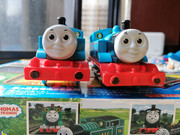 Does anyone else have this?
Also I then looked up Muddy's video on different Thomas Faces and he said that the 6 wheels didn't come out till 1998.
On the last picture the 4 wheel version is on the left and the 6 wheel on the right. They have different eyes.

Does this mean 1992 has two different variations?


---
RE: 1992 Thomas - TrainsRawesome - 07-31-2021

I'm no expert on this subject but I know for a fact that neither of those is a true 1992 Thomas. Both of them say Made in Thailand, meaning they are from 1995 or later. They also both have the rounded Tomy logo meaning they were made earlier than 2002. The year on the back of the chassis still says 1992 to this day and from what I've seen I don't think the one on the wheel holder was updated until 2002. Most places I've looked also say the dummy middle wheel was only added in 1999, so I would assume yours was produced between 1999 and 2002. Do they still have the date codes on the shells? If so, you should be able to pinpoint the month and year they were made.

DuckGWR has a great Twitter thread talking about how to tell a real 1992 Thomas from other iterations such as the 1995 version https://mobile.twitter.com/GWRDuck/status/1286333866567925761


---
RE: 1992 Thomas - GreatGordonFan - 07-31-2021

Is it just me or does the second one have a more sloped running board?

Also, the gold thomas has 4 wheels. Was it "made in Japan" or in Thailand?


---
RE: 1992 Thomas - TrainsRawesome - 07-31-2021

@GGF I would guess that one's running board is slightly bent downwards. The Gold Thomas was given out in 1997, so it says "Made in Thailand" and was produced before they added the middle wheel.


---
RE: 1992 Thomas - DuckGWR - 08-01-2021

As mentioned, neither are truely from 1992. The four wheeled one is from 1995-1998, and the six wheeled from 1999-2002 in all likelyhood.

See my Twitter thread linked above, or this video I made last year here:
https://youtu.be/5ZQZVn28dtk



Both explain how the production code stickers inside the body shells tell what month and year they were produced, assuming the sticker is intact.

The Gold Thomases uses the same molds as the regular 1995-1998 Thomas


---
RE: 1992 Thomas - Super - 08-01-2021

Thanks Duck...always helpful with your vast knowledge.

So would this mean that there is no such thing as a 1992 Thomas or do I have this wrong?
---
RE: 1992 Thomas - TrainsRawesome - 08-01-2021

@Super No, there is in fact a 1992 Thomas (shown in Duck's thread and video). It will have a date code sticker on the inside of the shell labeling it as produced in 1992, a "Made in Japan" mark underneath, no middle wheels, a back coupling with no slit, different front axel caps, and brass weights. 1992 was the first year Plarail released Thomas products. The ones AOF showed in this thread are later versions.


---
RE: 1992 Thomas - AOF04 - 08-01-2021

I had forgotten about the 'MADE IN JAPAN' part.

Mine must be the english releases when they were released outside of Japan.

Thanks for all the help Duck GWR and TrainRawesome


---
RE: 1992 Thomas - MyGoodThomasFriend74 - 08-01-2021

This could also be the possibility that Plarail is just using the same moldings for other varients. I checked my TOMY Thomas models and they all have two year dates. 2002- which all of mine is, 1992 - reuses the same molding. It's very common for Plarail to reuse same parts for previous models.


---
RE: 1992 Thomas - Super - 08-02-2021



@T-Raw


Thanks T-Raw
---