I bought this train on Ebay for not very much, in 'sound not working' condition. Using a multimeter I found that there was a variable voltage of up to about 0.5VDC being delivered to the speaker via the green and yellow wires when the wheels were turned, but no sound coming from the speaker, so it seemed reasonable to assume that the speaker was broken.  I found a pair of equivalent speakers on Ebay, costing just £1.15p delivered, from China (how can they do that?), I've just fitted one, and am very pleased that it works!
The speaker specification is 29mm diameter, 16ohm, 0.25watts. The black one is the old one, the green ones are new.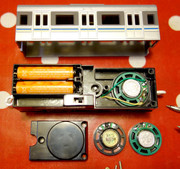 ...and here's the train fitted with Nigel's latest 3D printed couplings.