Hey everyone. So we all know that the Thomas and Friends Plarail Line released Splatter and Dodge with a works unit coach that, instead of having one hook and one eye coupler on each end, had two hooks couplings so that one engine could face forward and the other backward. This coach was also (if memory serves) released in an extremely rare Donald and Douglas snowplow set. Being that this piece of rolling stock often goes for $50+ on eBay, I decided it was going to be the case that I would simply never be able to obtain one and would have to work around the issue when it arose (using a works unit coach for Donald and Douglas or the breakdown train) or, even more daunting, jerry-rig my own, which was quite a daunting task given how different the hook and eye couplings actually are. However, after purchasing a newer Trackmaster engine a few months ago, and only today sitting down and observing the van that came along with the engine, I made the revelation that the newer stock from TMR actually changed the long-standing design of the hook coupling and the way that it fits into rolling stock. Check out what I mean below.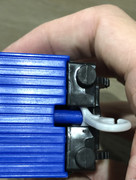 Obviously, this was a gamechanger. I quickly grabbed my motorized works unit coach (the one that came with Tomy Harvey) and quickly made a simple switch: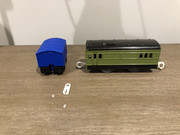 And viola! A works unit coach that functions exactly like (if not better, given that it's powered) the extremely rare licensed one. It looks the part and is highly functional.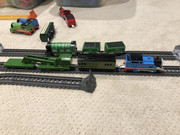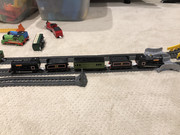 The only warning I will give about this mod is that a small modification to the TMR hook coupling is necessary and may prohibit you from switching it back if you wish to do so (I don't care enough about the TMR wagon to try); on either side of the eye portion are two tabs which I assume hold the coupling in place; you will have to remove these for the mod to work properly.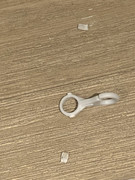 Otherwise, this is an extremely simple mod that took me less than 5 minutes. This strategy can be applied to many other types of rolling stock, so if you have more ideas of how this technique can be applied, please share them!