After a long pause, here's a summary of how we've got to where we are with the 3D Printed Couplings project:
The project started, as far as I recall, with
Super
's suggestion in the general 3D Printing thread (
don't bother searching for it, it got "administered", though accidentally
), that it might be possible to use a 3D printer to create one-piece couplings to replace the standard Plarail / Trackmaster two-piece hook-and-eye coupling arrangement.  The purpose was two-fold:
For units that are pretty much always going to be connected in the same configuration, such as for example a steam locomotive and its tender, it might be convenient to have a permanent connection.

It would enhance the visual effect if at the same time the gap between the two coupled units could be reduced to a minimum. The space between two coupled items is often considerably greater than necessary.

The use of black or metallic-looking plastic, rather than white, could be considered a bonus.
Both
Super
and myself, and no doubt others before us, had experimented with making such couplings from other materials such as plastic sheet - though the results had been mixed. (
I had cut some from the lid of a polythene food container, for example, - and I still use this method for replacing those wired connections between powered locomotives and battery-carrying tenders that are so often damaged by over-exuberant youngsters
).
Enter our resident 3D Printing Guru,
Nigels
.
The first batch (Mk.1) were produced at the end of October 2018. Below - as printed, above - modified to fit.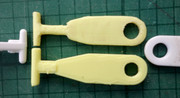 The results were unsatisfactory. The length was about right, but on a wiggly test-track of standard curves the couplings didn't allow sufficient flexibility, the wheels were being forced off the track.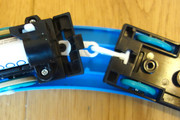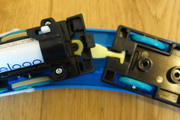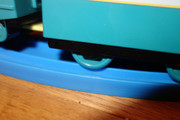 The Mk.2 version was produced in early Nov-18. This was produced more to address the fit issues at the T-bar and hole ends than to improve the flexibility. Further testing using ramps only served to highlight the problems of this design.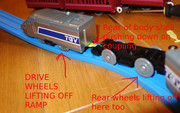 After some head-scratching, it was realised 3D printers were capable of producing chains with closed links, which potentially opened up a whole new area of experimentation. Perhaps we could combine the permanent connection requirement with the flexibility of a freely moving chain link?
By the third week of Nov-18, a Mk.3 proof-of-concept linked version was ready for testing.  Some of the earlier size and shape changes at the ends had been lost, and the length had grown, but some fairly simple hacking demonstrated the potential of this design.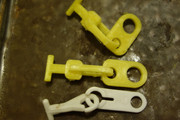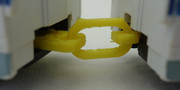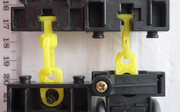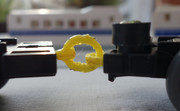 The Mk.4 version produced in early Dec-18 addressed most of the size and fit issues, but unfortunately a weak point was now very evident, so some strengthening refinements were specified.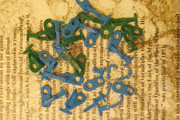 Several incremental tweeks eventually resulted in the current Mk.5 version, delivered for testing after the dust of Christmas had settled.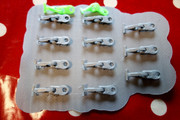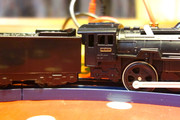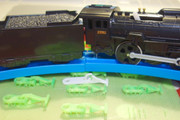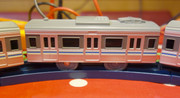 These I believe are about as good as they're going to get, design-wise. I've tested them very thoroughly for fit, flexibility, and strength; they are a testament to
Nigels
patience and persistence, as well as to his dedicated immersion in the mysterious world of 3D printing.  So, where next?  Time to send a batch over to
Super
for him to have a look at, I think.