There was a train show a couple of weeks ago, and I bought Bachmann Duck and some Kadee Knuckle couplings to start converting my Thomas trains to. The first few I was able to do worked well. Now I just need to buy some more to do this to the rest of my engines and rolling stock.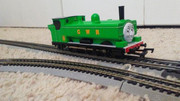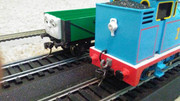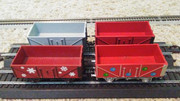 The nice thing about these couplers is that the trucks couple a lot closer together, so it looks more prototypical. They are also a lot easier to couple and uncouple than the hook and loop couplers. They are also smaller and less noticeable when coupled together.
A lot has happened in the realm of Model Trains too. Hornby has announced a new version of the Hogwarts Express in OO scale including a lot of buildings, Bachmann UK has announced new good looking recolors for their narrow gauge line, as well as awesome new toolings for it as well, and Oxford Rail just released an N7, which is quickly proving popular with a lot of modelers in the UK. Bachmann US hasn't even done their announcements yet either. Does anyone have a cure for the Might-As-Well Syndrome?
Model trains or TOMY?
I don't know, I just don't know.