I'm rather pleased with these two that I found on Ebay UK as buy-it-nows within a few minutes of them being posted, and priced about the same as any regular boxed Tomica World / Hypercity 3-car. We don't often see Plarail sets like this on Ebay UK. They arrived today and appear to be BNIB as advertised.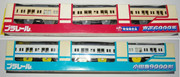 Top: Keio Rail-Land Special Limited Edition Keio 6000 series (Keio Rail-Land is a museum), issued 2009 (according to amazon.jp)
Bottom: Limited Edition Odakyu 9000 series, issued 2010 (a/a)
In fact the mouldings are identical, just the colours and stickers are different.