I can't get enough resolution on this picture to attempt a translation, but it appears this new train (release July 2019) has a coupling that can be pulled out and rotated through 90 degrees. I'm guessing this is something like a conventional hook coupling, but if it's rotated to the horizontal another hook can be connected to it?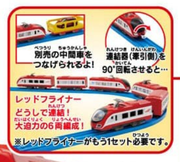 At HobbySearch it says: 3両目にはカプラーが搭載されており、同種の車両どうしで連結走行が可能です, which is something like "
Coupler is installed in the third car, and connection driving is possible with vehicles of the same kind
".
Edit: I now see that on 26th April,
jukiodaisuki
said "
The Red Flyner's coupler can be reversed to run the Red Flyner on six cars
".  I'd like to see the actual mechanism in close-up.