Here are some of the more interesting Plarail items I managed to pick up on my recent trip to Japan.
Because I have limited baggage space I tried to limit myself to things I hadn't seen before or couldn't get easily online back home. Hence there is a fair bit of second hand/used stuff.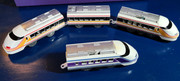 Spacia Tobu series in the original livery and the 'miyabi' purple livery (I already have the 'sunny coral ' orange).
https://en.wikipedia.org/wiki/Tobu_100_series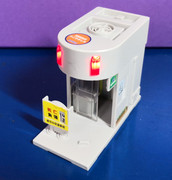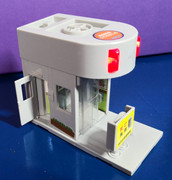 A small Koban police station with red lights and a dial to change the front sign. Can anyone translate the sign?
https://en.wikipedia.org/wiki/K%C5%8Dban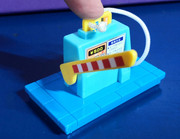 A parking boom gate with a pass card you insert and push down to raise the boom.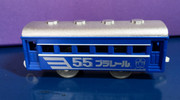 I assume a 55th anniversary car and two cool blue metallic looking Plarail cars I really liked the colour of (100JPY each).

  Some older Dr Yellow cars with the red wheels (100JPY each).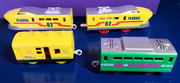 A bunch of numbered Plarail trains (100JPY for the cars, 350JPY for the engines).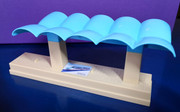 I think this is a Shinkansen station. Never seen it before. It has a sticker of the Hayabusa (350JPY).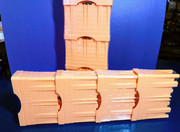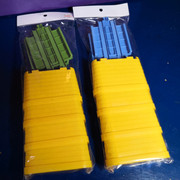 Bright orange pylons and a green and blue versions of the garter bridge. Never seen these colours before (about 350JPY each pack).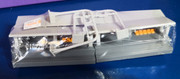 Accidentally bought a Plarail Advance station (excitement got the better of me - 580JPY).


  Got these Plarail Shop exclusives at the Plarail store in Tokyo Station. (I think around 3000JPY each).

  Found this one at Hobby Off - sealed in box as new. Around 3,400 JPY.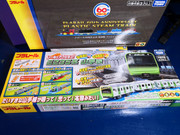 60th Anniversary and the Yamanote line sound gimmick train. (about 3,600 or 3,800JPY each at Plarail Shop).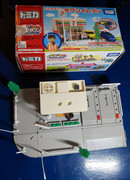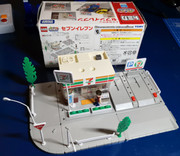 Another find at Hobby Off. Tomica 7 Eleven, box was tatty but inside very good condition. Only about 900JPY!