I am not sure what this vintage street car is called but I have been wanting one For a very long time. Most that come up are in bad condition or are missing parts and the ones that are good go for a high price. What this video showed me is that I had no idea that the motor vehicle also had a crude bell system that sounds pretty good although might prove to be annoying after a while.
Anyone know its actual name and year of release? I am assuming it wasn't available for long considering you don't see them show up a lot.
Could the name be 'Yuenchi Motor'? and released late 60's or early 70's?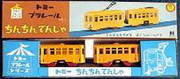 I really like the PlaKid size Handcart in this picture too although I am not sure if its an official PlaKid accessory...does anyone know?