So I told myself I was going to have a cooling off period after I spent a bit too much in Japan. Then I find myself in Singapore and couldn't help from popping in to the local Tomica dealer at Let's Play.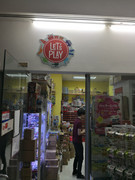 ...and of course they had this Shell station from 1994 which I couldn't take my eye off because it also included the
motorized Shell truck
.
They also knew what they had and it was priced accordingly. So after asking myself 'What would Super do in this situation?', I of course walked out with a lighter wallet and a box under my arm.  Now I am really in cooling off mode as I enjoy eating sausages and gravel for Christmas this year...