I've not come across this one before. I found it while indexing page 53 of my lovely Plarail 60th book.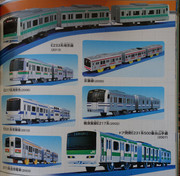 The one I'm interested in is top right 京葉線 (2000). Keiyō Line. Searching, I found this:

Ikspiari is a shopping complex
at Tokyo Disney Resort, and
Tenshodo is a model railway shop
that used to have an outlet within Ikspiari (
according to this directory
) but not now as far as I can see.