This is a long read, hopefully somebody is patient enough to understand. Please take snapshots of older Plarail boxes (yellow and blue) to help us out if you have any.
Our research team found something interesting, and are still uncovering details. A new topic that came out today. We just partnered with some doctoral students who own past Plarail products to uncover the details.
Problem: It seems that barcodes are absent on some sets, and we can't verify all possible "G-nn" and "MS-nn" year indicators.
Why is this a problem?: We need to understand the numbering system to do a backtrack research because some official catalogues are missing information about older sets.
Approach: We collaborated by taking snapshots of our sets, locate the MS-nn or G-nn number and barcode and do a scan on barcodes. If we get enough information from the barcodes and the MS-nn numbering system, we can confirm all existing Plarail sets and update BigLobe museum. We can also generate actual JAN numbers from barcodes to list a specific old Plarail product.
Theory: The number "MS-28" written on the Family Travel Salon Car Set seems to indicate the year of manufacture (fiscal year?), And if it was released in 1979 according to the catalogue, it is considered that barcodes were introduced in products after MS-29. Right. Is the introduction time before and after the update of the TOMY logo?
Facts: The Tohoku Joetsu Shinkansen Set released in 1982 has the year indicator "MS-32" and there is no barcode. How can this be, why the barcodes introduced in MS-29 did not continue this progression to MS-32? Why are barcodes only released after MS-28, and stopped at MS-32? Also, New International Airport Set (1978) has year indicator of G-27 and no barcode. But this is not under the MS-nn numbering system. Do we theorise that G-nn numbering system retired in 1978?
Research: We have gathered the following data: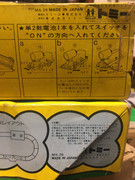 MS-28 Family Travel Salon Car Set and MS-28 Shindai Express. (Note MS-28 is the year of manufacture, not product ID) This means they are produced at the same fiscal year.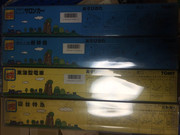 EC boxes, 3 car vehicles. 3 with barcodes. MS-28 Shindai Express without barcode???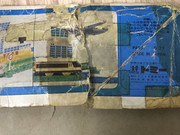 G-27, New International Airport Set, No barcode.
We now know that G-27 is 1978, but does G-28 exists (which should be 1979)? That is another question. Keep in mind that MS-28 is written on the Family Travel Salon Car Set (1979).
This lead to another theory:
G-27 is a new international airport set (1978)
MS-28 is a blue train set (1979)
Has the G-nn numbering system been abolished and the MS-nn system introduced?
Another theory:
MS-32 is Tohoku Joetsu Shinkansen Set (1983), but Biglobe says it is released in 1982, could Biglobe be wrong???
Why theorised that Biglobe is wrong? MS-28 is 1979 (confirmed), 28+4=32, therefore MS-32. 1979+4=1983. 
Please help me understand G and MS, do they represent a specific time in a calendar? What calendar are these from?