Original author did not respond to emails since a month ago, so our team assumed that something grave on his side had happened and we will not question him about it.
Last update of this site was 15/3/2009. A lot of things have happened 11 years after the last update and many Plarail have become even rarer than it was before. So my team and I have decided to update the Phantom Gems of Plarail section (
http://www2u.biglobe.ne.jp/~akeda/DOLL/f...orosi1.htm
) for it's 11th anniversary of idle activity. (still in progress, I will insert images later)
Phantom Gem 35: C-62 きてきいり(汽笛入り)C-62 Steam Engine
Released in 1978 and suddenly vanished before 1980. It was 2 years of lifespan and it was regrettable that it didn't survive long. This steam engine was comparable to the original Benkei in terms of battery location, but it had a whistling system in the body of the main engine (but Benkei does not) and it uses 2 AA batteries in the tender car. Whistling system was a very fine gimmick during that time. It came in a brown 4th generation box (Densha Box), which is the hardest box to find in auction sites these past 5 years. This box is also produced during 1978-1980 so the C-62 became out of print together with the 4th generation box design. The C-62 was included in the C-62こうかセット (C-62 Bridge Set), which failed to meet production for more than 1 year. Again, the lifespan of this set was regrettable, what is worse is that the set had completely original rail parts: green block piers, brown bridge, C-62 with it's container car.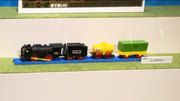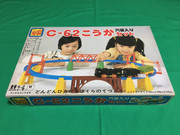 Phantom Gem 36: 新国際空港セット New International Airport Set
Similarly with the C-62, it was 2 years of lifespan. From auction statistics, there are only 5 sets that are known to survive today (which includes my set). The airport tower was completely original and it is the first airport tower in Plarail history. It is the only set to have Old Colour Skyliner as a double car set. The set is manufactured to celebrate the grand opening of the first Tokyo International Airport. Commercial flight brands at that time are Pan-am and Japan Airlines, and this is the only TOMY set licensed to use the Pan-am logo. Today, Pan-am is retired and no other TOMY set ever featured Pan-am in their products.
YouTube Demo: 
https://youtu.be/GkMut9MPBuM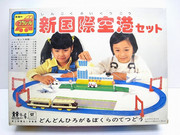 Phantom Gem 37: リレー号 Relay Shinkansen EC-18
1983-1984 only. It disappeared from the catalogues very early. It's counterpart, Odoriko-Go おどりこ号 looks very similar to it but is much more mass produced. The Relay Shinkansen appeared in an Automatic Double Pass Station Set as a 2 car set, but the set became nearly extinct during it's final appearance in the catalogue. Since Plarail was nearing the winter production period, factories produced less toys than the normal periods. Unfortunately, Relay Shinkansen and Hankyu 6300 was caught during this period and both immediately saw near halt of production.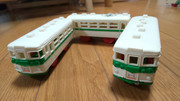 Phantom Gem 38: 1st Generation 
ちんちんでんしゃ ChinChin Toden 8000 VS 2nd Generation ちんちんでんしゃ ChinChin Toden 8000
1970-1973. It produced a bell tone each time it passes half a long straight rail. There is a difference between the 2 versions. The initial print had a hollow front window with black piece slid behind it, and the 2nd generation had a driver printed on front window itself. What we are looking at is the second generation Toden 8000, the driver in front did not survive long himself. It was regrettable that the Toden 8000 seen today have their driver scratched off or faded away into history. There are few Todens with their drivers still in one piece, but it will cost more than 2 first generation Todens. The driver is the main highlight, and collectors sought for the driver's survival. There was a challenge in the past where billionaires took part in a competition to collect all trains with a driver picture in front. Unfortunately, no collector has ever managed to get all those trains. It ended up as an impossible challenge due to the phantom Fukuoka Tenjin Subway and it's counterparts.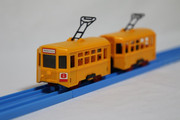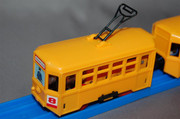 1st Generation                     2nd Generation
Phantom Gem 39: 電車(青)Electric Train Blue (All generations)
We are looking at the unpainted roof electric trains, whether front switch or not. These trains are sold in select areas in Japan as a limited production item. It immediately vanished from each generation phase before the red, yellow and green versions have disappeared. Blue Electric Train never appeared in every catalogue, and was never mentioned by the old TOMY (Toyama Trading) ever since the first appearance. It makes a true Electric Train collector cry trying to collect all the different colours of the Electric Train.
Phantom Gem 40: 近郊型でんしゃふみきりえきセット(関西色)&(横須賀色)Suburban Train Railroad Crossing Set (Kansai Colour) and (Yokosuka Colour)
There are 2 variants of this set. These set have 2 different colours of the Suburban Train and the Railroad Crossing. The trains have the longest front switch length in history of Plarail, and what makes the Kansai colour more rare is that the box cover only shows Yokosuka Colour. Both boxes have the same cover, so a gamble is to be taken to win Kansai colour. It is said that Kansai colour is nearly 150 times harder to get than the already Phantom Gem Yokosuka Colour. There is 1 Kansai Colour among 150 produced Yokosuka Colour. Both versions became out of print in 1976, the same year that they are produced. It is truly a Phantom Gem of Plarail since the beginning of production until end of life. It should have been in the Phantom Section a long time ago, but it not found)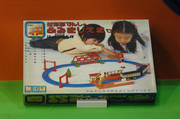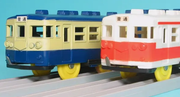 Yokosuka (Left), Kansai (Right)
Phantom Gem 41: パノラマ特急基本No.3ディーゼル特急セット Panorama Limited Express Basic Set No. 3
Panorama Limited Express ended production at 1977, but Basic Set No. 3 is released in 1977. So a very small number of the remaining manufactured Panorama are packed in the set. The set's box only states L Limited Express as the default train. Some sets have a Diesel Yakumo included, but is very short lived (box cover is the same for L Limited Express). The set in general costed 3800 yen during it's time and only children from a rich family are able to get one. It was a known luxury set during 1977-1980. This is also the final moment where the Panorama Limited Express was sold.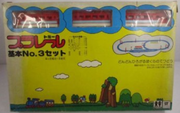 Phantom Gem 42: First Y Rail
Late 1959? This rail came from a set manufactured by old TOMY, Toyama Trading. It has a non uniform shape compared with today's Y rail. It curves inward at the top, and curves outward at the bottom. It is the king of all Y rails and the hardest Y rail to use in all types of layouts.