Note to moderators
: Please do not move this thread to the Trading Zone. Some of the items don't fit in the boards there, and I wish for it to remain visible when logged out for as long as possible. Thank you.
---
Well, here we are! I know it's been a whole month since the
last
update, but I haven't forgotten to keep my promises. The announcement made me more eager than ever to open this thread due to the size of my collections and what's in them. Rather than waiting until after I've fixed them up and increase the time gap even further, I thought I'll show the rest of the items in their current states before they could be revisited. Many of them have been in good condition since they were bought, while others have had to put up with poor customization attempts, childhood mistreatment and exposure to sunlight (things that such toys normally tend to experience). I initially thought about displaying them outside the shed for better lighting but ended up following the style of the cabinet photos, so excuse the shadow of the one door that stays shut. I also have other ones I chose not to mention for the time being (many of which are still stored in the room). Without further a do, let's get into it.  
TOMY/TrackMaster Engines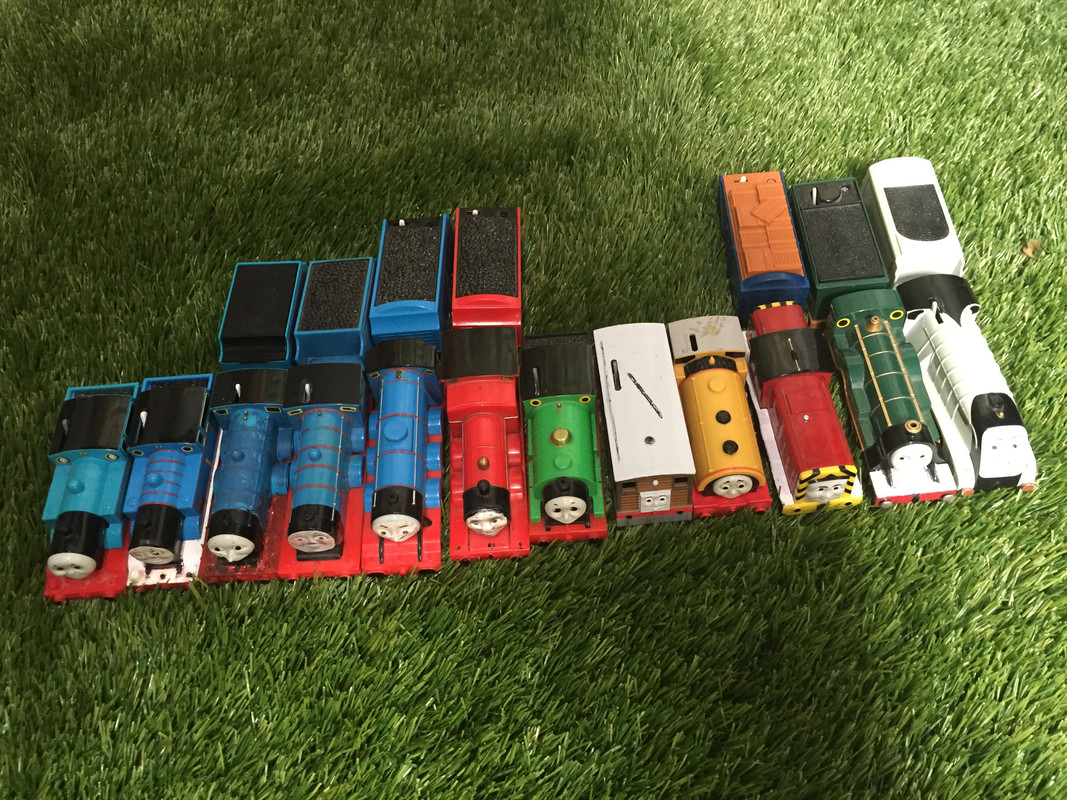 TOMY Thomas (1992)

*



TrackMaster Thomas (2009)

TOMY Edward (1996)

TrackMaster Edward (2012)

*



TrackMaster Talking Gordon

TrackMaster Talking James (FP, 2009)

TOMY Percy (1994)

TrackMaster Toby (2009)

TOMY Ben

*



TrackMaster Talking Salty

*



TOMY Emily

TOMY Spencer

*



*
Only remaining example that's fully intact; All the others were turned into shoddy customs, the bulk of which were *gasp* thrown out all because they couldn't be reverted.
*
Bought in the UK to "replace" the TOMY one, which had been aesthetically ruined in a failed attempt to add accurate detail.
*
Dismantled for parts; chassis partially broken, but the drive unit is only missing a few components and should still be able to run when they're added. Expected to be repurposed for numerous scratch built engines and short power units, all of which would allow it to be inserted and taken back out (like Plarail Merlin). Because Bill was not sold in Israel, I never had a real use for Ben as a character.
*
The white running board was done with office labels to avoid mistakes with paint/correction fluid. Once I could find a triangle head bit that would be small enough for the screws, I'll remove the labels and try to spray it white instead. I'm hoping to convert him into a "semi regular" version that would be able to accommodate the flat drive from Ben (like the regular Salty).
*
Currently disguised as Henry, though he can be turned back into Spencer with little to no effort.
Take Along/Take 'n Play Engines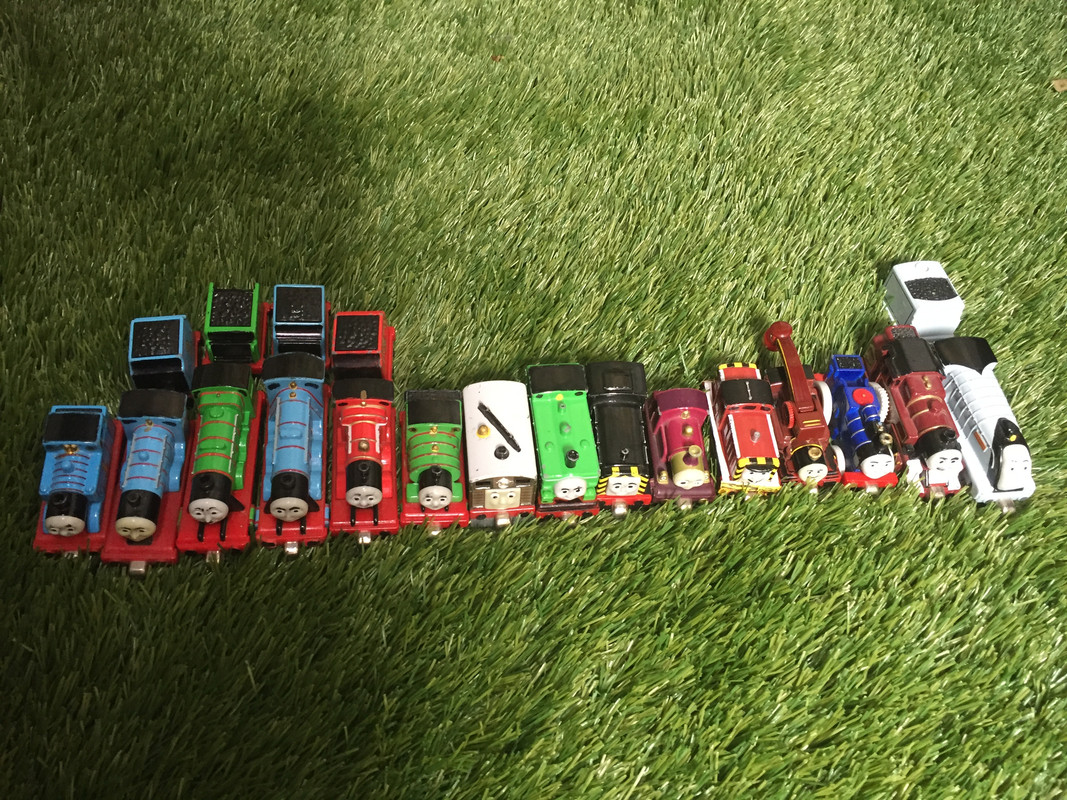 Thomas

Edward

Henry

*



Gordon

James

*



Percy

Toby

Duck

Mavis

Lady

Salty

Harvey

Fergus

Arthur

Spencer

*
Only Take 'n Play; Bought in the UK.
*
Black and gold version (first available in sets before being sold individually).
TOMY/TrackMaster Rolling Stock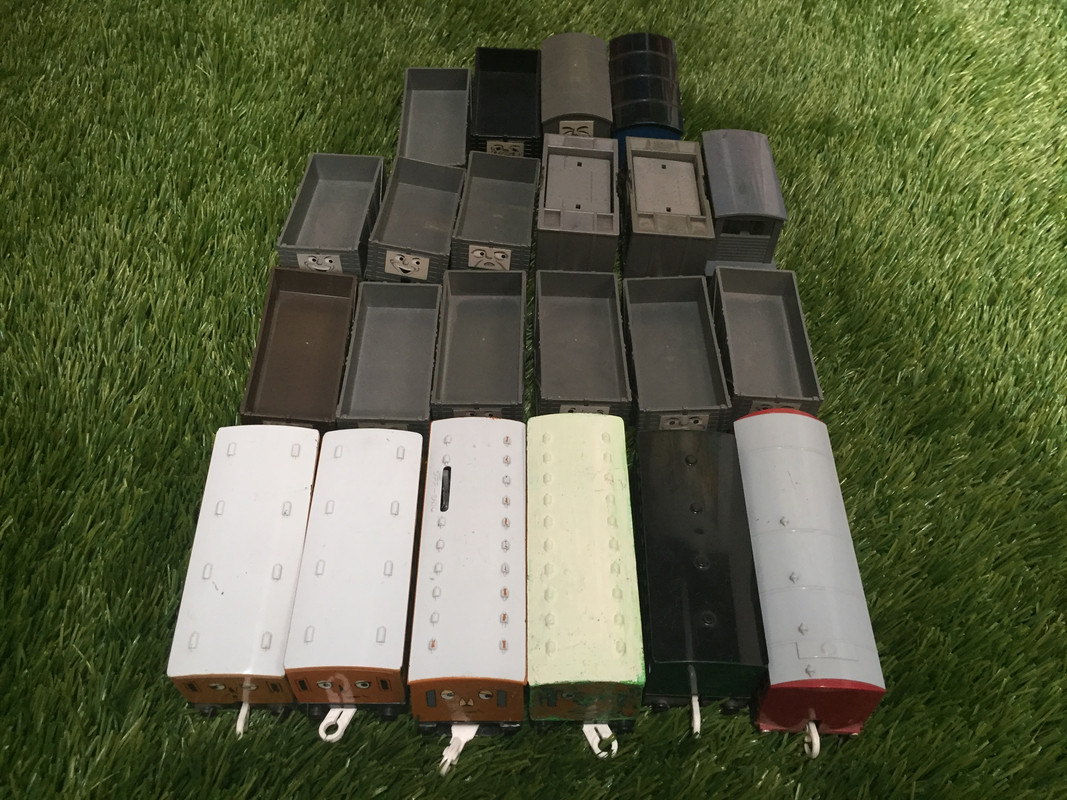 TOMY Annie

TOMY Clarabel

TOMY Powered Annie

*



TOMY Long Clarabel

*



TOMY Emily's Coach

TOMY Spencer's Coach

TOMY S.C. Ruffey

*



Other TOMY Troublesome Trucks (10x)

TrackMaster Flipping Coal Trucks (2x)

TOMY Brake Van (BR 20 Ton)

TOMY Troublesome Van

TrackMaster Blue Van

*



*
From the Steam Along Thomas. The poor loco was thrown out after being forcibly removed, and the remains of the wire coupling were discarded. Annie still ran with all three batteries until the 2x AA pack got disconnected, and the wire that held it in place will have to be resoldered. Due to its wonderful potential, I hope to use the chassis for an even bigger fleet of custom shells depicting diesels, electric engines, railcars, coaches and large trucks (not necessarily from TTTE). One downfall is the battery pack will limit what shapes I'll be able to use. If I knew how to reduce it to one battery on top and still get it to run, I could've had a bigger variety of design options. Along with Clarabel, the original shell is now painted as a green Express Coach. When there's nothing coupled in front of it, the hook from the Emily tender can be taken out.
*
Previously repainted as a coach for Koko (despite being too short in height and clearly mismatched). The paintjob was near impossible to remove before this photo was taken.
*
Brown version (based on rebuild).
*
From the 2012 Thomas bought in the UK; The chassis with the punched wheels was replaced with one from a TOMY truck and the roof was repainted black.
Take Along Rolling Stock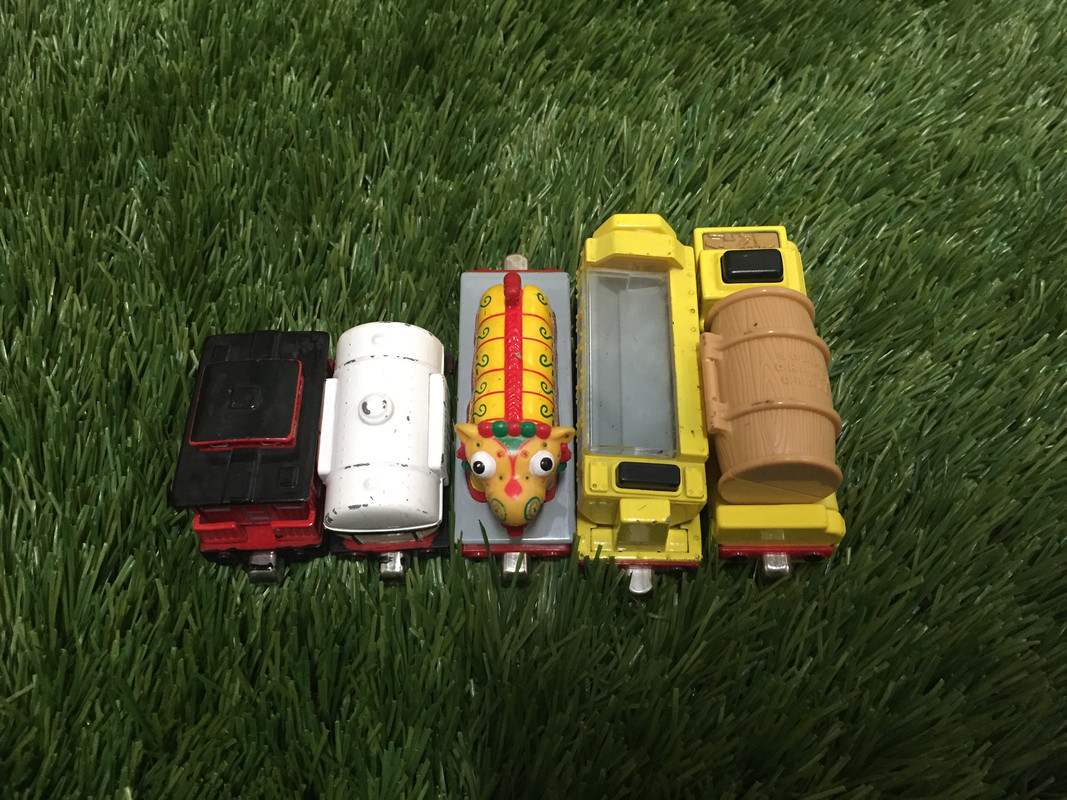 Sodor Line Caboose

Milk Tanker

Chinese Dragon

Coal Hopper

Scented Orange Barrel Car

TOMY/TrackMaster Non Rail Characters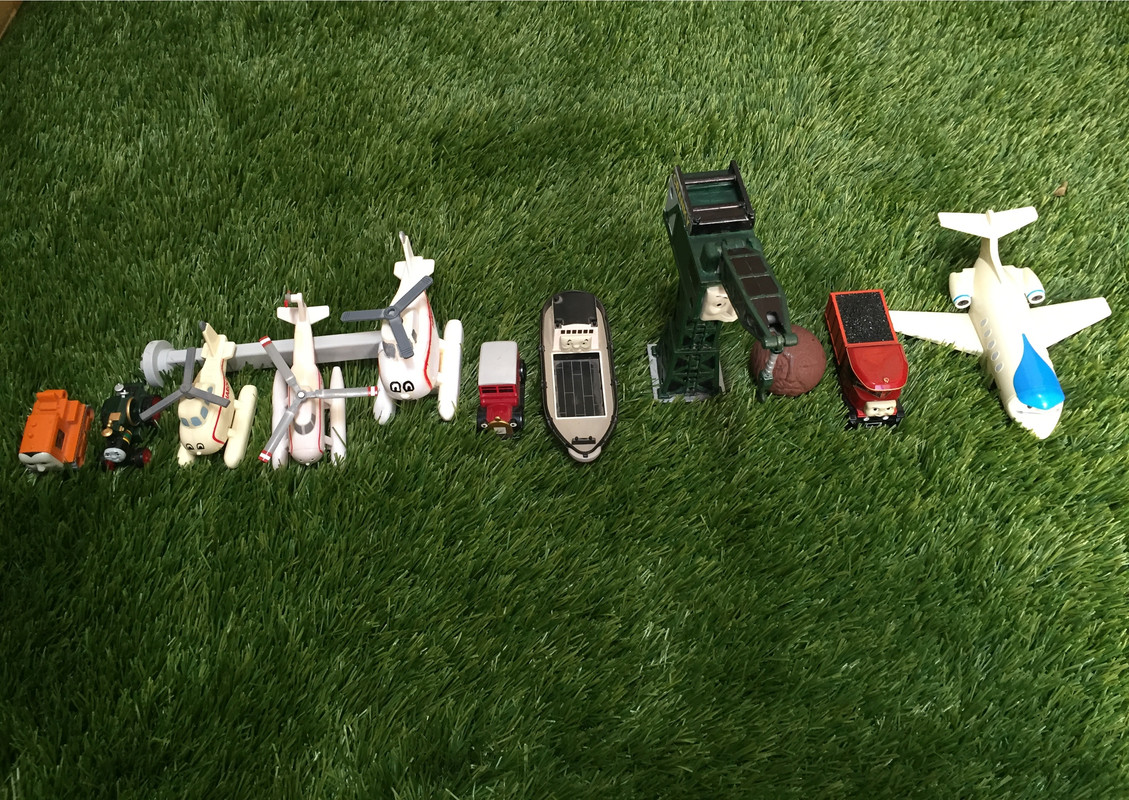 TOMY Terence (small)

TOMY Trevor

TOMY Harold (small)

TrackMaster HiT Toys Harold

TOMY Harold (Cargo Delivery)

*



TOMY Caroline

TOMY Bulstrode

TOMY Cranky

*



TrackMaster Boulder

*



TOMY Elizabeth

TOMY Jeremy

*
I used acetone to remove the yellowing, but it ended up wiping off his name and facial features (which I couldn't recreate). Good thing it wasn't the small Harold. I'm hoping to obtain hydrogen peroxide because I've heard it's much more recommended, though I'm not sure what it would do to anything that's not white or grey.
*
Repainted green to reflect his actual colour as well as later versions (with black for the spaces). I have no idea why the first merchandise of him was grey.
I used the wrong shade for him, so I'm hoping to redo the paintjob someday.
*
Repainted brown since he was incorrectly blue (not even grey like in the end of the episode).
Take Along/Take 'n Play Vehicles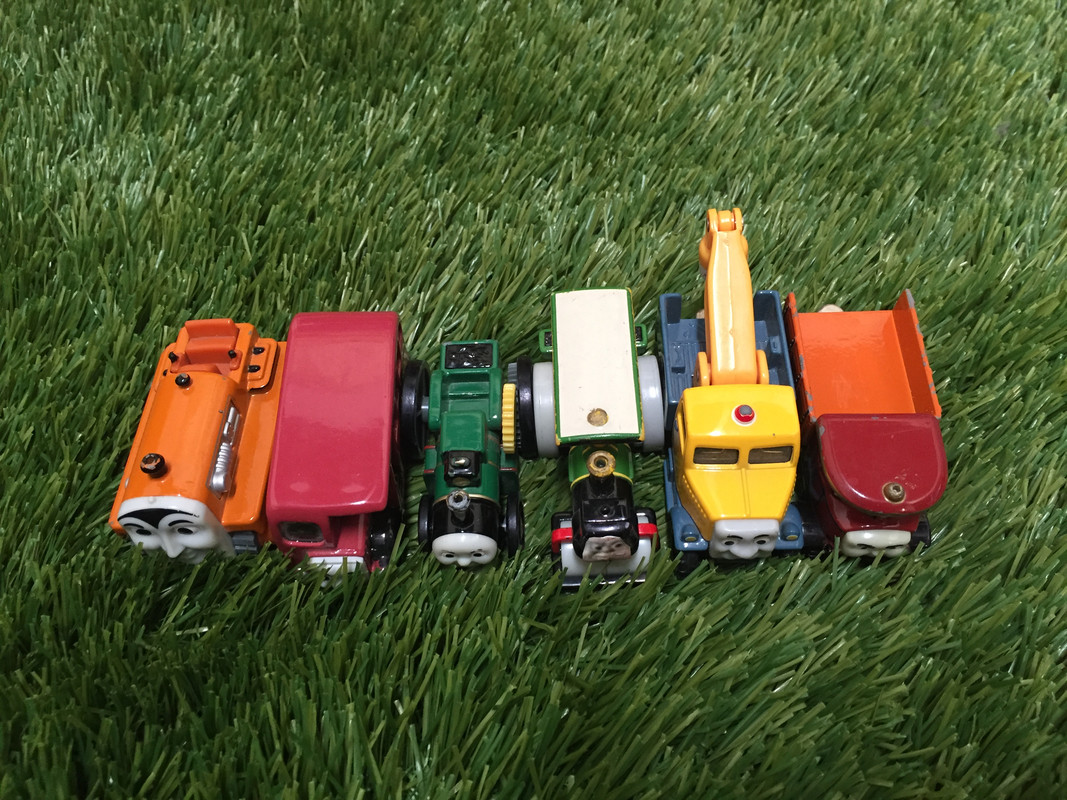 Terence

Bertie

*



Trevor

George

*



Butch

Elizabeth

*
Only Take 'n Play. Bought in the UK.
*
His original face was out of character, so I initially tried to draw on it. After that didn't go well, I blacked out the plastic face and put a cut out of his TV one over it. I have since cut it off and made a better one with the hot melt glue method.
Big Loader Shells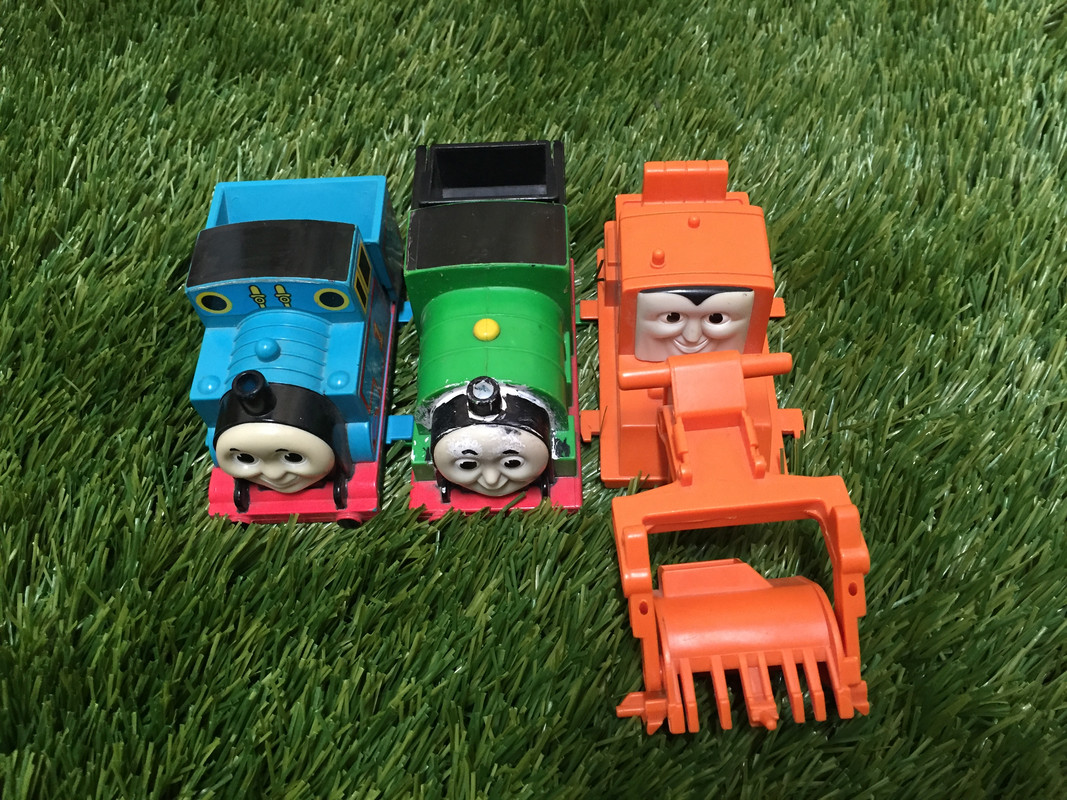 *
About the correction fluid: I once had the idea to repaint the shell to resemble Stanley when
The Great Discovery
was new. I never proceeded with this and only recently tried to revert the smokebox to black.
Mega Bloks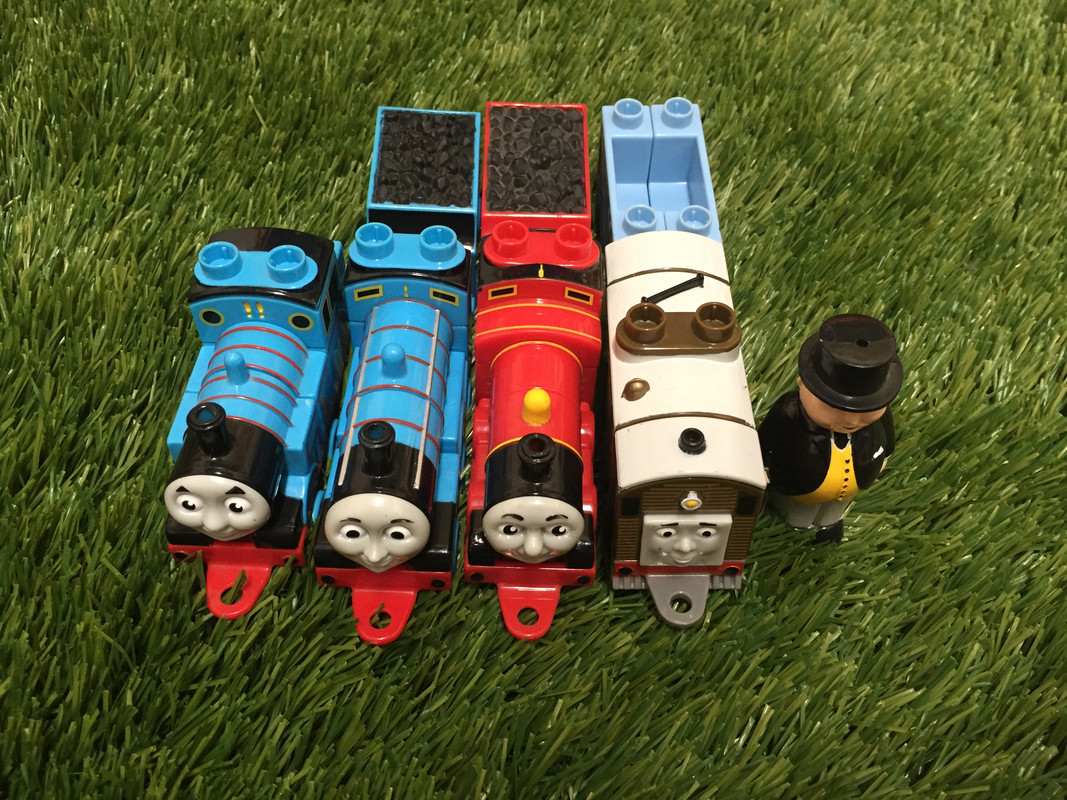 Thomas

Edward

James

Toby

Light Blue Truck

Sir Topham Hatt (2x)*

* The second one came from Edward All Around (most likely in my LEGO parts box with the rest of the set), and the first from the 2-in-1 Buildable Thomas (not pictured). Shame he's too big for my preferred scale, though.
TOMY Pull Back Engines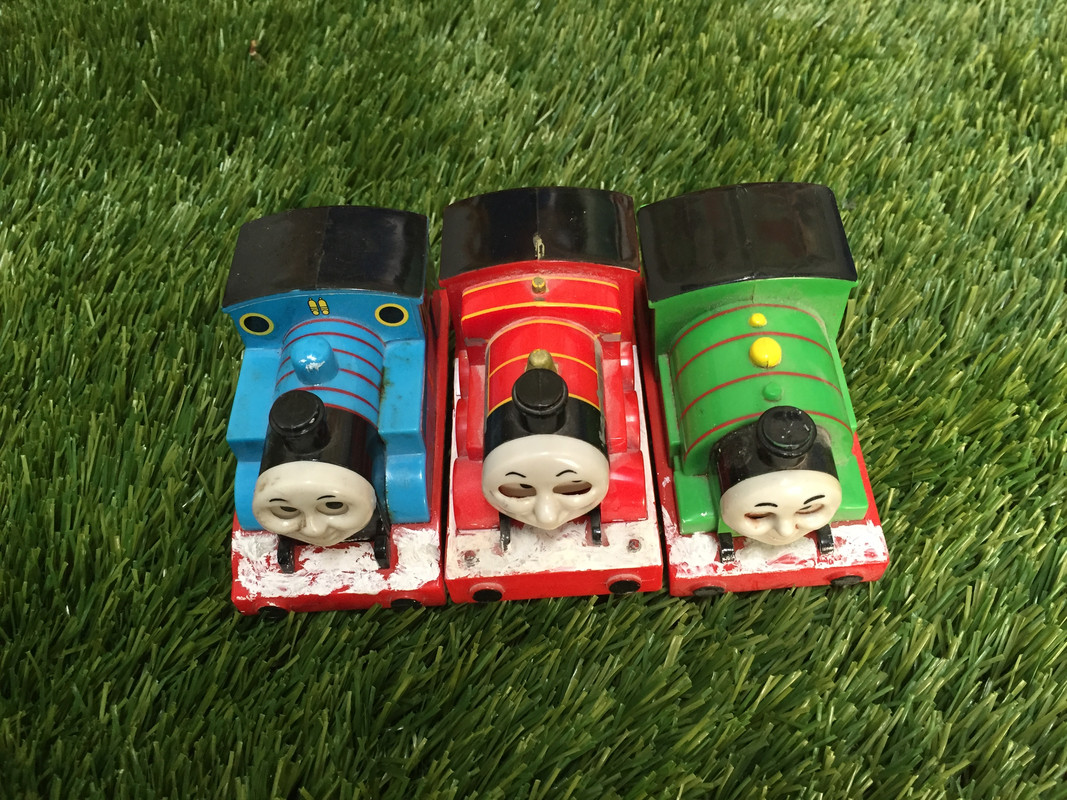 *
Taken apart so I could see how the eye mechanism worked. He wasn't screwed back together very well and the motor retainer piece was substituted.
Customs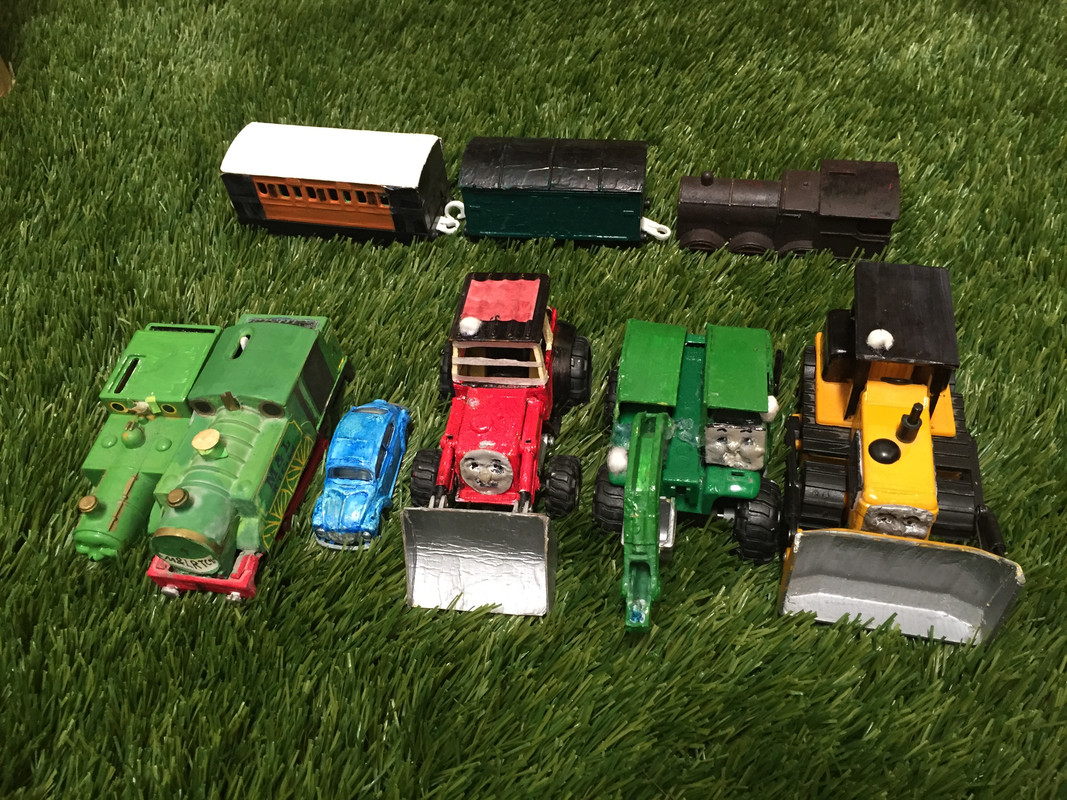 Henrietta - Made from one of my first Annies/Clarabels with the ends blacked out and railings made of labels cut into strips. Before I got a real Toby, she was initially made for a custom unpowered one (also an Annie/Clarabel). Ideally, the ends would've been cut out with the walls added behind them, but I wanted to be able to take the sides off in case I'd want to turn her into another coach. Now that I'm a bit more skilled and have learnt new methods, I've since built a full Henrietta shell from scratch to solve the problems.

Dark Green Van - Repaint of one of my two Troublesome Vans (from Edward or this set).

Scrap Engine - Made from the body of my Flip Face James around the time I got the Talking one. Might be reverted for a custom alternative James (with the original tender and/or other parts, albeit with the battery in the loco).

Ivor the Engine V1 - Repaint of Stepney's shell for a 90% reversible custom that featured in a remake of the first episode. Because it was mounted on Percy's chassis during filming, the colour was a near perfect match for the wheels until it got faded. That, and the organ pipe whistle is now broken.

Ivor the Engine V2 - Made from the UK-bought 2012 Thomas to get a more accurate result (and in hopes of redoing the remake). The front bufferbeam was cut off and replaced with a rear one from an older Thomas (glued to the shell instead of the chassis). If I knew how to build him with a similar wheelbase to the ADuckProductions Neil, he would've looked perfect.

Sir Topham Hatt's Car - Repaint of a Majorette VW Beetle, which was sadly left hand drive like all my other generic vehicles (I didn't pay attention to this when I first painted it). I could've cut off the steering wheel and glued it on the other side through the open sunroof before I blocked it. The previous paintjob was made to be removable and could be scraped off, meaning it turned out too dark after it dried. To give it the right colour, it has been primed with correction fluid and painted with a light blue marker (later simply acrylic).

Jack - Repaint of a Mighty Wheels backhoe loader that had lost its backhoe. He was my first use of hot melt glue for custom faces made to look like they are sculpted instead of just paper cutouts. It had more of a snowplough instead of an actual bucket, so I used another front loader as a reference for the shape (but made it narrower). The bucket was made of three pieces of cardboard, and the plough was cut and reduced to a bracket to attach and support it. He did have the exhaust pipe, though I didn't notice it had fallen off until after the photo was taken.

Alfie - Made from a Mighty Wheels telehandler. Having Jack and the Pack was no priority for me until now, but seeing that in the shed made me think it could be a very good base for a custom Alfie. It was already green and had the cab on the correct side, so I knew what I was going to do with it. I then remembered I also had two other MW heavy equipment I could've used, and that's how I got the idea. The only downsides are the wheels are too thick and the top can't swivel. The new arm was from a small lorry mounted excavator, though it had to be stiffened because the dipper arm was too loose. It will also need a better attachment method instead of being held by glue. The original was glued down since it became redundant, and cardboard was used to form the new shapes. If I knew how, I would've removed the top and built him a new chassis with thinner wheels and a rotating base. Nevertheless, it turned out to be my favourite result of the three.

Byron - Partial repaint of a Mighty Wheels bulldozer. The cab was repainted black with the roof being blocked out, and two actuators connecting the blade to the body were removed so the engine detail could be added. I cut down the top of the blade as much as I could, and I no longer had the right paint when the face was redone. The rear sprockets tend to lock up since they're colliding with the bottom of the cab, and there seems to be no way to raise the platform easily. I should've built small versions of the Pack members from scratch to make them in scale (and allow the other machines to be built).

Chuggington

and

Cars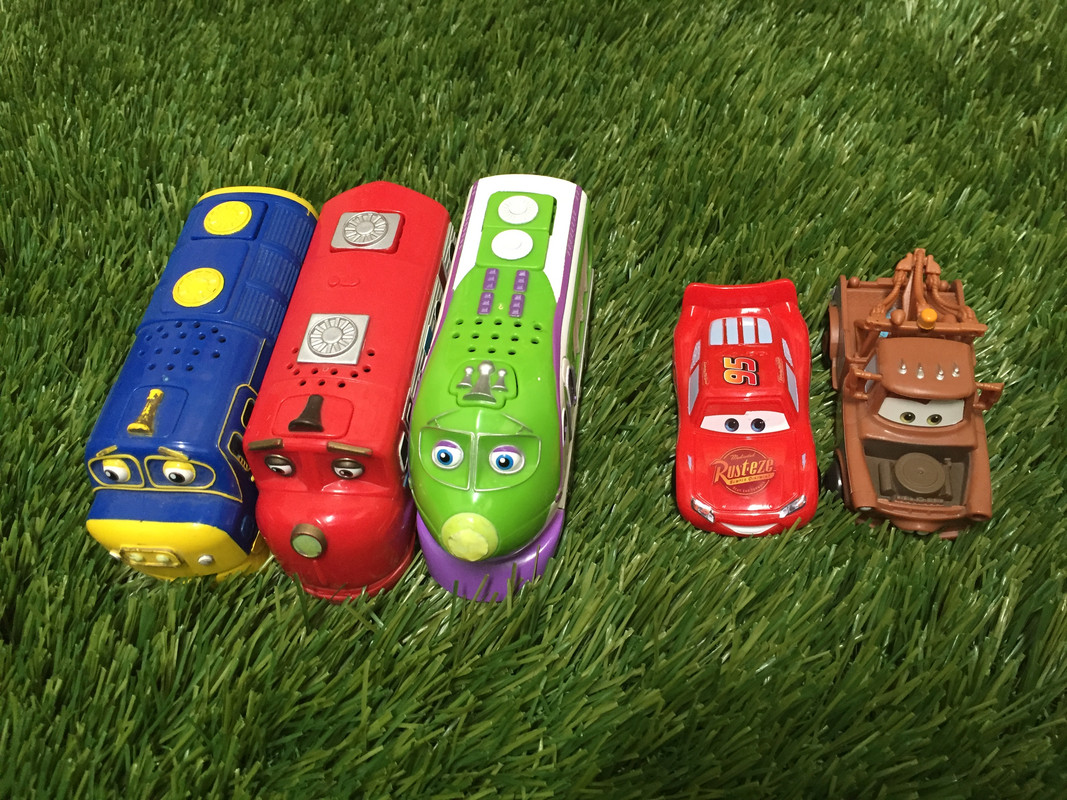 Motorised Brewster

Motorised Wilson

Motorised Koko

Lightning McQueen and Mater (friction powered)

*



These Chuggers were from an obscure battery powered range that was sold in countries where the Interactive Railway wasn't. They were made shortly before they appeared in Plarail and reused the shells (and track/accessories) from the Interactive ones, but they don't talk/interact and only make sound effects. Until I could get Koko, I used the Mega Bloks version (now in the LEGO parts box). In addition to other detail, I also gave them glow in the dark headlights (like I did with the 2009 Thomas). Had I still cared about the show, I would've been happy to trade them for their Plarail counterparts.
*
I've never watched the
Cars
films, but I bought these for a remake of
Thomas the Unstoppable Tank Engine
. Despite how short the scene with Lightning and Mater was, I insisted that they actually be there. I thought I was getting them in one of the countless regular ranges, only to find they had friction motors when I took them out. I can't remember the name of this particular range, but they're both dated 2012. They run perfectly on the TOMY road system and even go up slopes without problems. Mater also changes direction and spins when revved backwards (in reference to being the "world's best backwards driver").  
---
So, that's it for the (noteworthy) items in the Backyard Tidmouth. I don't know if I'll show the ones in the room or not, because the majority of them are from the TOMY and HiT "preschool" (under 3) range and the RC/Flip Face Thomas is not fit to be seen. Being able to reveal them properly for the first time was quite fun, and I hope it was worth the wait (then again, I didn't have proper access to the bulk during the previous decade). As promised, be on the lookout for everything else I mentioned.