(W.I.P.)
Here's my custom Trackmaster Derek progress, I had help cutting the cab and wheel clearance from my dad. Though I did some more of the cutting on my own.
Here's what he looked like once the shell was three pieces.
Then did sanding to get rid of some of the vents, the horn, and remove the slant from the cab.
After all of that, the shell was test fitted. 
Holes being cut for wheel clearance.
The lever hole was made larger so taking the shell on and off would be easier to do.
Another test fit was done before connecting it together.
Then it was time to superglue the front and middle sections. My dad did this as I didn't have too much experience and I still don't have that much, though I do have a general understanding as shown later in this post.
A test run was done before cutting away the original footplate due to it not aligning correctly.
The pipes and wheels we're cut off aswell to make room.
Cutting the middle wheels off wasn't too challenging, and soon the model was up to here in terms of completion.
Footplate being cut off and replaced with polystyrene. 
The polystyrene was applied with plastic cement and it was a bit of a challenge to get it to stay on as it still wants to come off a bit. The buffers were also grinded off and the back was reshaped as well. All done with the Dremel, a file, and sandpaper.
After doing a test run and progress video Derek is up to here, in terms of completion, now.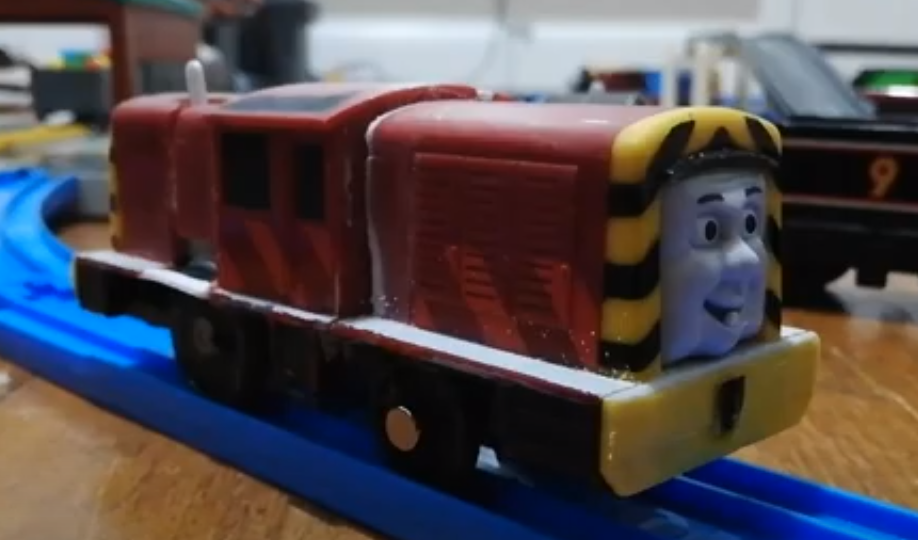 TooMuchThomas is never enough.