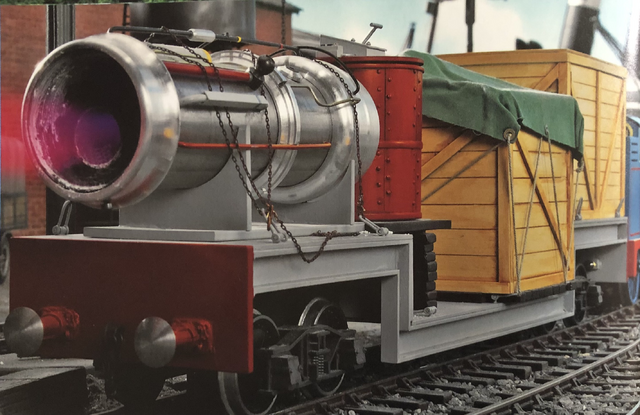 When the titular delivery from "Thomas (and) the Jet Engine" was made in Plarail, the well wagon had to be split in two because it would've been too long (and perhaps in keeping with the three car standard as well). This resulted in having two oddly shaped bits of rolling stock that looked out of place and didn't have good uses otherwise. Thanks to the existence of bogies in regular Plarail items, someone found how to make it look right while still being able to navigate curves.
Another Japanese Twitter user named tsubame_8910 (うぇいゔらと) took both parts, glued them together and replaced the original wheels with the bogies from (most likely) the
new autorack
. It actually took me a while to realize it was the original tops merged and not a scratchbuild. One downside: The engine no longer lights up when pulled, but I'm sure he could find some way to change how it's powered. Needless to say, it looks much more faithful and the bogies perfectly mimic its TV appearance. Better than what I suggested to Therealblack64YT (TM2 truck/tender chassis for bogies on custom coaches), and I wonder how they would look on other
Thomas
stock like this. Really nice work.