As I was looking at the poor quality and off colors of the TrackMaster little friends Bert & Arry that are being sold on eBay (from a 3rd party), it finally donned on me why they look so shabby...
These Chinese knock-offs are actually the painted shells from the 2012 re-release of a FisherPrice Diesel!!
They also barely green and more like a mossy brown color as well.
I've put them all together, along with Dodge, Splatter, and the original 2009 version of Diesel.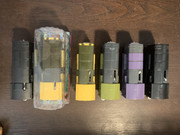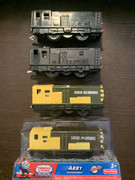 2012 FisherPrice Diesel
2019 Chinese counterfeit Bert & Arry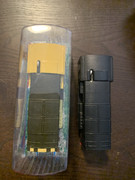 Play nice & have fun!!