i picked up this guy from a thrift shop a few weeks ago, and cannot identify him. he is spring loaded... press down the head, the head comes straight back up and the tummy part follows after a few seconds. i know i have seen one before, as the "B" is familiar, but now that i want to find one i cant. [except for one on ebay that has no clues as to the name]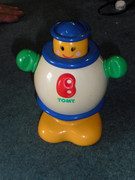 i also got this aeroplane toy. it has a suction cup, presumably for a high chair?. when you press the blue base, the two planes spin around, like one of those press down merry go round toys. this is another one i cannot find anywhere despite extensive googling.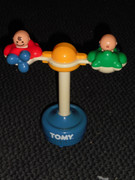 please and thanks in advance, tomy masters.