Here's an interesting little pack I spotted on Yahoo Auctions a little while ago and couldn't resist checking out for myself.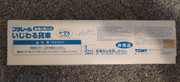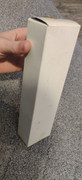 The box is completely blank except for the front which says it includes two Plarail Troublesome Trucks, along with warnings like the danger of a child getting their hair entangled in the wheels, not recommended for children under three years of age, no batteries being required, licensing information, and a disclaimer that product specifications may change between promotional photos and actual manufacturing. The blue oval says it is not for sale.
I had a few theories as to what would be inside before it arrived (there were only two photos in the listing, the front and blank backsides of the box), and I suspected based on the old round logo but the presence of the Tomy website URL that it had to be from between 1997 and about 2002, and that it was most likely the initial two 1996 troublesome trucks, the van and the truck with the face that doesn't quite match up with the later ones (the Motorized Wikia calls it the "laughing" face). Sure enough, the pack contains the original two troublesome trucks.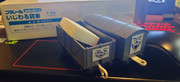 I wasn't sure when exactly they were produced until I flipped them over. I've never seen manufacturer month stickers on the bottom of regular rolling stock like this before, but it dates them to early 2000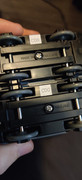 So go check under your vans and trucks, you might have a rare stickered one that came from one of these boxes.
I am not sure exactly how these were given away. There is nothing particularly special about them unlike gold Thomas, so I can only guess it was fairly easy to win or enter to win them. The blue text on white box style is definitely similar to the later 2000s Plarail contest style boxes, but it does not specifically mention anything about a lottery or contest. It does say "not for sale," and I was almost wondering if maybe this was something like a replacement parts pack, like you could call up Tomy and order these as replacement cars if yours were damaged or something. Purely speculation.
Using the Wayback Machine I checked the Tomy website right around the date code on the trucks and I didn't see anything related.
If anyone has any more information I'd love to hear it.