I found some Push-Along Connect & Go Sheds at my local Kroger grocery store for $6.69 at the clearance section recently, I picked up 7 total for around 49 bucks on Sunday (4 total Sunday) and Tuesday (3 total Tuesday) collectively. They're meant to represent Tidmouth Sheds and do so pretty well, with the only inaccuracy to that being that the roofs are green instead of the grey they are depicted as in the show but can be excused due to the amount of detail put into the sheds.
I actually like these sheds though my only complaints are that you can't connect them at an angle, they're too short for tender engines (revolution and classic) to have the rear track lifted up and the shed doors closed, and that they're not selling a turntable pack to go with them. The latter isn't that big of a problem to me as I plan on just building a custom turntable later this year instead.
The seven sheds purchased with the Steam Team (pre-S22).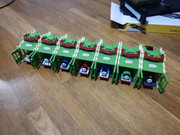 The Push-Alongs that came with the sheds. 3 Percys, 3 Diesels, and a Single Thomas.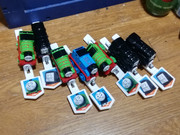 The shed closed without and with an engine (Percy for scale).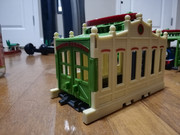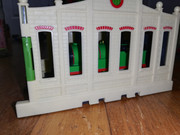 The shed opened from the rear and the front.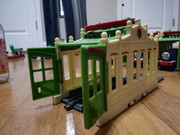 TooMuchThomas is never enough.