I've been using the Thomas wiki to try and sort these out, but now I am stumped...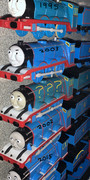 I cannot seem to be able to put this into the Tomy Gordon timeline.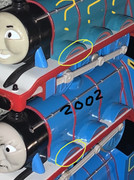 It has blue/red striped stickers inside of the wheel wells just like the Powerful Gordon version, whereas the all of the others have pinstriping around the outer portion.
Can anyone tell me what year this variation was released, where, etc. please?
Play nice & have fun!!