This thread has been long overdue, even though I posted in
WDYDTYTT
more than FfarDev did before starting her own thread. I was also initially reluctant to jump straight to subsequent projects rather than tracking down my earliest posts. Either way, I will now try to reserve WDYD for things that don't quite fit this thread's title (such as repairs, layouts, simple changes and a few other exceptions).
---
You may remember I
expressed interest
in developing a "one of a kind" narrow gauge system as an alternative to Take Along, Capsule Plarail or other commercial small scale options. Having recently found another small track system from a (currently unidentified) non
Thomas
set I had, I wanted to see what I could actually do with the idea. I built this prototype Rusty by measuring the Take Along Mavis, and the face is a hot melt glue cast of hers. The hot glue was used for the buffers, radiator cap and fuel tank as well. Given it's not the final version, he will most likely not be
painted
.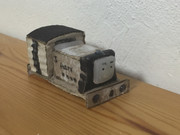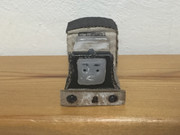 I've experimented with using metal wick sustainers (tabs) and clay to fabricate custom wheels for non Plarail use, each one being made of two sustainers on either side. They tend to get bent easily and are difficult to align with precision, but they can still roll fine. Might be a reason why I've never seen anyone use them for this purpose before. Here's a test fit on
Junior Train
track
with two such wheelsets (not connected):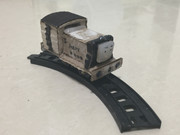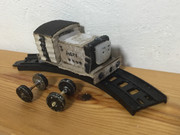 Unlike Take Along/Take 'n Play, where the wheelsets are fully exposed under the running boards, my narrow gauge stock will have the tops of the wheels going through (like on Plarail/TrackMaster/ERTL/My First Thomas). After the above test, I remembered finding this (unpowered H0) bogie from a Smart Toys set. I found out it fits on the other, more complete track system and attached Rusty to it.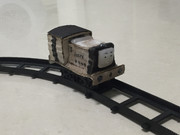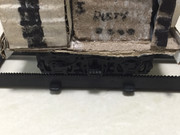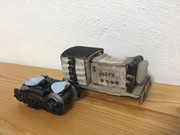 The condition of this bogie compared to the other ones made him unstable and a tad difficult to center (one side of each wheelset is almost falling out). It can work well on both systems, though it runs much more smoothly on
Junior Train
. Given this track is slightly wider, most TA/TnP items that have less wheels than Edward, James, Arthur, etc. (by extension, Adventures/Collectible Railway) work on it flawlessly. Oddly, regauging the wick tab wheelsets didn't work and the wind up engine from
Junior Train
is too narrow for it. My only real problems are the traction grooves on the outer rails, weak connectors and lack of points (switches). Nevertheless, I'm glad I still have it and the set came with straight pieces in addition to curves.  
---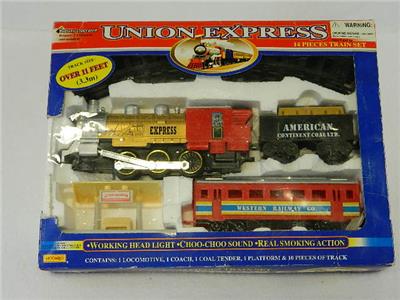 (image from an eBay listing)
Before collecting
Thomas & Friends
, another childhood train set I had was one of these S scale sets known as
Union Express
. It came with an 0-6-0T powered by two D batteries with a headlamp and smoke unit, a red coach, blue caboose, silver tanker and a dark green station building that uses the typical "whistle-chuff-bell-track" soundchip. Like
Junior Train
, it has countless variants with different boxes, colours, rolling stock, accessories and track layouts, but the locomotive and coach designs are consistent (for the most part). I chose an image of a variant where they have the same liveries as mine. Here's the track system and two of the rolling stock from it: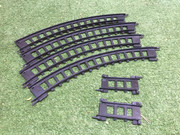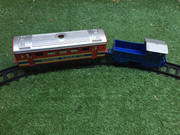 As shown below, it's quite similar in size to TrackMaster but with flat sides, non rounded connectors and a much bigger curve radius. Rather than flat wheels on the inside, the rolling stock uses flanges on the outer rails. My variant only had curves and two very short straights (presumably to complete the oval), while some others come with full straight and cross pieces to build a figure 8.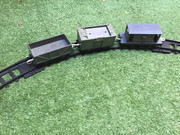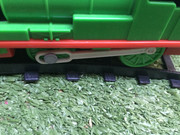 Just about any non powered TOMY or TrackMaster item will fit on this track. In fact, they run even more nicely than the train it was made for. However, driven axles on engines and other power units make them too wide for it. Seeing as it's much more limited in piece variety, I don't think it would be advisable to sand/file the rails to help fit the engines. Furthermore, chances are they might wheelslip on it due to lack of inside traction grooves. I could possibly regauge certain engines by replacing the driving wheels with front ones, in exchange for battery power and coupling rods. Mega Bloks don't fit either because they only have sliding axles. I would love to be able to use it as alternative track for its neat looks. Now for the best part...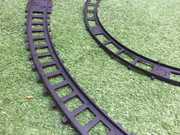 ...except for the curve radius and connectors, the unknown system I showed above makes a perfect narrow gauge version of
Union Express
(even though it was made by an entirely different company). This is the main reason why I'd want to use UE with TOMY and TM. In addition to having the same outer rails and similar joints, it even has less sleepers like real NG track normally has. Another (not as fortunate) similarity is both their own trains don't run as neatly as those that don't belong to them, especially the small one. Of all the various track systems I've owned, these are the only two that look similar but are different scales (unless I would repaint TM1 black with silver rails to match Smart Toys, or the other way around).