In this thread I will talk about a huge abandoned railway network very near to where I used to live:  The Trafford Park Railway.
Trafford Park is a huge industrial estate in Manchester in the North West of the UK. It had a railway network, which was part of the gigantic railway network called the Manchester Ship Canal Railway.
In my opinion, the Trafford Park Railway was a railway like no other. The rails went extremely close to the road, and crossed it many times, calling for some really unique level crossings, such as the Trafford Park Road/Moorings road Level crossing (seen below), which had a total of 9 wigwag lights (one of them was an extremely rare overhead one)!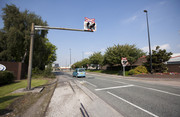 (none of these images are mine)
This railway was used extensively in in the early to mid 20th century. After which, usage went down. The railway shut down completely in 1998 as road transport was replacing rail freight. Here are 2 good videos about this railway  
https://www.youtube.com/watch?v=59As5lq8hC8
  and [url]
https://www.youtube.com/watch?v=1HNwrzB9O4E
[/url]. If you ever drive through trafford park, it is a strange sight to see level crossings in the middle of a road, despite no rails anywhere!
A wikipedia article about this 
https://en.wikipedia.org/wiki/Trafford_Park_Railway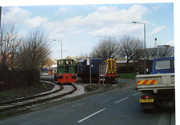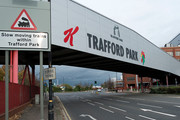 These signs are still there to this day!
Although the railway closed, a branch line running alongside Barton dock road and past the kellogs factory remained operated by class 08 and class 09 shunters pulling containers between Manchester international Freight terminal and Barton dock freight terminal. This 2 kilometer stretch of line was the last part of this giant rail network. It finally shut down around about late 2012.
Me and my family often went down barton dock road when we needed to go shopping in Asda or the Trafford Centre. Although I don't recall seeing the train itself, I do remember seeing the line when it was still serviceable, and watching it deteriorate over time: a truly sad sight to see.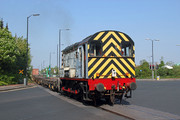 08445 crossing Barton dock road 12/04/11
So this was me blabbering on about a closed rail network that fascinates me: a rail network that is a reminder of how industries worked many decades ago.