This is my opinion on all the thomas movies we have got so far. I was inspired by The Unlucky Tug and his ranking video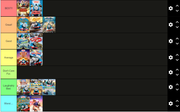 I shall explain why everything goes where it goes in order from worst to best.
14: Thomas and The Magic Railroad.
If youre new to the franchise, this movie is definitely not for you. This movie is extremely stupid and convoluted and completely screws over how the general public views the series. We are told that Sodor is some weird narnia land and all the engines are alive because of a magic engine (Lady) giving them all life. Also what are diesel 10's motivations in this movie? His goal is to destroy Lady, but if Lady gives everyone life, would that mean that if Diesel 10 destroys Lady then he is destroyed too? Nonsense. This movie also americanises the franchise by including shining time station (presumably just to confuse British audiences).
I won't rant on this film anymore as Jeffrey Kitsch did a full rant on this (check it out
https://www.youtube.com/watch?v=EF0YUz-sLxo
)
F
13: Big World Big Adventures.
This movie is not quite as stupid as TATMR, but it's still terrible. This film feels like an hour long advert to get political correctnes. Thomas wants to go around the world so he just hops on a ship and goes wherever he wants all the while the fat controller is trying to find him. If this film was to make it appeal to the lowest common denominator, then why was every country thomas visited portrayed so stereotipically? Brazil is just a huge rainfores, Africa is just the sahara (yeah how is there a railway line going across the entire sahara desert?), the USA is just a wild west setting. This movie is boring
F
12: King of the Railway.
Many thomas fans will be shocked to find this movie so low on this list. It's low for a reason. This movie is so BORING.
Nothing interesting happens in this movie. There are like 3 different subplots, all of which are bad.
The first subplot is Thomas, Percy and James trying to rebuild Ulfstead Castle, which is boring.
Then there is the stephen sublot where stephen (the rocket) goes all around sodor trying to find his new job because thomas said he'll have one, even though the earl told him not to. This subplot is annoying and feels three strikey.
The third subplot is Gordon and Spencer's Rivalry. This subplot isn't bad, it's just it does not add anything to the film.
Overall this film is just doesn't work with me.
D-

11: Misty Island Rescue.
This movie is very stupid but I don't hate it though. Every character is out of character in this film, the plot is idiotic and there are various unrealistic things. I don't hate this film because I have nostalgia for it. I remember very clearly watching this movie with my jaw dropped is suspense. I loved the movie when I was little and I even made my one little "misty island" on the bathroom rug. The setting of misty island is beautiful but the film is still bad. A lot of work needed to be done here.
D
10: Day of the Diesels.
This film had so much potential, but sadly it was babified by the family friendly HiT enterteinment. Apparently there is a director's cut of this movie which is a lot darker, but was obviously dropped.
Percy being the main character in this movie is a nice change, even though he acts stupid believing thomas can't have more than one friend. Also I like how diesel 10 is portrayed in this movie: he's a quiet decieving villain in this movie and gives me vibes of Steeljaw from Transformers Robots in Disguise. However this film ranks low for a reason: The conflicts in this film are extremely childish. The characters behave like actual children in this movie. When diesel 10 takes over the steamworks, he says "The steamworks is ours now! We (the diesels) won't give it back!". It's cringeworthy.
D+
9: The Great Race
A pretty mediocre film. The songs are good and I like how they brought back the flying scotsman, but a lot of the film is just thomas' delusional drama (boring). This film should have been from gordon's perspective, as speed is what he was made for. But overall this film is not bad. This is the first OK movie on this list
C
8: Journey beyond Sodor
This movie has a strange history. Arc Productions, the animation company went bankrupt halfway through production of the film, delaying it until Jamfilled bought the company. Therefore, when you watch the film, there is a lot of unfinished scenery and animations. Not to mention, at one point there was a possibility that this would be the finale to Thomas and friends.
I generally quite like this film. A prison break type adventure and thomas trying to save james makes this movie pretty cool. However the ending is unsatisfying. Hurricane and Frankie are the villains in this story, and their motivations for trapping engines in the steelworks are because "they have too much work". But as I said, this is a good movie.
C+

7: Blue Mountain mystery
This movie does an epic job of expanding victor's backstory. Luke is living in hiding at the blue mountain quarry because he believes he killed another engine. He thinks he knocked victor into the sea, but in reality victor's chains were broken and he wasnt strapped down to the ship. This is one of them films that adds to lore. However I have just 1 real problem with this film. How does Luke go years without being found out by his own controller?
Anyway another good movie
C+

6: Hero of the Rails
We are now entering the really good movies. Spencer is a great choice for an antagonist as he was barely acknowledged prior to this. In this movie, our main cast work together to save an abandoned engine from being scrapped, trying to do it without spencer or the fat controller hiding out. This movie also shows us how the steam team stands up for one another, for instance, when spencer teases thomas, gordon stands in Thomas' defence. A very good movie.
B

5: Tale of the Brave.
A really nice film about percy overcoming his fears with Gator's help. It's interesting that James, one of the main cast, is the antagonist here. I don't really have anything else to say here except the outro music sucks. Every movie from this point on I actively recommend.
B+

4: The Adventure Begins.
If you're new to this series this movie is a good place to start. Even if this is different to the RWS and Classic series, it's still shows us Thomas' first days on sodor in a wonderful way. This is also quite a heartwarming movie, Edward is a great mentor to thomas here. My only problem is that the characters are out of character, especially henry, but that's a story for another day.
A-
3: The Great Discovery
A fantastic finale to the model era. This movie adds so much lore to the show, introducing an abandoned town that once was. This is one of the few times thomas is 100% Thomas. He's cheeky and when feels threatened by a new engine (stanley) plays a nasty trick on him. The mine scene is epic and remember, the stunts here were all done with models in front of a camera. The ending, with all our characters at great waterton, seems like a fond farewell to the models.
A

2: Calling All Engines.
Unlike most fans, I love this movie. My only grudge are those stupid learning segments that knock this movie off the top spot. This movie should have been a 45 minute special, without the boring parts and learning segments.
I love this movie because it's a calm, ambient and slow paced film. The steam vs diesel conflict is handled perfectly in this film. They show that there are good diesels, and also bad steamies, contrast this to Day of The Diesels, where all the diesels are bad and all steamies are good. The fight scene is fun to watch and the moment all the engines realise the airport won't be built unless they work together, is perfect. Also, the idea of an airport makes perfect sense as it will help sodor's economy by bringing in more tourism.
If you are new, and are going to watch this film, watch this supercut version by GWR Music. All of the learning segments are cut off. 
https://www.youtube.com/watch?v=JAgcizl_5Nw
A+
1:Sodor's Legend of the Lost treasure.
This movie is universally accepted as the best thomas movie. Everything is perfect. A human is the main antagonist, Railway series lore that was previously unestablished in the tv series was brought on and lots more. Sailor John (the antagonist) is a genuine threat and isn't like Hurricane and Frankie who are sugar coated to appeal to children. He goes as far as to threaten to blow thomas up! I don't think I need to say anymore but watch the film.
A+
Whew.
The tier list was created here: 
Create a Ranking the Thomas and Friends Movies Tier List - TierMaker
We are going to get a thomas movie directed by marc forster, which we know nothing about so far and 2 reboot movies, one of which will be called "the race for the sodor cup" (clearly a ripoff of The Great Race). I have seen the trailer for the race for the sodor cup, and I already know it will go in the "worst".