Hi all!
Anyone who's seen my main layout thread will know I have a rather ambitious switchback loop for my Plarail/Tomica World layout planned, as one level of a multi-storey storage unit i'm planning to build. However, it's one of only 3 levels for this unit, so the question obviously is;
What about the other 2?
Well 
Admittedly the top level is likely to be more Plarail as well, since it'll be the open-top level, so my Plarail circular storage tower is likely to migrate there from one corner of my layout, so as to free up more space for layout features, but that still leaves a middle level and several other sections to consider, right?
That's where my newest idea for a, shall we say sub-section of my modelling hobby, has come into play, and as part of a very busy day of 
playing video games at the arcade and hanging around London
 serious hobby product shopping [
] I have what, for now, is the basis for the contents of part of the middle and top levels of this new unit, with the next stage being to go to the hardware store and load up on the nessecary tools and materials.
But hey, wouldn't be fun if I just went all-in and told you straight-up exactly what I was doing, right? So, watch this space for updates as I build the unit, and see if you can guess what I might be building alongside my major Plarail expansion [details of that in the regular thread] 
[Hint, it actually serves as the combination of several of my hobbies and interests into one neat package, and while not exactly conventional, it would be fair to say I never really went for conventional anyway 
]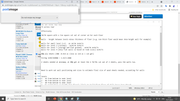 Another [possible] clue; There's a lot of measuring for this one 
Been building Plarail worlds since 2001; still building in 2021 - Not bad really