i snagged this on a local auction site a couple of weeks ago, and it arrived today. google suggests it is from the 60s, and is part of a range of autonomous sets similar to the big loader. there have been at least two different planes, both called Flippity Flyer, a series of sets called Grippidee Gravidee, two different Shang-ri La sets. there is likely loads more, but this is new research for me, so will take some time to work it all out.
the set itself is very impressive, with a large passenger plane that takes off, does loops, lands and goes back to do it all again. my plane needs some work. it struggles on the "tarmac" and needs some assistance once in the air. given the age, however, it works well! a very cool set.
more pics as ever
https://sunstomyandfriends.weebly.com/to...-sets.html
and there is a video on youtube
https://www.youtube.com/watch?v=Gc62_jEcEUg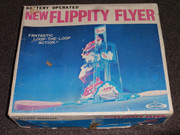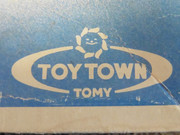 i am not all familiar with the toy town brand. could be a form of co-branding, like some big loader sets being branded as Toltoys as well as tomy.