07-13-2022, 10:39 AM
I could not find a thread containing details for all the clearances and limitations for Plarail's loading gauge so I decided to make my own thread. 
[b]I figured a thread like this would be helpful, and that it would go here as it serves as a guide for making customs and 3d prints to fit under the height limit Plarail has set.
[/b]
[b]I intend to come back to this thread and update it with more information whenever I have the chance to (and if there is any specific info requested).
[/b]

Plarail's Loading Gauge and Height Clearance
(July 12, 2022)
Plarail's loading gauge sits at 5.35 centimeters. They design their products in the metric scale and the risers stand at a 6 cm clearance. The rails add a height of around 0.45 cm, or 4.5 mm, which in turn gives engines and rolling stock a height limit of 5.35 centimeters, which they cannot go over. Any higher than this and the tops may scratch or get caught up on risers or may not fit under it at all and will just get stuck.
See Thomas, who sits at about 5.8 cm with the added height of rails.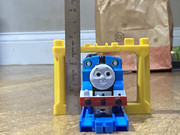 See Fergus, who sits at about 6.5 cm with the added height of rails.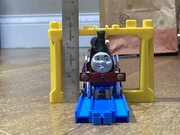 Just call me
Ffar
Probably disassembling a TOMY Toy