I don't really collect these - all this set was thrown in with one of my first Tomy lots. Please let me know if there is anything particularly uncommon or interesting here if you know about them.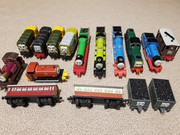 This is not a selling post. I am thinking to consolidate my Thomas stuff to just Tomy, push along and TM2 to clear some space. We dont have some of these characters in other form so maybe its not worth getting rid of it all.
I also have these that look like Ertl but are Bandai on the bottom. Was this like the Japanese equivalent when Ertl made the toys?