There is really something strange going on with shipping prices. Yes, some normal shipping prices can be found here and there, but they are mostly sky-high. I don't know if it's just the case with EU where I live, but look at a few examples.
First, here is eBay. OK, I know this example is totally nuts, but believe me, all other shipping prices are crazy as well, especially when the item is located in the USA. And, of course, for all items outside EU, there is additional VAT (in my case 25%) added by eBay on checkout!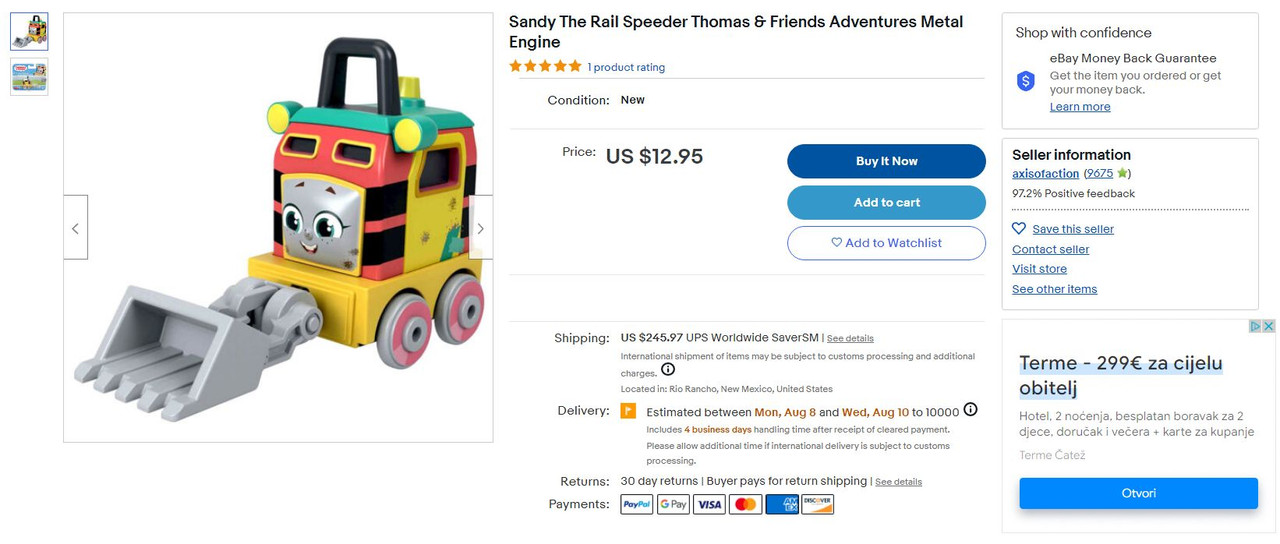 Then, there's Amazon. The shipping price (on everything!) is always at least three times the price of the item, lately. And then the VAT is added. Just look how that works. Something costs $75, but the total (with all the shipping prices, VATs and Devil's feeds) is $427.73!
It was crazy before, but I think this is ridiculous. Also, that's something that could have serious repercussions regarding the sales in general. I mean, who would buy anything with this kind of prices?
And, last but not least, here is my favourite Japan shop, the Plazajapan. There is something going on with Japan Post (I think they don't ship to Europe anymore due to some Coronavirus reason), and the prices of Japan Post were very nice. But now Plazajapan is shipping only with DHL to Europe, and look how much
they
charge... Yup, for €40.18
New Rainbow Bridge Thomas Set
- the DHL shipping is €123.38, so the total is €163.56. And that's not all; since the VAT is not calculated in that price, I'd pay some 40 Euros more, if I order this. So, that €40 set would cost me €200. 
Something is
seriously
wrong with this world. 🙄