09-29-2022, 03:48 AM
28/09/2022
The Back & Go Thomas
 and
The talk 'n' action Thomas.
You may be wondering what these two have in common. But first a little bit of history on both:
1.
The Back & Go Thomas
was exclusive to the 2011 set, 
Back and Go! Thomas Misty Island Set.

While the original prototype featured a updated face, the final one had an original molded one.
https://thomasmotorized.fandom.com/wiki/...Island_Set
2.
The talk 'n' action Thomas
was first released in 2000 (Japan) and featured in a few sets.
https://thomasmotorized.fandom.com/wiki/...ail_Thomas
Now back to how I made the discovery
This morning I was just looking through some tomy items on eBay. On of these was a TNA Thomas, and I noticed something about it, that I never noticed before, the coal was lifted. At first II thought it was interesting as my back and go Thomas also had raised coal, and then it hit me (no, the back & go Thomas didn't fall of the shelf and hit me in the head).But before I could be sure that my theory was true I needed to check the back & go Thomas' shell.
I remembered something about it since I first put in a battery, in the top of the body, a small circular shape could be spotted.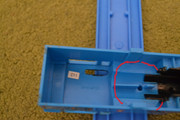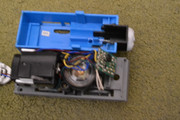 a quick check with my TNA Toby showed that the speaker could fit in it (PS: I don't own a TNA Thomas, but if someone could provide images of the inside of the body, that would be great!). I then tried looking for more clues, and then, I spotted something else(I always thought that the fact that the switch hole was much shorter than on other engines). I noticed the part where the mold had been changed for this Thomas, and when compared to the TNA Toby switch hole it was clear that before the mold change they would have been the same size.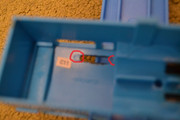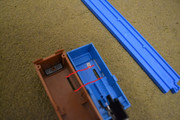 This confirms to me at least 99.99% that the body is used from the TNA Thomas, just modified
As a quick side note here's the way the direction changes are done: