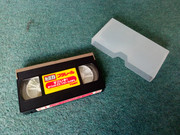 Ok guys, as i've been promising for several months in my main thread [
https://blueplastictracks.com/showthread.php?tid=4262
], here is a full transfer of my Japanese Plarail/Tomica World VHS. The full title, per the tape label, is 'Wow! Our Tomica and Plarail Town' - Thanks to Vio for pointing this out, since I don't read Japanese all that well :P
[Note - Because of YouTube's asinine copyright policies, I thought I had to edit stock music over any apperance of the Thomas the Tank Engine theme, but as the copyright claim only applies to Syria, Iran, North Korea and Cuba, it doesn't make any difference for us here on BPT]
Anyone who wants a copy of the entire film, here's a link for the entire unedited film as a download from my Google Drive;
https://drive.google.com/file/d/17Y54ut2...sp=sharing
.
A few interesting pointers from this tape;
1] It's from 1999 [there's a 1999 copyright on the Thomas segment, the 700 Series is prominently featured as a new model, and a segment about Plarail's 40th anniversary is on there too]
2] It seems to contain a good proportion of the components and trains exported as 'Tomica World', albeit mostly in their Japanese configurations.
3] Some of the trains shown [including the Hitachi Fresh Express, Eurostar and TGV] are run with 4 coaches as opposed to 3, I'm not sure if this is how they were sold in Japan, or just for the video.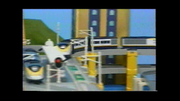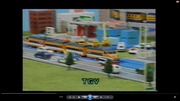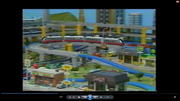 4] There appear to be 2 variants of the 'TGV Station'/'Shinkansen Station' Plarail/Motor Tomica accessory, so there was the Shinkansen/TGV version that's fairly well known and another version shown in the video that appears to be a special edition 'Yurikamome Line' version [this being a rapid-transit system in Tokyo], where the roof canopy is designed to look like a Yurikamome Line station, and the train itself is a special 2-car model of the Yurikamome sets [incidentally, these aren't heavy-rail trains per-se, but Mitsubishi 'Crystal Mover' people movers like that at an airport].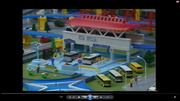 [Plarail/Tomica Yurikamome Station]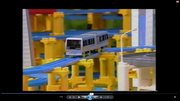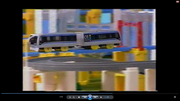 [Plarail Yurikamome 7000 Series, 2-car]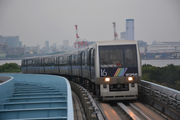 [Yurikamome 7000 Series/Crystal Mover]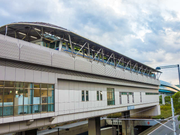 [Aomi Station, Yurikamome Line]
5] 'Tomica R/C' which appear to be Motor Tomica/Tomica World motorised models but with R/C capabilities added [which sounds like something kinda useful for larger layouts?]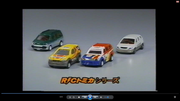 6] There's a battery operated version of the 'traffic light' accessory released for Tomica World that operates automatically via a 'magic eye' beam sensor, which could either be an actual Japanese product, or possibly an unreleased prototype [I've not seen it anywhere aside from this video]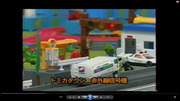 7] 'Baby Plarail'/'My First Plarail', which was exported later as the 'My First Train Set' by Tomy, albeit with any reference to Plarail or Tomica World absent from the box. All the models appear, as with regular Plarail to be based on actual Japanese models, and looking on Google, it appears the first export version came with what I think is a 700 Series [although I also think it could be a 300 Series] in it's correct livery [later models seemed to be a generic sky-blue colour]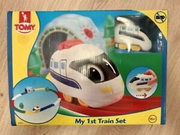 [Original set]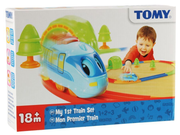 [Current set]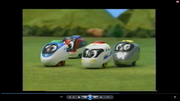 [Left to right; 500 Series Shinkansen, Narita Express Mk1/253 Series, 300/700 Series Shinkansen, 400 Series Shinkansen]
8] Video footage of special sets like the Doraemon set, Pokemon set etc.
9] Hikarian, which wasn't a part of Plarail per-se, but was kind of similar in concept to today's Shinkalion line - Train models that convert to robots; Both made by Tomy of course. This had an anime tied in, and some brief clips appear here. 
So there we go, let me know what you guys think, and keep an eye out on my main thread for some more updates soon [or at least, as soon as my Mr Motorman, Fresh Express, Tobu Spacia, 400 Series and C62 loco arrive]
Peace out, and happy viewing!
Been building Plarail worlds since 2001; still building in 2021 - Not bad really  :cool: